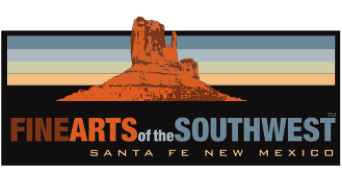 © 2010-2021 by Fine Arts of the Southwest, Inc. All rights reserved.
Unauthorized reproduction or use is strictly prohibited by law.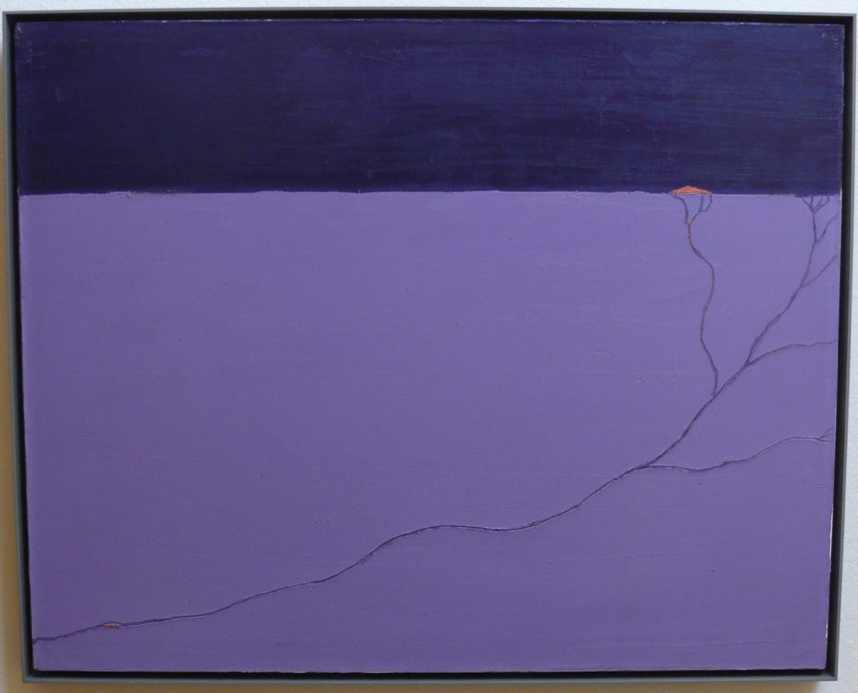 "Inside Passage", a superb Abstract Expressionist oil
painting of Alaska's inside passage by John De Puy, 1982
John De Puy's paintings are the stuff of dreams; intense, powerful portrayals of the deeper underlying reality of the surface landscapes that we normally see. His lifelong friend, the late great American writer, Edward Abbey perhaps put it best the very same year that this painting was painted:
"A De Puy landscape is not the landscape we see with routine eyes or can record by camera. He paints a hallucinated, magical, sometimes fearsome world—not the world that we think we see, but the one, he declares, that is really there. A world of terror as well as beauty—the terrible beauty that lies beyond the ordinary limits of human experience, that forms the basis of experience, the ground of being"
—"Down The River", E.P. Dutton, New York, 1982
John De Puy (b.1927), whose life's work was recently the subject of a major 2016 retrospective exhibition at The Harwood Museum in Taos, NM, has had a distinguished 60-plus year career as one of America's finest Abstract Expressionist painters. Although his strong environmental activism and support of numerous "lost causes", as he puts it, have made him a larger-than-life, almost mythical figure within certain Southwestern circles, De Puy is an iconoclastic and intensely private individual. He has exhibited very rarely over the decades, preferring instead to extensively explore, draw and paint his own unique interpretations of the Desert Southwest, Alaska and Morocco and quietly sell his work to a small and devoted cadre of enthusiastic collectors around the world.
John De Puy at his exhibition opening at The Harwood Museum, Taos, NM, February, 2016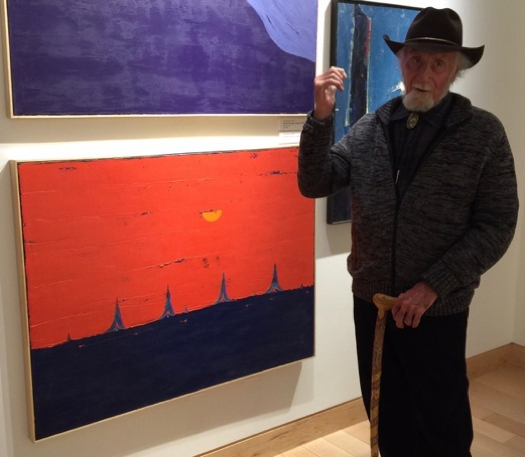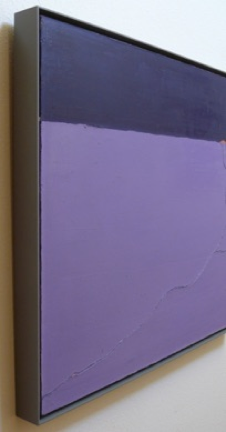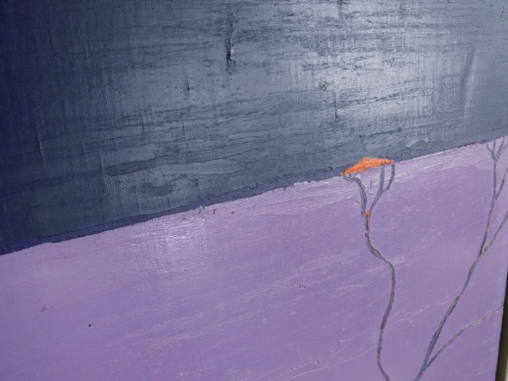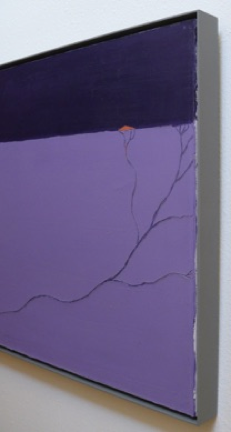 When he does occasionally emerge from his self-imposed isolation to publicly show his color-saturated and intensely powerful expressions of the landscape, the results are glorious. John De Puy's paintings deal far less with objective reality than they do the primordial powers and feeling of the land. The imagery and color palette De Puy employs is arresting, powerful and haunting. De Puy's paintings depict an inner world of extraordinary intensity, of form and color, of powerful forces inside, above, under, and all around the land.
This painting is executed in oil on canvas in an interesting and highly compressed palette of three colors only; a deep purple, a lighter purple and three small, precisely-applied spots of bright orange. De Puy skillfully manipulated the paint surface and texture through the application of layers of a very thick impasto and by inscribing directly into the paint surface all of which gives the painting a taut, tactile intensity and focus.
The painting measures 23" in height by 30" in width. The framed dimensions are 24 1/2" by 31". The painting is in generally excellent original condition with a very tiny amount of craquelure here and there due to the incredibly thick impasto of John's paint.
The painting looks remarkably fresh overall for a 35 year-old piece. The painting is titled, dated and signed on the verso as follows: "De Puy 82' Inside Passage". The painting is very beautifully and appropriately framed in a modernist-style, anodized steel "shadowbox" or "floater" style frame by Santa Fe's premier fine art framers, Goldleaf Framemakers. The painting's provenance could not be better. We purchased it directly from John De Puy in 2016. This splendid painting could hang proudly in any modern art museum across the country or around the world. You now have the unique opportunity to enjoy having it in your own private museum.
Price $7,250 plus shipping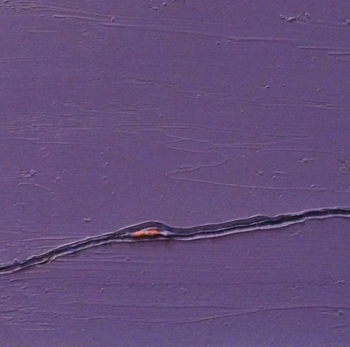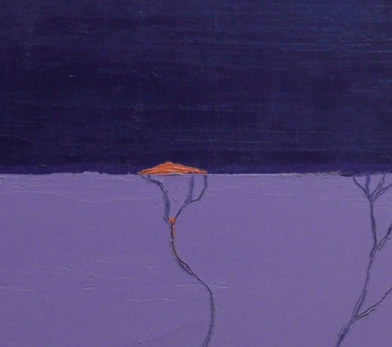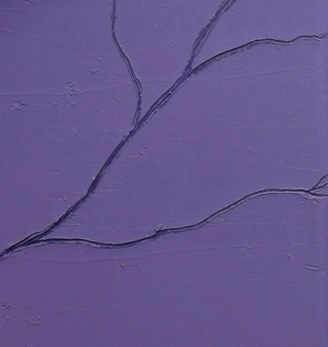 "The land is my root and my being. Everything I am
is the land and I spent 50 years interpreting it in painting
and fighting lost causes."
-Excerpted from "An Interview with John DePuy"
in "The Canyon Country Zephyr", 2001
"John DePuy: Painter of the Apocalyptic Volcano of the World" exhibition at The Harwood Museum in Taos, New Mexico, February 13-May 1, 2016