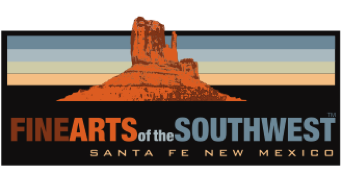 © 2010-2021 by Fine Arts of the Southwest, Inc. All rights reserved.
Unauthorized reproduction or use is strictly prohibited by law.

A portrait of Zuni Pueblo War Chief, "Rain-Bow"
by Kathryn W. Leighton, circa 1930's-40's
This powerful portrait was painted by the outstanding California and Western painter Kathryn Woodman Leighton (1875-1952). Leighton was one of the first woman painters of Indian and Western subjects in America at a time when such painting was almost exclusively a male preserve. Leighton began painting her Indian portraits in 1918 and was helped greatly by her friend, renowned Montana frontier artist Charles Marion Russell, who helped her obtain a commission from the Northern Pacific Railroad to paint a series of portraits of Blackfoot tribal elders. Subsequently, and for most of her life, Leighton made repeated painting trips to various parts of Indian country to meet and paint portraits of members of many different Indian tribes including the Navajo, Hopi, Zuni, Sioux, Pawnee, Comanche and Osage.
These portraits were sometimes painted on location and sometimes in Leighton's Los Angeles studio with the subjects bringing their own costumes and other regalia for the occasion. Leighton's Indian portraits were exhibited widely around the Unites States during her lifetime and are thought to number around 700 in total, constituting a marvelous cultural, ethnographic and historic record. This imposing depiction of the Zuni War Chief Rain-Bow is remarkable for the power and stoicism emanating from its subject. Leighton's free and masterful brushwork perceptively communicates the chief's vitality, force and serious demeanor, befitting his responsibilities.
For the Zuni people, the rainbow is a symbol of great power, as a protective device found on War shields and prominent in Zuni mythology as "The Rainbow man", the one who wields such power as protector of the people. The portraits subject may have been referred to as "Rain Bow" because of his official status as a War chief responsible for protection of the Zuni people. This was not necessarily the subject's given Zuni or English name.
The painting is oil on canvas, 30" by 25" and is in excellent original condition with two very small spots of in-painting. It is signed "Kathryn W. Leighton" at the lower right and is framed in a wonderful antique gold gilded frame made by The Newcomb-Macklin Company of Chicago and New York, who were America's premier custom frame-makers during the first half of the twentieth Century and whose original period frames, such as this one, often sell for thousands of dollars.
Price available upon request