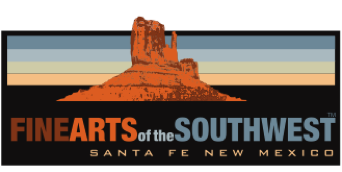 © 2010-2023 by Fine Arts of the Southwest, Inc. All rights reserved.
Unauthorized reproduction or use is strictly prohibited by law.
An outstanding Navajo silver and Morenci, Arizona turquoise belt buckle by Kenneth Begay, c.1960's
This buckle in a nutshell basically tells you all you ever need to know about Kenneth Begay's (1913-1977) exceptional Navajo silverwork; it is at once classic, modern, elegant, graceful, perfectly conceived and just as perfectly crafted. Kenneth Begay's work is revered everywhere fine Navajo silversmithing is understood and appreciated. Its formidable beauty and incomparable quality even provided the original inspiration for the now world-renowned Hopi jeweler, Charles Loloma (1921-1991), to begin making jewelry. The buckle also has a particularly fascinating history which we'll get to in detail a little bit later.
This buckle's design is a masterpiece of chisel and file work with a gorgeous radiating design of parallel rays coming outwards in all direction from the beautiful central oval-shaped turquoise stone which is nicely set in an old style "foldover" type bezel mounted inside a small shadowbox surround which accentuates the stone very nicely. The beautifully hand-cut gem-quality Morenci, Arizona turquoise stone has that deep, powerful, penetrating, saturated blue, almost veering towards purple and the telltale iron pyrite matrix which characterizes Morenci turquoise. Overall, the buckle exhibits a beautiful and subtle sculptural form, very nicely and gracefully domed.
"Kenneth Begay created clean, elegant designs based on streamlined shapes that were repeated to form balanced and harmonious patterns, a style that has been compared to Navajo weaving."
-Quotation source and © "Totems to Turquoise", Harry Abrams, Inc. New York, in association with the American Museum of Natural History
Morenci Turquoise
Morenci turquoise was mined in Greenlee County in southeastern Arizona. This turquoise is highly sought after for its blue colors and iron pyrite, or "fools gold," matrix. From 1956 to 1984, the turquoise rights were granted to William "Lucky" Brown. Lucky retired in 1982 and his sons continued to mine the turquoise until the lease ended. The Browns still have quite a stash of rough stone, enough to release a small amount every year to keep it available. Morenci is highly valued and difficult to obtain.
-Morenci turquoise photo and text source and © Gene Waddell, Waddell Gallery, Scottsdale, AZ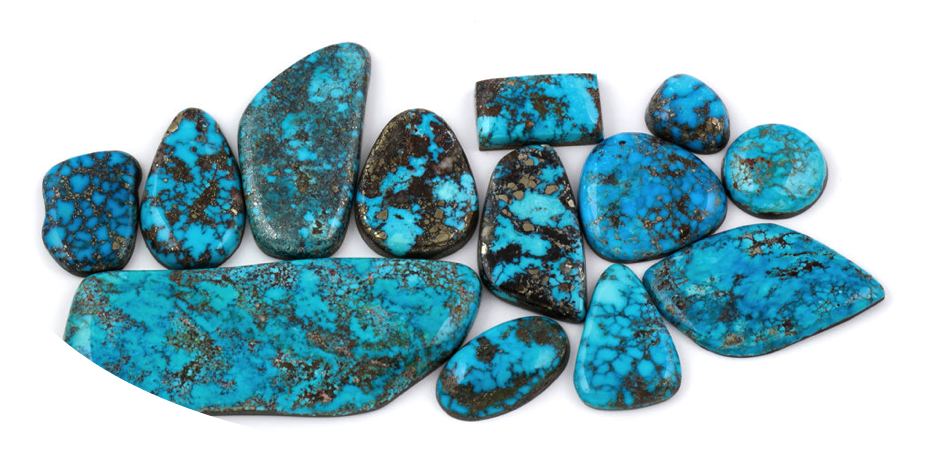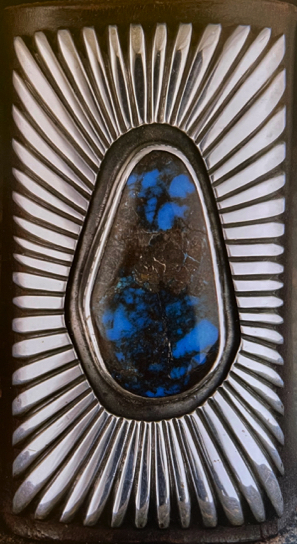 "I like to create something new and still use the old Navajo design style."
-Kenneth Begay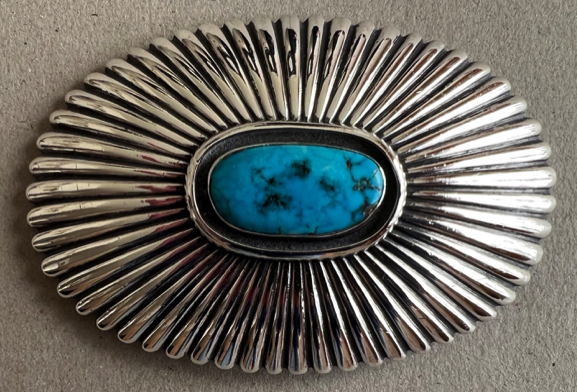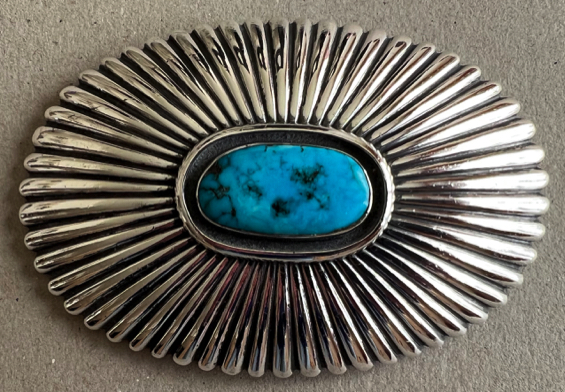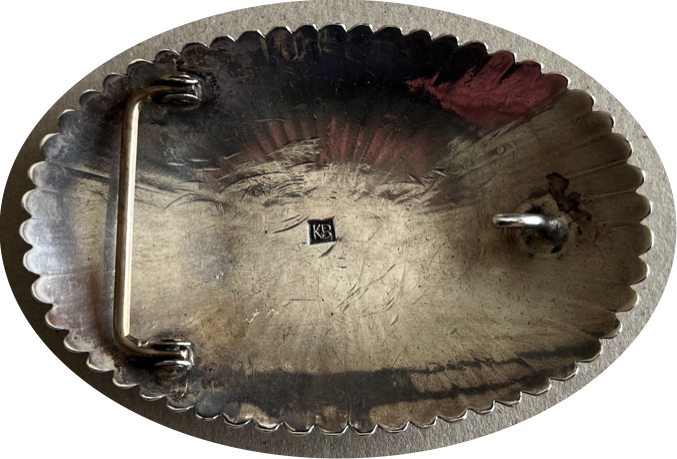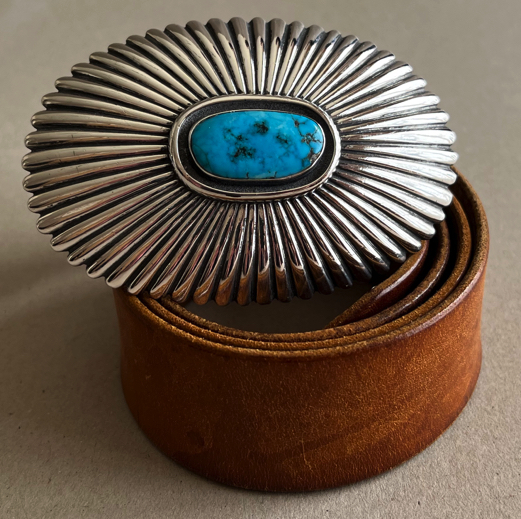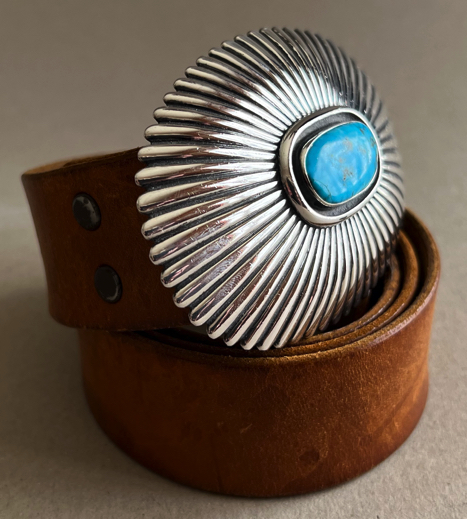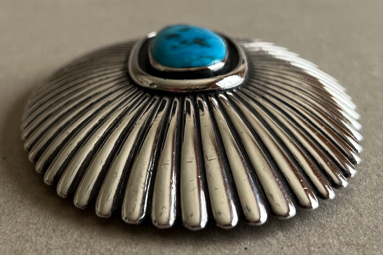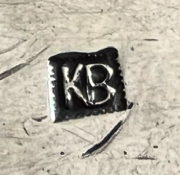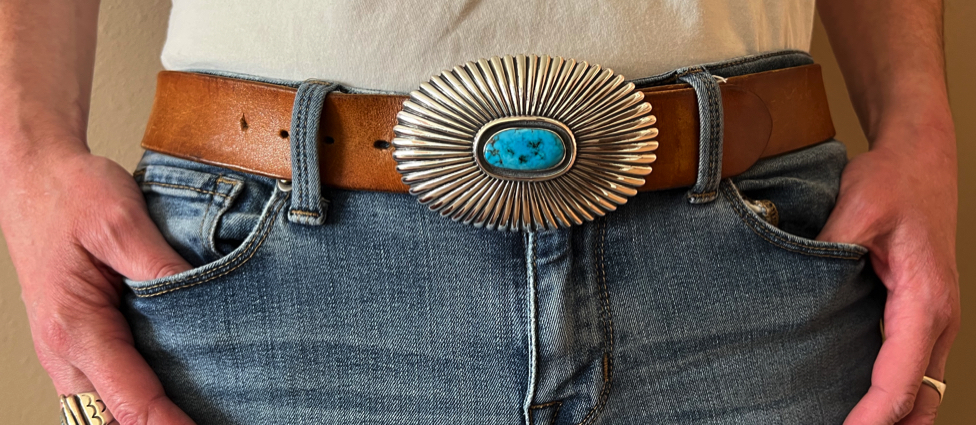 And now for the buckle's interesting history. This buckle is at least 55 years old but, according to its original and previous owner it is actually still brand new in some way. The previous owner told us they purchased it in 1968 from their close personal friend, the well-known longtime New Mexico Indian trader, Edwin (Ed) Foutz, owner of the Shiprock Trading Company in Shiprock, New Mexico. Ed Foutz had a long working relationship with Kenneth Begay and would sell new work of Begay's regularly.
The previous owner of the buckle told us that after they purchased the buckle that they never once wore it,
they just kept it all these many years until selling it to us late last year and the excellent-plus condition of the buckle bears this out. There are a number of what appear to be original tooling marks on the silver. In our opinions, the buckle does actually appear to have a certain degree of slight wear, but this is the story we were told by the buckle's original owner and we have no reason not to believe it. It is certainly possible that Ed Foutz or even Kenneth Begay himself might have worn it for a while before selling it. In any case, it's in remarkable shape. This piece is a true time warp, middle-aged and still just a baby at the same time.
Charles Loloma made the silver and Bisbee turquoise ketoh pictured at left in 1975 as a personal homage to his friend and jewelry inspiration, Kenneth Begay. Loloma never sold it. At center, the principals of The White Hogan Shop, Scottsdale, AZ, c. 1954. Kenneth Begay is pictured at the lower right.
Left photo source and © Martha H. Struever, "Loloma, Beauty is his Name." Wheelwright Museum of The American Indian, Santa Fe, NM. Center photo source and © Arizona Republic.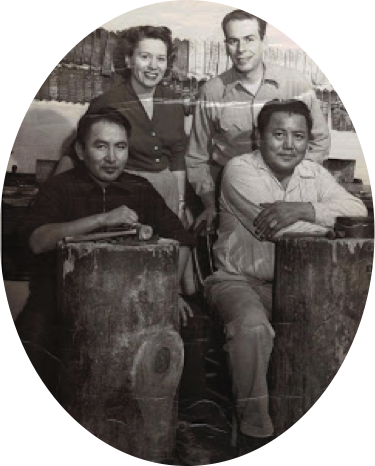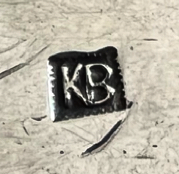 The buckle measures just a hair under 4" in length and is 2 5/8" in height and 1/2" in depth. The turquoise stone itself measures 1 5/8" in length and is 5/8" in height. The buckle weighs a very comfortable 74 grams or 2 5/8 ounces and, as we just said, it is in excellent and supposedly new original condition. The buckle will accept a belt strap of up to 1 1/2" in width. The buckle is properly signed on the back with Kenneth Begay's customary capital letter "KB" initials inside a serrated square.
This buckle is a remarkable example of the very finest work of one of the most outstanding artists in Native American history. It would be a great credit to any collection, public or private. Pieces such as this are precisely why Kenneth Begay is universally considered to be one of the greatest Navajo silversmiths ever.
Please note that the leather belt shown here is for demonstration purposes only and is not included
in the sale of the buckle. If desired, we can recommend an excellent cutom belt maker in Santa Fe.
SOLD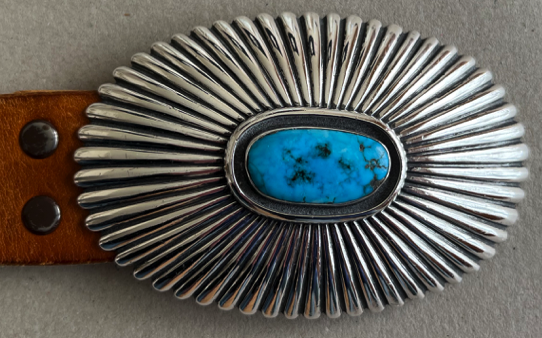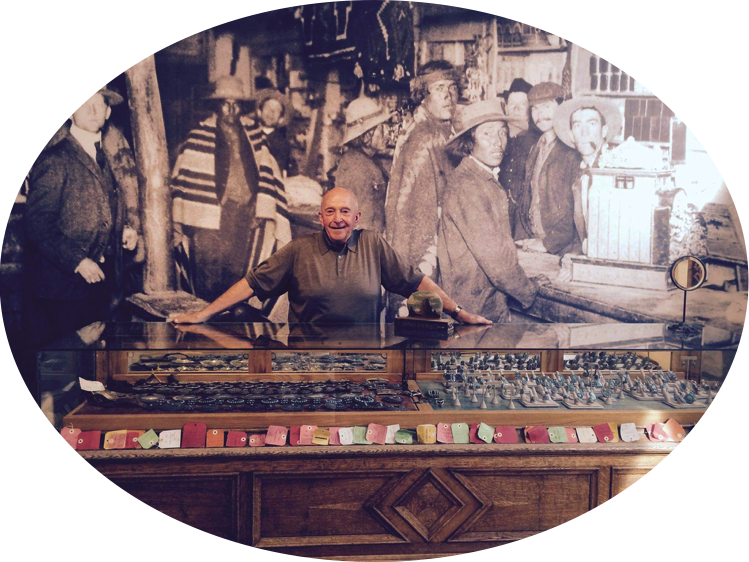 Renowned longtime Indian trader Ed Foutz pictured in the Trading Post room of today's Shiprock Gallery in Santa Fe, c. 2015. Ed sold this buckle at his old trading post in Shiprock, New Mexico to the previous owner in 1968.
Photo source and © Shiprock Santa Fe