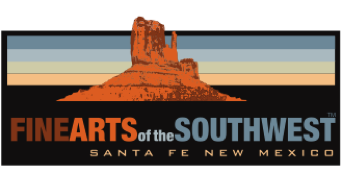 © 2010-2021 by Fine Arts of the Southwest, Inc. All rights reserved.
Unauthorized reproduction or use is strictly prohibited by law.

An outstanding Navajo silver and Morenci, Arizona
turquoise belt buckle by Kenneth Begay, c.1960's
This buckle in a nutshell says basically all you ever need to know about Kenneth Begay's (1913-1977) exceptional Navajo silverwork; it is at once classic, modern, elegant, graceful, perfectly conceived and just as perfectly crafted. Kenneth Begay's work is revered everywhere fine Navajo silversmithing is understood and appreciated. Its beauty even provided the original inspiration for renowned Hopi jeweler, Charles Loloma (1921-1991), to begin making jewelry.
"I like to create something new and still use the old Navajo design style."
-Kenneth Begay
This buckle's design is a fascinating synthesis of two different traditional Navajo jewelry and weaving designs; the "butterfly" section in the center comprised of two matching "wings" done with finely-chiseled and stamp worked lines and the outer four-part or four directions design with its four winged repousseed or domed panels, one at each of the buckle's four corners. This is a design which is often traditionally used on Navajo silver bow guards, known as "Ketohs" and variations of it also regularly occur on certain types of Navajo textiles. Two beautifully hand-cut gem-quality matching teardrop-shaped Morenci, Arizona turquoise stones set opposite each other at the top and bottom center of the buckle complete the overall design. The stones have that deep, powerful, penetrating, saturated blue, almost veering towards purple and the telltale iron pyrite matrix which characterizes high-grade Morenci turquoise.
"Morenci turquoise is highly valued and difficult to obtain."
-American turquoise mine owner and authority, Gene Waddell. Quotation source: Waddellgallery.com
The buckle measures a nicely-sized 3 1/2" in width and it is 2 3/4" in height. It weighs a very comfortable 77 grams or 2 3/4 ounces and it will accommodate a belt strap up to 5/8" in width. The buckle is in excellent original condition with a few assorted scratches and tiny dings. It is properly signed on the back with Kenneth Begay's well-known hallmark of his capital letter initials "KB" inside a serrated square box. The buckle is extremely wearable for a wide variety of occasions and would look equally attractive worn with a tee-shirt and jeans by either a man or woman or on a high quality soft Italian leather belt over a black cocktail dress at a fancy get-together.
"Kenneth Begay created clean, elegant designs based on streamlined shapes that were repeated to form balanced and harmonious patterns, a style that has been compared to Navajo weaving."
-Quotation source and © "Totems to Turquoise", Harry Abrams, Inc. New York, in association with the American Museum of Natural History
This buckle is an excellent example of the very finest work of one of the most outstanding artists in Native American history. It is precisely why Kenneth Begay is universally considered to be one of the greatest Navajo silversmiths.
Please note that the leather belt shown here is for demonstration purposes only
and is not included in the sale of the buckle.
Price $6,400
Kenneth Begay 1974
Photo source and © "Totems to Turquoise", Harry Abrams, Inc. New York, in association with the American Museum of Natural History