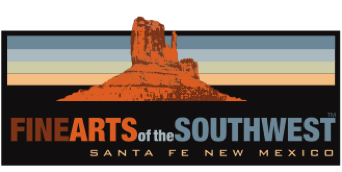 © 2010-2021 by Fine Arts of the Southwest, Inc. All rights reserved.
Unauthorized reproduction or use is strictly prohibited by law.

A unique and exceptional pair of Navajo silver and
turquoise earrings by Kenneth Begay, c. 1955-60
WHEN KENNETH BEGAY (1913-1977) is referred to as being "The Father of modern Navajo silver", as he so often is, these are precisely the sorts of clean, bold, modern-looking pieces that come immediately to mind. When he began working in the 1940's, Begay's work was so shockingly innovative that many people in the Native American art world simply didn't know what to think. In fact, according to the American Museum of Natural History, his work was rejected from a 1949 exhibition of Native art as being "too radical". It's an unusual reaction in some ways because while Begay's work was certainly extremely innovative and highly modernistic, it is also quite solidly and completely within all the traditions and techniques of classic Navajo silversmithing; in fact Begay himself by his training was old Navajo silversmithing royalty of the very highest order, a direct connection to and a direct descendant of the very first and some of the very finest Navajo silversmiths.
Begay learned silversmithing from the great Fred Peshlakai (1896-1972), who had in turn been taught the craft by his Father, "Slender, Maker of Silver", who was the younger brother and student of the very first known Navajo silversmith, Atsidi Sani (c. 1830-1918). Slender also learned from another very early smith, Atsidi Chon. The great Navajo headman and later tribal council chairman Henry Chee Dodge (1860-1947) considered Slender Maker to be the greatest silversmith of his time.
"I like to create something new and
still use the old Navajo design style."
-Kenneth Begay
Each of these earrings is beautifully accented with a single round, domed, hand-carved, blue turquoise stone, 3/8" in diameter, which appear to be from the famed Blue Gem turquoise mine in Nevada. The round stones echo and reinforce the round shape of the earrings as does the beautifully raised up fabricated silver inner border and the beautifully chiseled in concentric outer border. The textural contrast between the variegated hand-carved surfaces of the stones and the smoothly polished surfaces of the silver is also remarkable. The earrings are on posts and they measure a nice-sized 1 1/8" in diameter and are 3/8" in depth. They weigh a very comfortable 7 grams or 1/4 ounce each. The earrings are each properly signed "KB" on the back in the artist's characteristic capital letter initials inside a serrated square and they are in especially excellent original condition.
These earrings are traditionally handmade Modernist masterpieces from one of the greatest Southwest Native artists in history. Kenneth Begay's breathtaking daring designs and unparalleled traditional craftsmanship awed and inspired virtually everyone who saw them, especially other Southwestern artists, such as the renowned Hopi jeweler, Charles Loloma, who as a young artist simply idolized Kenneth Begay. In our nearly 30 years of buying and selling Kenneth Begay's work, we can say that these earrings are among the most interesting and distinctive pieces of his that we have seen. They also have an excellent provenance. We recently purchased them directly from a longtime New Mexico Indian trading family who acquired them directly from Kenneth Begay around 1960 and have had them ever since.
The earrings come with the added and unusual benefit that while wearing them with their distinctive, futuristic satellite dish-like shape and profile you are sure to be able to receive old Japanese reruns of Star Trek as well as coded signals from other planets and galaxies far far away.
Price $4,200