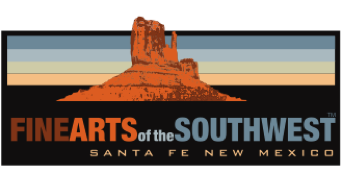 © 2010-2021 by Fine Arts of the Southwest, Inc. All rights reserved.
Unauthorized reproduction or use is strictly prohibited by law.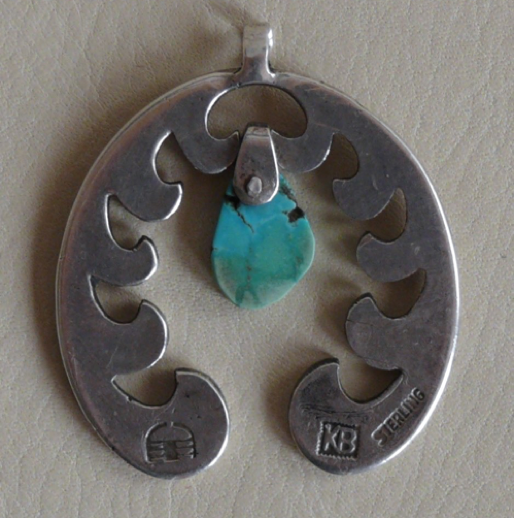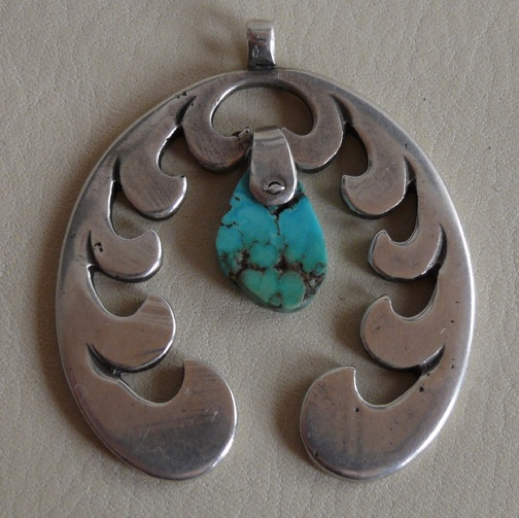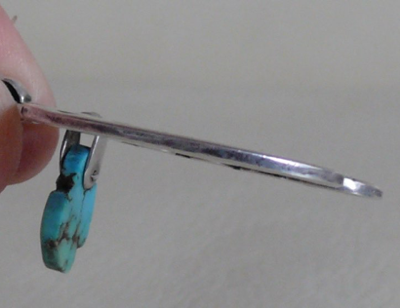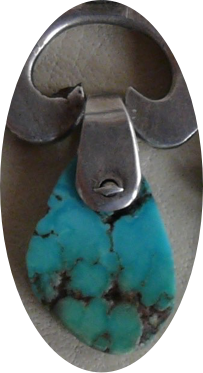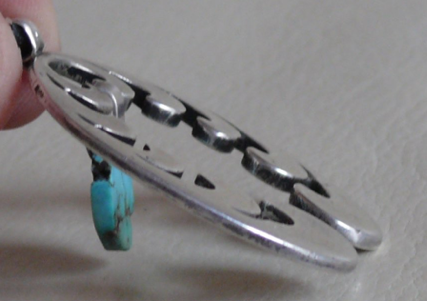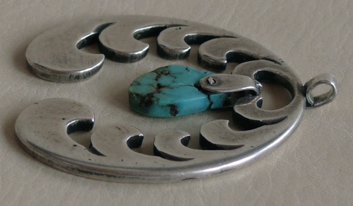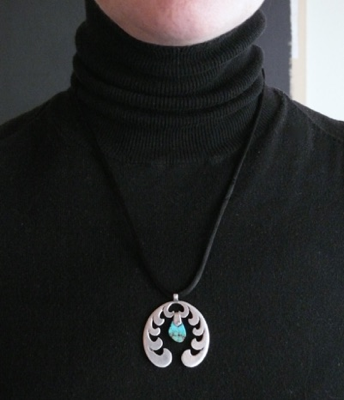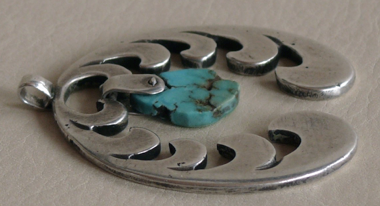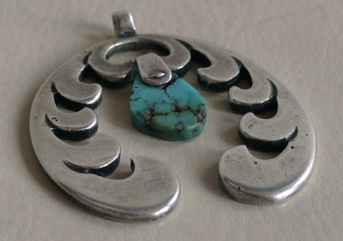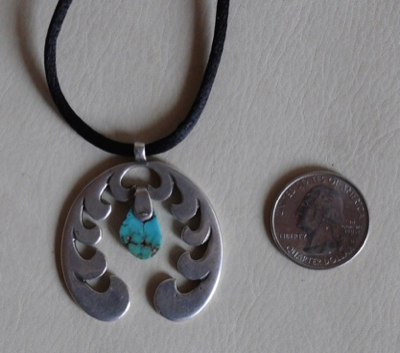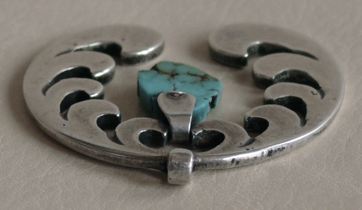 An extraordinary Modernist-style Navajo silver and turquoise "Naja" pendant by Kenneth Begay for The White Hogan Shop, Scottsdale, AZ, circa 1950's-60's
Kenneth Begay's (1913-1977) silver work is immediately recognizable and always distinctively his own; streamlined, elegant and modernist with a unique originality of inspired design and unparalleled quality of technique and craftsmanship. This wonderful Modernist take on a traditional Navajo silver Naja pendant is a perfect example—the piece is at once highly-original, classic and incredibly complex. The body of the Naja is extremely sculptural; cast and filed in fairly thick silver with an interesting serrated edged pattern to the silver crescent form.
The turquoise stone pendant suspended inside the top of the encircling silver naja is a beautiful, partially-shaped, yet still slightly irregular, tab of lovely blue-green turquoise, possibly from Nevada's famed blue-gem Mine, which has been painstakingly suspended in place on a tiny internal silver gimbal which allows it to easily swing forwards and backwards giving the piece the ability to move along with the wearer's motion- imparting the piece with a unique and wonderful "aliveness". Also, notice the incredibly fine detail in which the turquoise tab is held in its place by a miniscule, hand-forged silver plug which is almost impossibly well-done. It is very possible that this tab is a cleverly repurposed older Navajo drilled turquoise tab earring.
The Naja pendant measures 1 3/4" in height including the bail, it is 1 1/2" in width at its widest point and slightly less than 1/8" in thickness. It weighs a very comfortable 14 grams or 1/2 ounce. The pendant is in excellent original condition and is properly signed on the back with Kenneth Begay's customary "KB" inside a serrated square hallmark and is further marked with The White Hogan Shop's domed hogan insignia and is also quality-marked, "Sterling".
The pendant can be worn in a wide variety of ways; on a silver chain, on a narrow leather thong, on a silk jewelry cord as we have pictured it below or on a shaped silver collar. It could also, if desired, be incorporated into a strand of small Navajo or other silver beads.
This pendant is a modern classic; a masterpiece of conception, style and craftsmanship and a worthy tribute
to the awesome talent of the outstanding artist who created it. Que Viva, KB!
Price $2,950