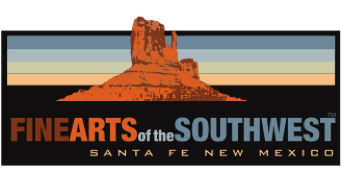 © 2010-2021 by Fine Arts of the Southwest, Inc. All rights reserved.
Unauthorized reproduction or use is strictly prohibited by law.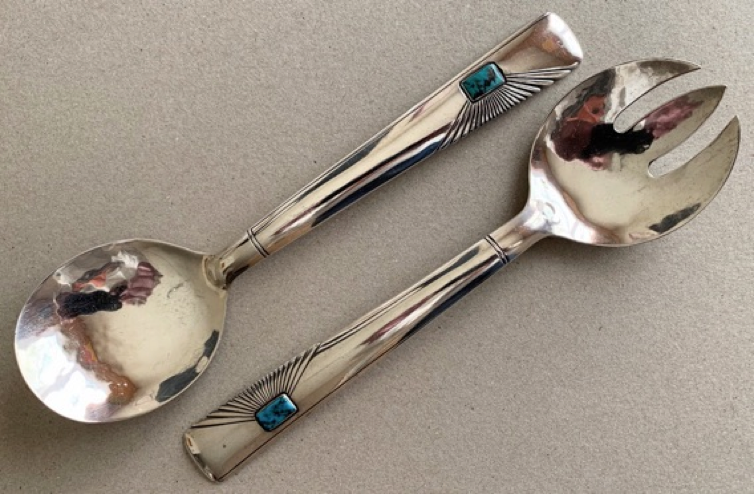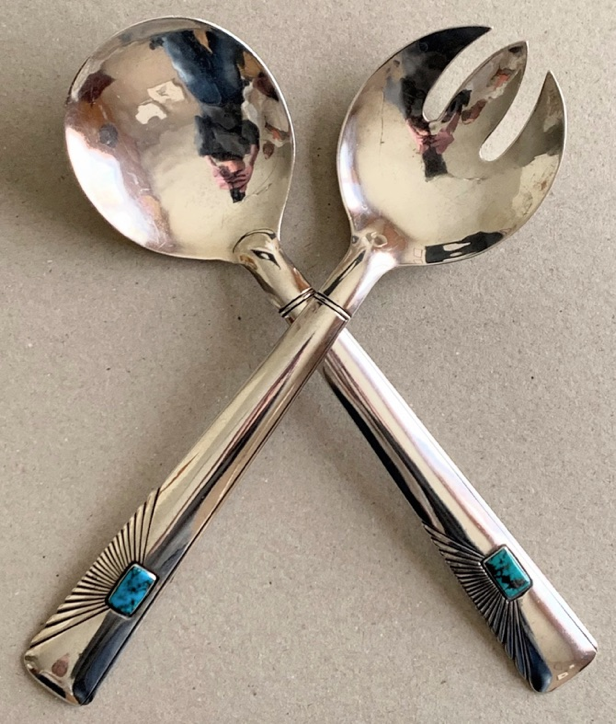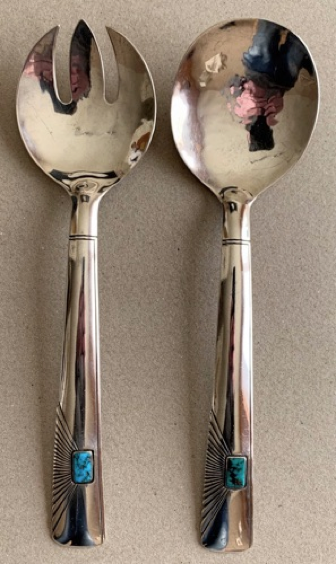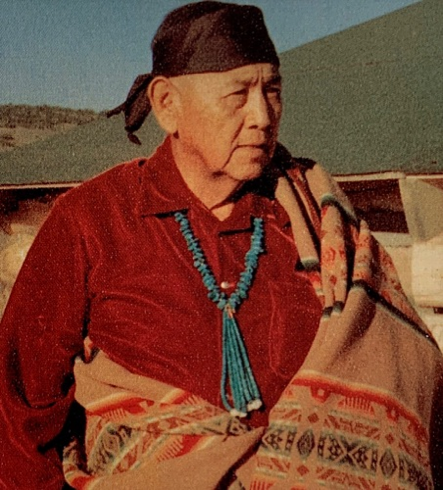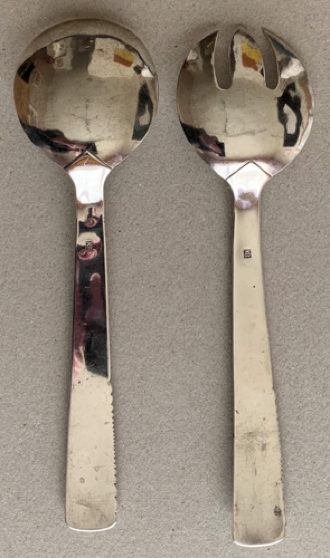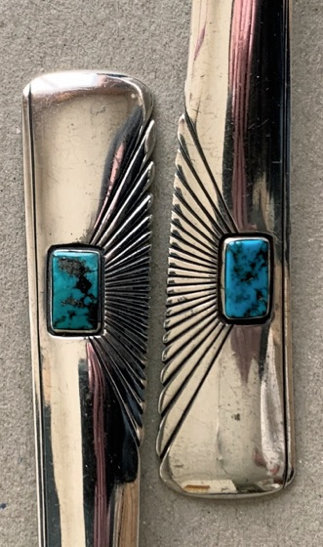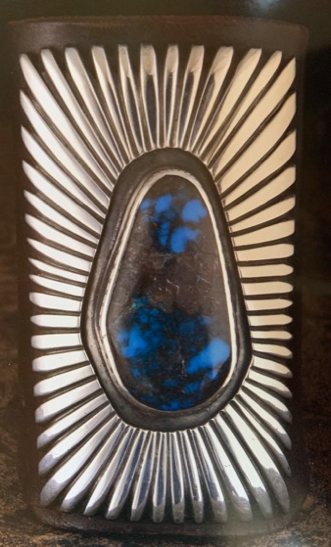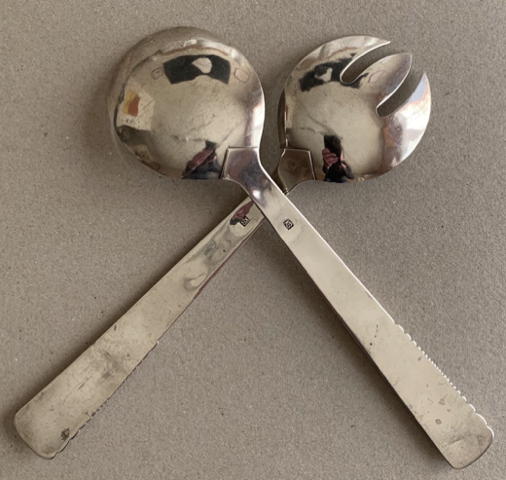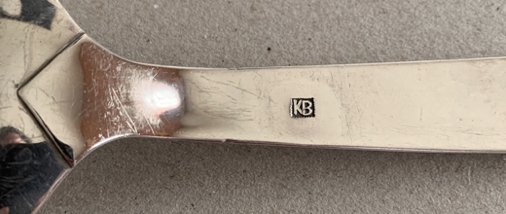 An extremely elegant handmade Navajo silver and
turquoise serving set by Kenneth Begay, c.1950's
Kenneth Begay's (1913-1977) silver work is immediately recognizable and always distinctively his own; streamlined, elegant and modernist with a unique originality of inspired design and unparalleled quality of technique and craftsmanship. Begay is known today as being "The Father of Modern Navajo Silver" for his cutting edge streamlined Modernist designs, which modern though they were, were always deeply rooted in traditional Navajo silversmithing technique. Begay inspired several generations of Navajo and Pueblo silversmiths through his pioneering work at Scottsdale Arizona's famed White Hogan shop and working on his own in later years. One of the young silversmiths who found great inspiration in Kenneth Begay's unique work was Hopi artist Charles Loloma.
Kenneth Begay (1913–1977) was called the "father of modern Navajo jewelry" for his clean, bold, modern designs. But he also exemplifies the long history and continuity of Navajo jewelry-making: Begay studied under Fred Peshlakai, who had been taught by his father, Slender Maker
of Silver, who was trained by Atsidi Chon, one of the earliest Navajo silversmiths. Begay in turn taught many others including his son, Harvey, now a renowned jeweler.
-From "Totems to Turquoise", The American Museum of Natural History
This wonderful Modernist take on a silver serving set is a perfect example of Kenneth Begay's finest, most sophisticated and accomplished work—the piece is at once highly-original, classic, elegant and incredibly complex in its construction and detail. The craftsmanship is superb in every aspect from the exquisite graceful shape of the pieces to the fine hand-hammering and skillful chiseled accent work. The handles of the utensils were painstakingly fabricated in two separate pieces of silver, the top one of which was beautifully domed to give a lovely profile to the piece and then soldered together and finished. The beautiful burst of chisel worked rays radiating out from the turquoise stones is a particularly elegant touch.
"I like to create something new and still use the old Navajo design style."
-Kenneth Begay
Both serving pieces are very finely set with beautiful, matching, hand-cut rectangularly shaped high-grade blue turquoise stones possibly from the Morenci mine in Arizona or Blue Gem Nevada. The stones are beautifully flush set in recessed rectangular shadowbox-style silver bezels. The silver serving spoon measures 9 1/2" in length and the matching silver serving fork measures a just very slightly longer 9 3/4" in length. Both pieces are 2 1/2" in width at their widest points across the bowls. The fork weighs 83 grams or 2 7/8 ounces and the spoon weighs
93 grams or 3 1/4 ounces. Both pieces are in excellent-plus original condition particularly for their 60-some years of age with only an extremely small amount of age-appropriate wear and they are both properly signed on the backs with Kenneth Begay's customary hallmark of his capital initials "KB" set inside a serrated square box.
This salad set is a modern-day classic of Navajo silverwork; a masterpiece of conception, style and craftsmanship and a worthy tribute to the awesome imagination and incredible talent of the outstanding artist who created it. While this is a set of serving utensils to be sure, it is also a pair of superbly rendered elegant Modernist silver sculptures as well, Navajo silver Brancusis, so to speak.
Price $5,400
Charles Loloma made this silver and turquoise ketoh in 1975 as a personal homage to Kenneth Begay. Loloma never sold it.
-Photo source  and  © Martha H. Struever, "Loloma, Beauty is his Name." 
Wheelwright Museum of The American Indian, Santa Fe, NM