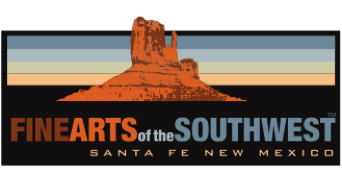 © 2010-2021 by Fine Arts of the Southwest, Inc. All rights reserved.
Unauthorized reproduction or use is strictly prohibited by law.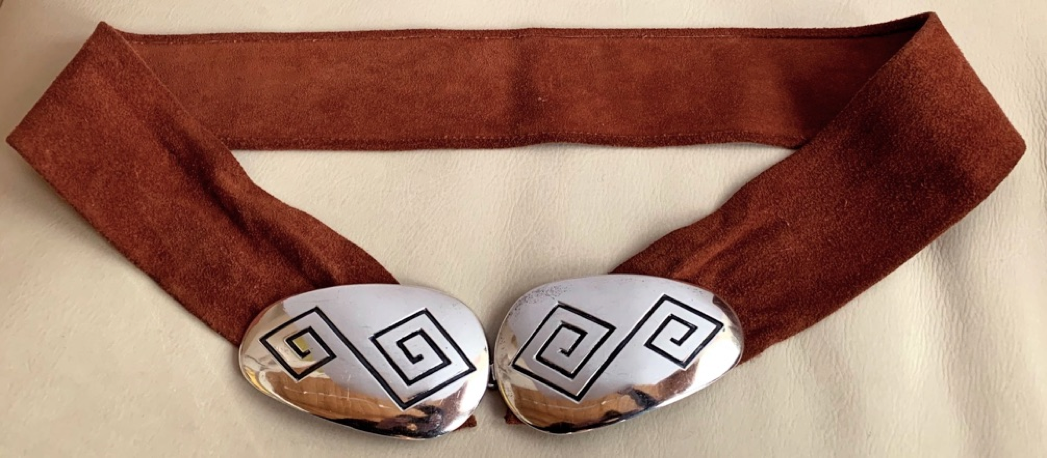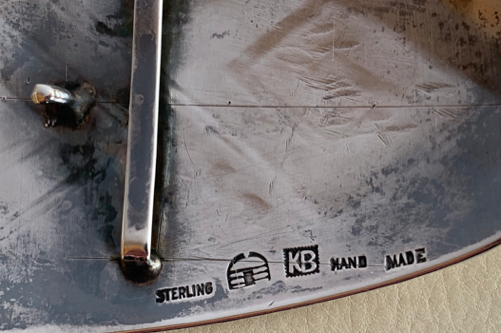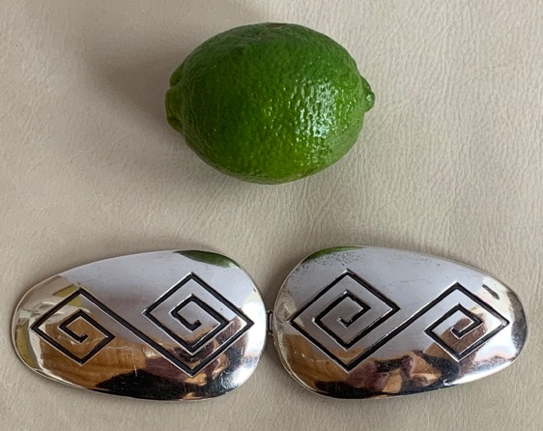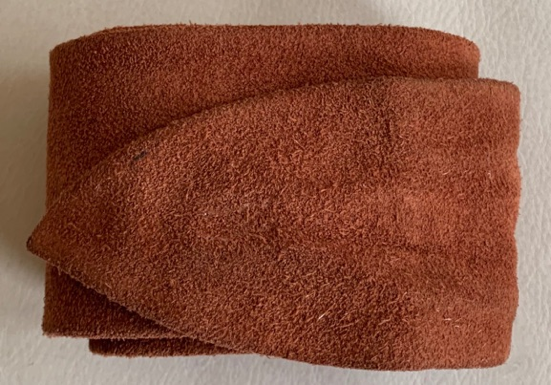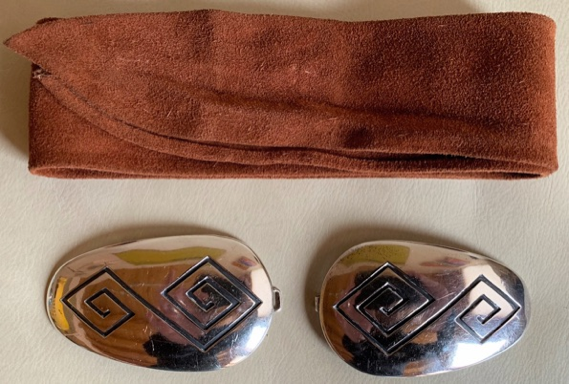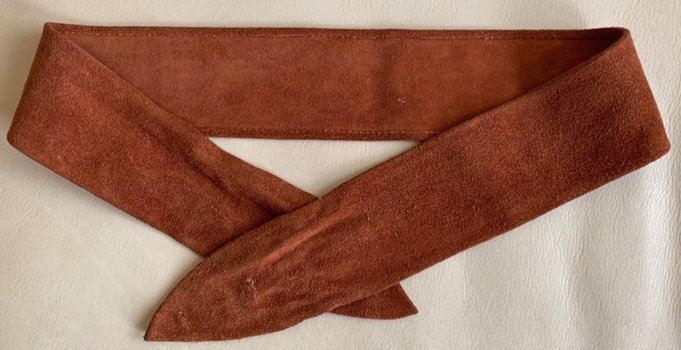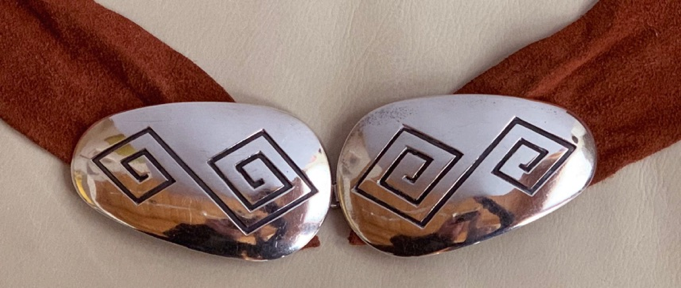 A magnificent Modernist-style Navajo silver double belt buckle set by Kenneth Begay for The White Hogan Shop, Scottsdale, AZ, c.1950's
THE BRILLIANT NAVAJO SILVERSMITH Kenneth Begay (1910-1977) really outdid himself here in perfect style, with this incredible and incredibly unique "double" silver belt buckle set; an ingeniously conceived creation composed of two large identically-shaped silver belt buckle "halves" which meet in the middle and join to become one large "whole" buckle. The two halves of the buckle are perfectly-balanced precise mirror images of each other with identically formed shapes and finely chiseled or etched designs in the same exact opposite mirror design pattern. And, this unusual piece is very unusually and impressively sized. The two buckles each individually measure a sizable 3 3/4" in width and 2 1/4" in height at the highest point and when linked together by the silver hook and eye closure they measure a very regal 7 3/4" in width. Together, the buckle set weighs 116 grams or 4 1/8 ounces.
The fit of the buckle set on the body is elegant and marvelous with the subtle contours and hinged, flexible closure of the two silver pieces fitting the body effortlessly.
This is serious, high-fashion Scottsdale International style from the 1950's period when, interestingly, sleepy little downtown Scottsdale, Arizona was a burgeoning and cutting-edge world high-fashion scene with the unparalleled Modernist Navajo genius of Kenneth Begay and his talented colleagues at the White Hogan Shop just down the street from another unique Native American fashion impressario, Lloyd Kiva New and his Kiva artist center whose other residents included the very soon to be world-renowned Hopi pottery-maker, painter and jeweler, Charles Loloma and his brilliant artist wife, Otellie and the pioneering Modernist jeweler, H. Fred Skaggs. At The White Hogan Shop, Kenneth Begay was the remarkable captain, so to speak, of an all-star silversmithing team of unparalleled greatness. The silver work which Begay and his cousins Allan, George and Ivan Kee and several others did there at this time are some of the finest, most beautiful Navajo silver pieces ever produced anywhere.
"Kenneth Begay created clean, elegant designs based on streamlined shapes
that were repeated to form balanced and harmonious patterns, a style that
has been compared to Navajo weaving."
-American Museum of Natural History
"Totems to Turquoise Exhibition", 2004
The buckle halves are both in excellent original condition particularly for their 60 or so years of age with a small amount of age-appropriate abrasion wear and tarnish and they are properly signed on the back of one side with Kenneth Begay's famous "KB" capital initials hallmark and also marked "Handmade" and "Sterling" and stamped with The White Hogan Shop's famous domed Navajo hogan insignia.
The buckle set came to us with this very nice looking and well-crafted vintage handmade soft orange suede leather belt which is of good quality. We have no way of knowing whether this was the original belt the buckle set was on, but it very well could have been, as this soft suede belt is very similar in type, appearance, feel and color to that of other period silver and leather pieces such as various belts, purses, wallets, desk sets etc. which we have seen from both The White Hogan Shop and Lloyd Kiva New's design atelier in Scottsdale. Likely, there were one or more custom leather makers there during this 1950's time period who performed custom order leather work for them.
The belt is currently not attached to the buckles, but it can easily be fastened in a couple of different ways depending upon the size waist one needs to fit. Also, another or more belts in different leathers, colors and sizes can be very readily made if desired and the buckle set switched off between them. The vintage orange suede belt included with the buckle set measures 36" in length and is 2 1/2" in width and it tapers down to points at both ends. The suede belt weighs 53 grams or 1 7/8 ounces and it is in good, previously worn vintage condition.
"I see the designs on potsherds and on Navajo rugs. I dream
about designs at night and then write them down and use them."
-Kenneth Begay
This buckle set is a singular piece of greatness in every possible way; from its unique and distinctive appearance
and formidable presence, its inspired, dynamic, streamlined and beautifully-balanced design, outstanding meticulous craftsmanship, excellent vintage condition and last, but not least, its extreme rarity. While we have certainly seen numerous remarkable silver pieces by Kenneth Begay over the many years, we have never seen the like of this outstanding buckle set before and it is not likely that we ever will again.
Price available on request