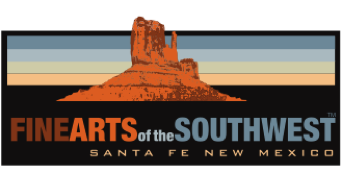 © 2010-2021 by Fine Arts of the Southwest, Inc. All rights reserved.
Unauthorized reproduction or use is strictly prohibited by law.

A lovely Kenneth Begay Navajo silver double hairpin, White Hogan Shop, Scottsdale, AZ, c. 1950s'-60's
Now here's something you definitely don't see everyday, a functional, practical, entirely precious and beautiful silver hairpin by "The Father of Modern Navajo Silver", the great silversmith Kenneth Begay (1913-1977).
From 1950 through the 1960's Begay and his band of brilliant Navajo jewelers, Allan, George and Ivan Kee and others at John and Virginia Bonnell's White Hogan Shop in Scottsdale basically revolutionized modern-day Navajo silver, using thoroughly classic traditional silversmithing techniques, but making it more modern-looking, streamlined and sleek.
Navajo women traditionally have very long dark hair which they pin up in various ways and perhaps Begay was inspired
by this to make this unique item, again a perfect example of his silversmithing philosophy, make it traditionally, make it function perfectly, make it look as precious and clean-lined as possible.
The double hairpin measures 3 1/2" in length and is 1" in width at its widest point. It weighs a very comfortable 6 grams or 1/4 ounce and is in excellent original condition. In an interesting and distinctive touch, the double tines of the pin
are twisted to give it a better grip on the hair but this also looks beautifully sculptural. The pin is properly signed "KB"
on the back with Begay's customary initials inside a serrated border and it is stamped with The White Hogan's Shop's distinctive domed Navajo Hogan hallmark. The hairpin is also marked "Sterling" and "Handmade" in Kenneth Begay's characteristic cursive script. Give your hairdresser the shock of his or her lives by showing up wearing this
supremely elegant and effective piece.
To see more silver pieces by Kenneth Begay available on our website, please click here.
Price $575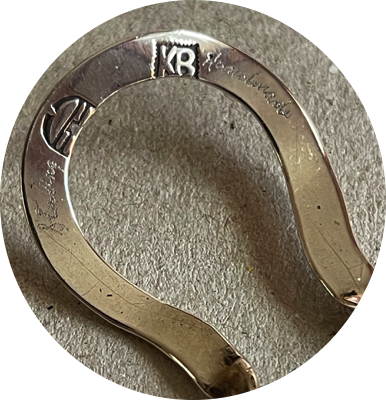 "I like to create something new and still use the old Navajo design style."
-Kenneth Begay