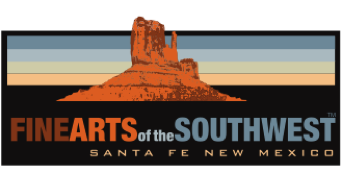 © 2010-2023 by Fine Arts of the Southwest, Inc. All rights reserved.
Unauthorized reproduction or use is strictly prohibited by law.
An elegant Modernist-style Navajo silver
ponytail hair holder by Kenneth Begay, White Hogan Shop, Scottsdale, AZ, c.1950's
Let's talk about doing your hair up in the highest Southwestern style. This is a most unusual ornamental silver jewelry piece by the renowned Navajo master silversmith, the beloved "Father of Modern Navajo silver", Kenneth Begay (1913-1977). Kenneth Begay's work is of ultimate quality and unparalleled beauty, revered everywhere fine Navajo silversmithing is understood and appreciated. Simply said, it's as good as Navajo silverwork ever gets.
Its formidable beauty and incomparable quality even provided the original inspiration for the now world-renowned
Hopi jeweler, Charles Loloma (1921-1991), to begin making jewelry.
Traditionally, Navajo women (and men as well) adorned themselves with large quantities of silver, turquoise and coral jewelry as a display of family or clan wealth and prestige when attending important occasions such as ceremonial sings, other dances, rodeos, parades or visits to town and this piece was conceived and made in that tradition to ornament and accentuate a woman's ponytail. Navajo women generally have long, thick, very dark hair and the bright silver of such a piece makes for a wonderful and striking accent.
The ponytail holder is most beautifully fabricated in Begay's signature sleek and elegant Modernist style.
The broad expense of polished silver accentuated by a single perimeter border of perfectly applied highly-detailed crescent-shaped stamp work designs is visually very exciting and nicely accentuates the delicately scalloped outer edge of the silver. Overall, like a great many of Kenneth Begay's pieces, the ponytail holder exhibits a beautiful and subtle sculptural form, very nicely and gracefully domed. All in all, this is a gleaming, precious, impeccably-crafted jewelry object.
"I like to create something new and still use the old Navajo design style."
-Kenneth Begay
Above, the principals of The White Hogan Shop, Scottsdale, AZ, c. 1954. Kenneth Begay is pictured at the lower right.
Photo source and © Arizona Republic.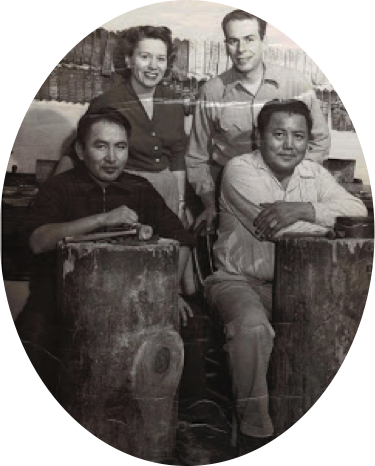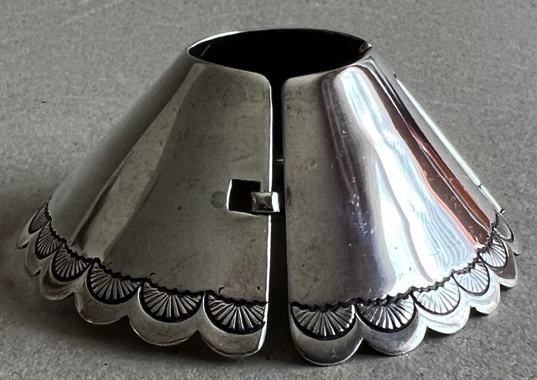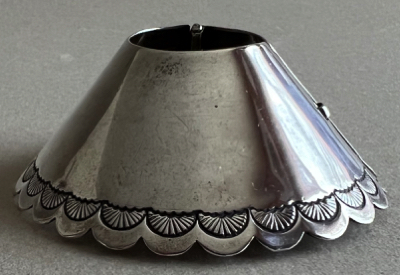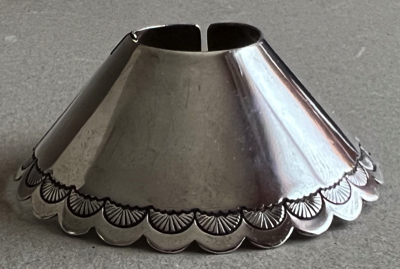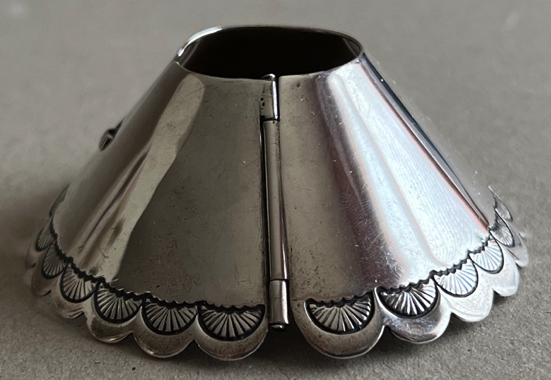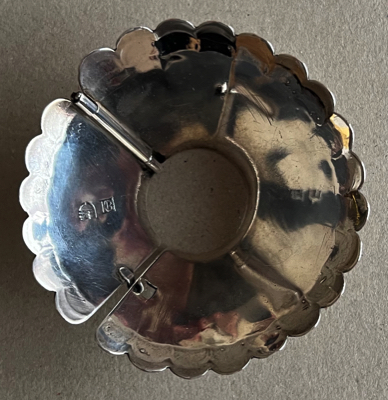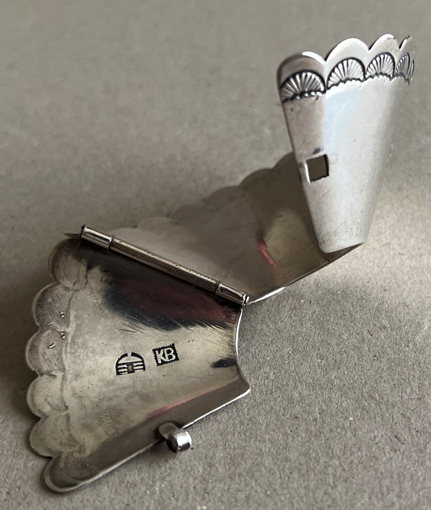 The cone-shaped ponytail holder measures 3" in diameter at its widest point and tapers down to a circular opening
of of 7/8" for the ponytail to pass through. The ponytail holder is 1 1/8 " in depth and it weighs a very comfortable
46 grams or 1 5/8 ounces. It opens and closes with a simple, yet very finely fashioned hinge mechanism. The ponytail holder is in pristine, near-mint original condition. There are a few original tooling marks in the silver, but we can't see any scratches or nicks anywhere on this 70 or so year-old piece, in all honesty it looks as if it was never worn.
"Kenneth Begay created clean, elegant designs based on streamlined shapes that were repeated to
form balanced and harmonious patterns, a style that has been compared to Navajo weaving."
-Quotation source and © "Totems to Turquoise", Harry Abrams, Inc. New York, in association with the American Museum of Natural History
The ponytail holder is properly signed "KB" in Kenneth Begay's customary capital letters inside a serrated square signature on the interior and it is also stamped with the domed Navajo Hogan insignia of the renowned White Hogan Shop of Scottsdale, Arizona where Kenneth Begay was part-owner and where he worked for several decades leading and inspiring a veritable All-Star team of Navajo silversmiths making an outstanding array of silver jewelry and ornamental pieces. Kenneth Begay and White Hogan set the gold standard for excellence in modern Navajo silverwork.
Fittingly, we acquired this piece a number of years ago from its original owners who told us that they originally purchased it in Scottsdale at The White Hogan Shop sometime in the late 1950's.
So the bottom line here is you or the loved one you buy this piece for gotta have the hair to fully enjoy and
appreciate it, but assuming that you do, it'll make that hair look that much more disctinctive. It's the ultimate "hairdresser" accessory if you will. And Men, don't be shy either if you've got the tonsorial goods. And when
you're not wearing it, it makes a mighty nice-looking table sculpture too.
Price $2,450