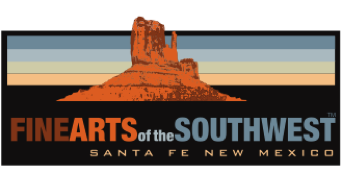 © 2010-2022 by Fine Arts of the Southwest, Inc. All rights reserved.
Unauthorized reproduction or use is strictly prohibited by law.

A unique pair of historic Navajo silver
luggage tags by Kenneth Begay, White Hogan Shop, Scottsdale, AZ, c. 1950's-60's
When was the last time you saw something like this? Just when you think you've seen everything, and after 35-plus years in this business we've seen quite a lot, along out of the blue comes something completely unique like this.
And, of course, naturally would be the great Navajo silversmith Kenneth Begay (1910-1977) who thought of these marvelous and imaginative pieces. Begay was at once deeply rooted in the techniques and traditions of classic Navajo silversmithing, but he also possessed a refreshingly and daringly modernist point of view, making an entire plethora of elegant and artistically compelling pieces that had absolutely nothing to do with the traditional Navajo lifestyle or culture—everything from silver chess sets and desk blotters to salt and pepper shakers, cocktail shakers and jiggers, tea sets, handbags, money clips, shoehorns, electric bedside lamps and now here luggage tags, all expressed in his unique and inimitable style, all suffused with his extraordinary, unparalleled craftsmanship. Not for nothing is Kenneth Begay now most fondly and accurately referred to as being "The Father of modern Navajo silver."
Kenneth Begay, 1974
Photo source and © "Totems to Turquoise", Harry Abrams, Inc. New York,
in association with the American Museum of Natural History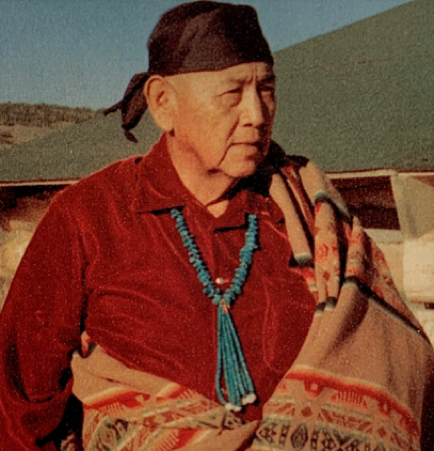 "I like to create something new and still use the old Navajo design style."
-Kenneth Begay
It is interesting to speculate about the origin of these pieces; was Begay commissioned to make them by the person whose name is on them, a Mr. William O'Fritze of Peoria, Illinois. Perhaps Mr. O'Fritze was on a winter vacation from frigid Peoria to sunny Scottsdale and by chance or by reputation stopped in at the then world renowned White Hogan Shop. Possibly, O'Fritze asked Begay to make these tags for him, perhaps the tags were already made and available in the sales case. Whichever, he bought them and Begay hand engraved O'Fritze's name and address in them in his inimitable cursive hand and O'Fritze proudly walked off into the sunset and subsequently traveled back to Peoria with his precious prizes. Who knows how many of these silver luggage tags Begay might have ultimately made before or since, but these are the very first and only ones we have ever seen or heard of.
One thing is for certain, these wonderful pieces are definitely products and mementos of a gentler bygone age. Can you imagine ever trying to travel with such fancy Sterling silver luggage tags on your bags today in any public manner, by plane train bus, ship, subway etc.? The instant your luggage was out of your sight those silver tags would disappear forever in a puff of smoke.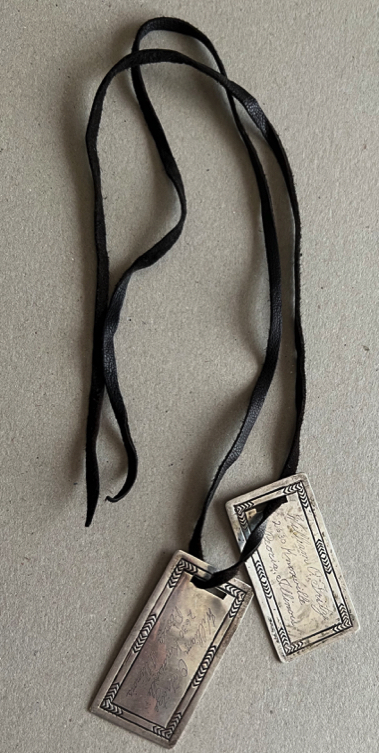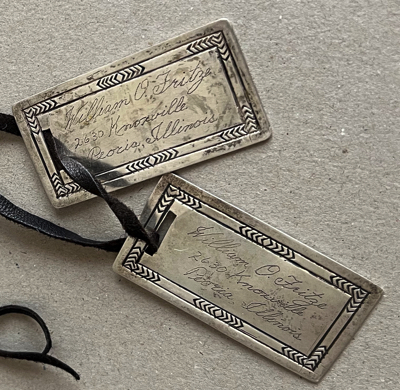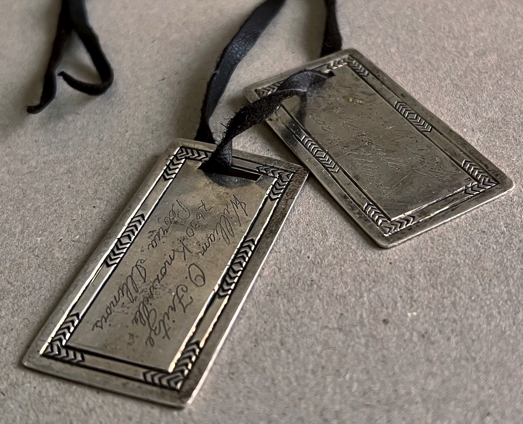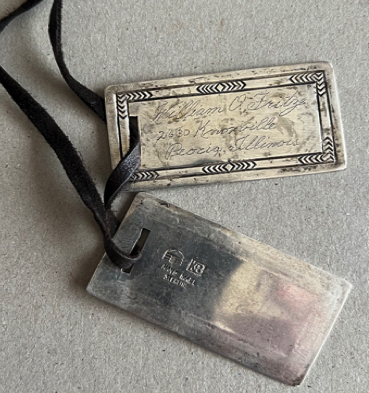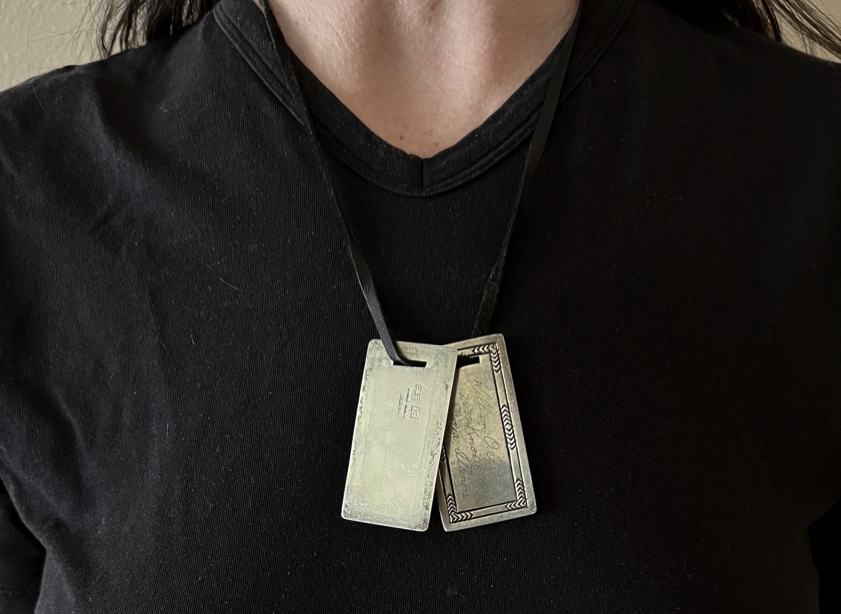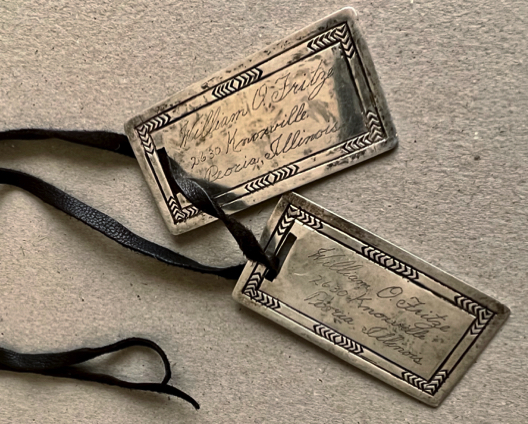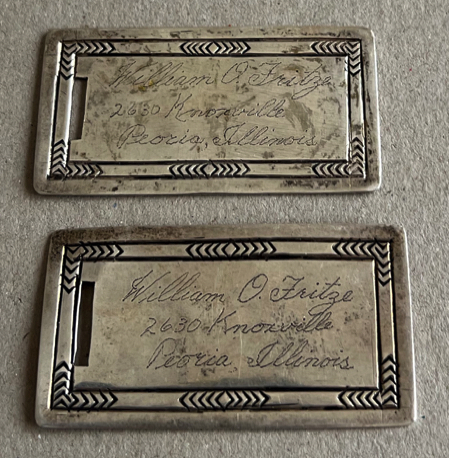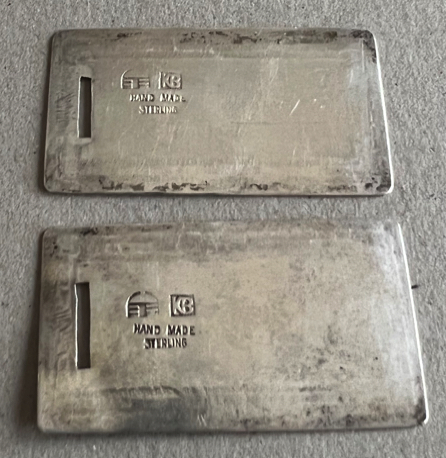 The tags have beautifully and finely chiseled and elegantly stamped outer borders around their plain silver center panels where the addresses are engraved. They each measure 2 1/4" in length and they are 1 1/4" wide.
They weigh12 grams or 3/8 ounce each. Both tags are properly signed "KB" in Begay's customary capital initials signature and are also marked "handmade" and "Sterling" and stamped with the White Hogan Shop's domed Navajo hogan hallmark on the back. They're in very good, albeit somewhat worn original condition with a fine patina from age and use. One tag has a small dent in it. Clearly, Mr. O'Fritze liked to travel and his luggage tags have logged a lot of miles serving him faithfully and well and in admirable style over the years.
The final question here is what to do with these unique and historic pieces? In our view, they are not only luggage tags but rare and precious and important pieces of historic handmade Native American jewelry by an acknowledged master artist as well. Accordingly, we suggest wearing them individually or together as lovely pendants on a leather thong as we have shown here or on a nice silver chain. However you wear them, be prepareo to be asked lots of questions and to receive many admiring glances.
Price $1,150
Note: The leather thong shown here is for demonstration purposes
only and is not included in the sale of these luggage tags.