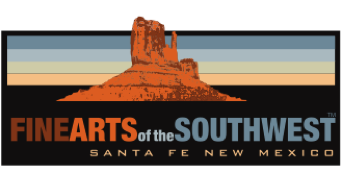 © 2010-2023 by Fine Arts of the Southwest, Inc. All rights reserved.
Unauthorized reproduction or use is strictly prohibited by law.
A superbly-crafted Kenneth Begay Navajo Sterling silver and desert ironwood pin, White Hogan Shop, Scottsdale, AZ, c. 1950's
This pin is a total, eye-popping stunner, no matter what your initials are. If they just happen to be "JJB" or "JBJ", then
so much the better, but the pin still works as a beautiful and precious piece of art and jewelry no matter. This sort of clean-lined streamlined, elegant Modernist-style piece is precisely why Navajo silversmith Kenneth Begay (1913-1977)
was and is revered today as being "The Father of Modern Navajo silver".
This pin could have possibly been made for one of the members of the extended Jon and Virginia Bonnell family who co-owned Scottsdale, Arizona'a famed White Hogan Shop for many years where they were partners with Kenneth Begay (1917-1977) and where Begay's extraordinary Modernist Navajo silver creations were made and sold along with pieces
made by Begay's talented cousins, George, Allan and Ivan Kee, as well as by numerous other fine Navajo and Pueblo silversmiths. For an entire generation of discriminating buyers, the White Hogan Shop was THE place in Arizona to go to
get beautiful handmade Navajo silver creations from jewelry to tableware and other household accessories accessories.
"I like to create something new and still use the old Navajo design style."
-Kenneth Begay
Above, the principals of The White Hogan Shop, Scottsdale, AZ, c. 1954. Kenneth Begay is pictured at the lower right.
Photo source and © Arizona Republic.
The pin is made of very precisely-fabricated Sterling silver set with a lovely circular panel of deep brown, finely-grained desert ironwood which is in turn set with three large perfectly-crafted sensuously curvaceous silver initials J J B. The pin measures 1 3/4" in diameter and is 3/16"in thickness. It weighs a very comfortable and easy to wear 24 grams or 7/8 ounce and is in completely excellent original condition. The pin's closure is in perfect working order. The pin is properly signed "KB" on the back and it is also marked "Handmade" "Sterling" and hallmarked with the White Hogan Shop's famed domed Navajo hogan insignia.
Wear this one with pride and abandon and if perchance someone should ask you who JJB is, you can always
mysteriously respond "Wouldn't you like to know?"
Price $1,150