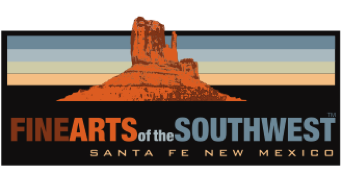 © 2010-2022 by Fine Arts of the Southwest, Inc. All rights reserved.
Unauthorized reproduction or use is strictly prohibited by law.

A lovely Modernist-style Navajo silver and turquoise pendant by Kenneth Begay, c. 1960's
Kenneth Begay's (1913-1977) silver work is immediately recognizable and always distinctively his own; streamlined, elegant and Modernist in style with a unique originality of inspired design combined with unparalleled quality of technique and craftsmanship. This wonderful Modernist small pendant is a perfect example; a complete affirmation of the age-old adage that "good things come in small packages."
The elongated oval-shaped pendant is a beautiful, sleek, sculptural form done in a shadowbox style with highly-polished silver bordering an oxidized dark central inset panel which contains a beautiful round blue turquoise stone, possibly from the Bisbee mine in Southern Arizona, which is very nicely set in an elegant plain silver bezel. The stone is superbly accentuated by two sets of chiseled and filed linear designs one on each side. The pendant itself measures a fairly diminutive 1 3/4" in height including the bail and is just over 1/2" in width
at its widest point. The pendant is in excellent original condition and it is properly signed/ on the back with Kenneth Begay's customary "KB" inside a serrated square hallmark.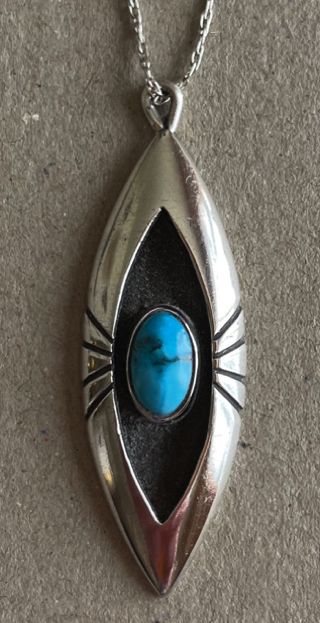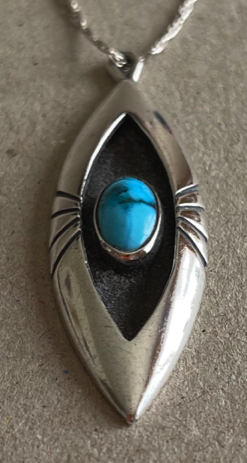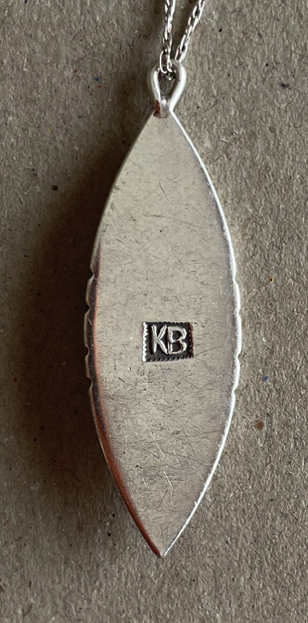 The pendant is presently strung on a fine Sterling silver link chain of an unknown origin. With the addition
of a silver jump ring it could also be hung on a leather thong or silver wire choker or collar. As presently constituted, the necklace measures 17" from the top of the chain to the bottom of the pendant measured while lying flat. The chain measures 30" end-to-end while fully opened up. The chain is marked .925 for Sterling on the clasp. The pendant and chain together weigh 6 grams or 1/4 ounce.
Kenneth Begay has been widely and accurately characterized as being "The Father of Modern Navajo jewelry".
In that parental capacity he created many beautiful children. The superb pendant is most certainly one of them.
Price $950