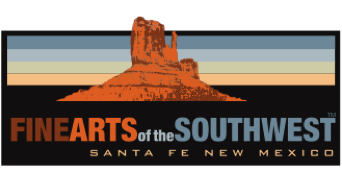 © 2010-2022 by Fine Arts of the Southwest, Inc. All rights reserved.
Unauthorized reproduction or use is strictly prohibited by law.

An elaborately tufa-cast, extremely large
Navajo ingot-silver cuff bracelet, c.1940's-50's
Not that you'd want to, but you could probably hammer nails with this bracelet, it's that well and strongly-made. Tufa-casting is one of the most painstakingly difficult of all traditional Navajo silver-making techniques because of the absolute precision required and the lack of any margin for error. If the silver isn't precisely hot enough to pour properly or the mold doesn't fill completely, the casting can be ruined. Often after many hours of difficult carving, the mold breaks regardless. When it all goes perfectly as in this gorgeous piece, the end product is a real joy to behold!
This impressive bracelet measures a very sizeable 3 3/4" in maximum height top-to-bottom and has an inner circumference end-to-end of 5 1/2" and a 7/8" gap between terminals for a total interior circumference of 6 3/8". The bracelet weighs a substantial 101 grams or 3 1/2 ounces. The bracelet is in excellent original condition. The terminals are slightly misaligned, but this is of no particular consequence. The bracelet has a wonderfully modernist feel and the variations in the cast surface texture show off the silver beautifully. An extremely striking and attractive piece in every way.
Price $1,550