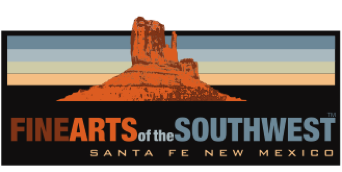 © 2010-2022 by Fine Arts of the Southwest, Inc. All rights reserved.
Unauthorized reproduction or use is strictly prohibited by law.

An outstanding, large Navajo silver "Cluster"-style ring set with nine blue spiderweb Persian turquoise cabochon stones, c. 1920's
This remarkable ring is an interesting time and place marker in the history of the American Southwest. The time is somewhere around 1910 through the 1920's and the place is the area in and around Ganado in Eastern Arizona where the old J.L. Hubbell Trading Post, now a National Historic Landmark Site, is located.
Juan Lorenzo (J.L.) Hubbell (1853-1930) is a seminal figure in the history of the American Southwest and one of the most significant and influential individuals of his era; trader, entrepreneur, local county sheriff, Bon Vivant and beloved host of and friend to Presidents, artists and celebrities.
Hubbell was an innovator and pioneer who saw opportunities where others didn't and had the resources and the motivation to pursue them. Around the turn of the Century, American turquoise was in extremely short supply as only a few mines were producing. Hubbell had the brilliant idea to important fine Persian turquoise from Europe to be able to give to his local Navajo silversmiths to make jewelry for sale at his posts to help meet the rapidly growing demand for Native American arts and crafts during this time period. Hubbell also brought in knowledgable and highly experienced Mexican silversmiths to instruct his Navajo silversmiths. This all helped make his Navajo jewelry more refined and more valuable which other trading companies quickly took note of and followed suit and the resulting rising tide these innovations created also helped the other traders sell their pieces for more and in turn pay their silversmiths more. Good for the jewelry and good for the jewelry business at the same time.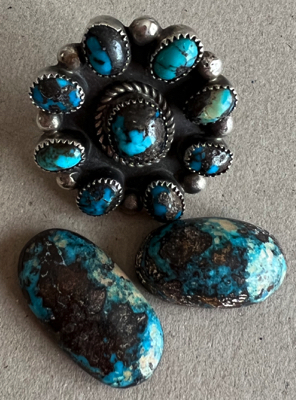 This ring is a perfect example of the higher quality level of Navajo jewelry available due to Hubbell's influence during this time period. Of course, it is impossible to know whether this specific ring was made for Hubbell or sold by him, but it was most certainly strongly influenced by him. The type and amount of turquoise used and the overall artistic and technical quality of the ring are enough to show that.
The ring's platform is mounted on a beautifully hand-tooled split silver shank. The large oval-shaped central
platform holds nine blue Persian spiderweb turquoise high-domed cabochon stones all set in very finely-serrated silver bezels. The Persian stones used here are simply wonderful in color and richness. There is a large central high-domed cabochon stone we would estimate at around 6-8 carats set in a finely-twisted silver wire border surrounded by eight slightly smaller cabochon stones of about 4-5 carats each for a total carat weight of around 38-48 carats of primo Persian turquoise. The stones around the ring's perimeter are beautifully accentuated
by eight large applied silver "raindrops".
The ring measures a size 10 1/2 on a professional ring sizer. It is quite an impressively-proportioned piece,
measuring 1 7/8" in length and 1 5/8" in width across its face. The ring weighs a very comfortable 22 grams or 3/4
of an ounce and it is in excellent original vintage condition with some amount of age-appropriate wear.
Here you can have a piece of beautiful jewelry and a piece of fascinating Southwestern and American history
at the same time. Can't ask for much more than that.
Price $1,450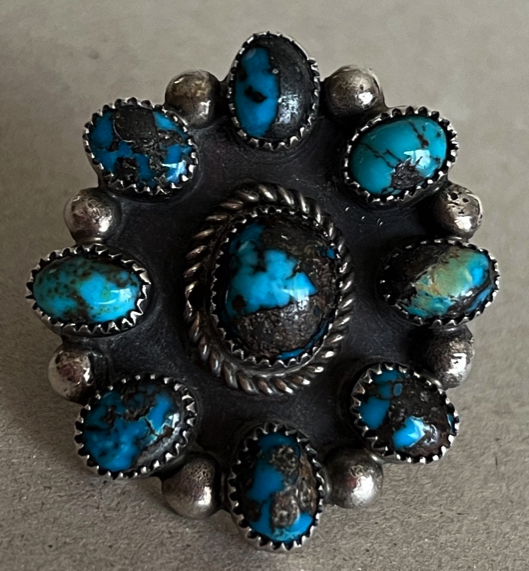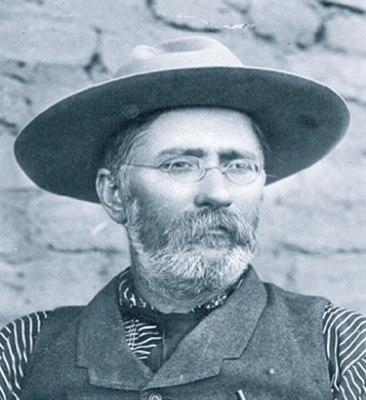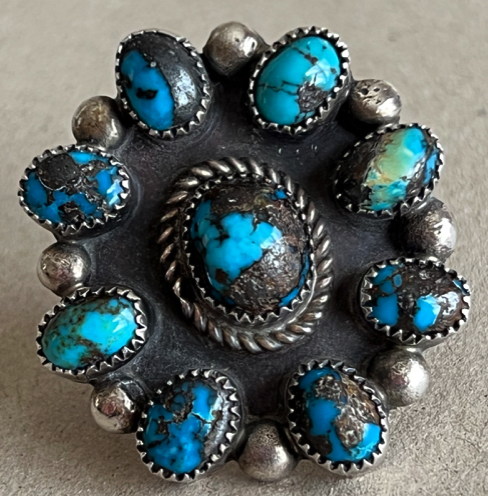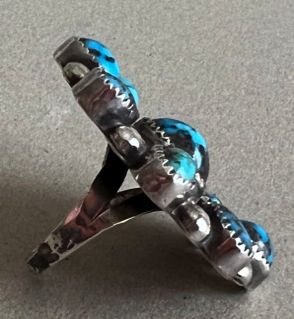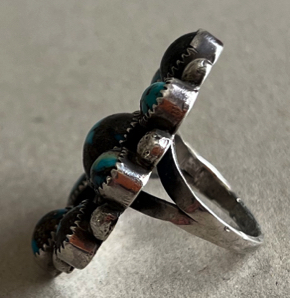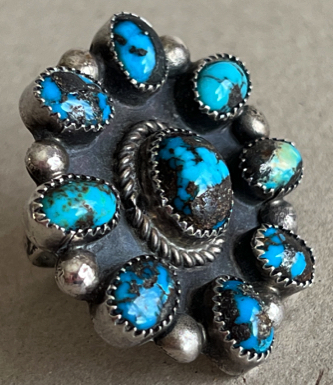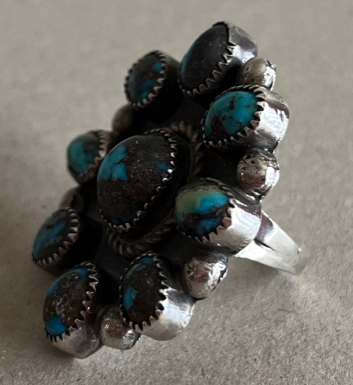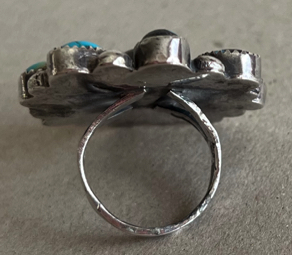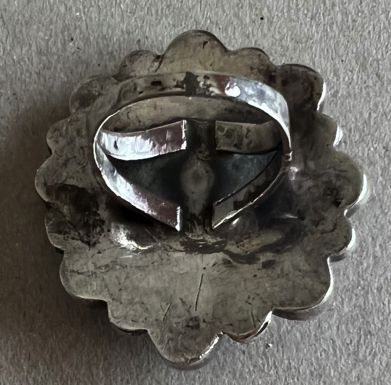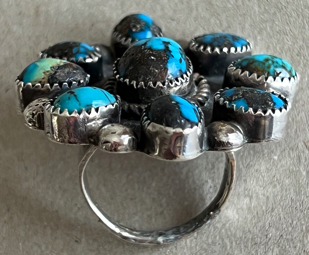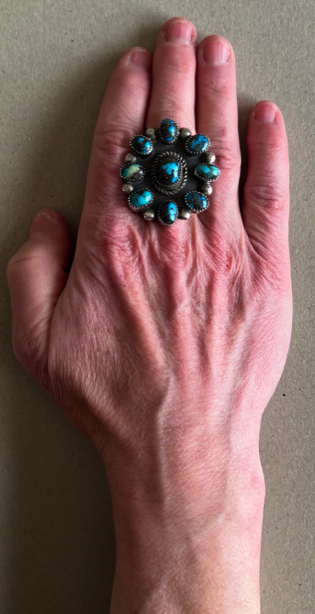 At left, J.L. Hubbell purchasing a Navajo rug from a Navajo weaver in front of the Hubbell Trading Post, c. 1905-1910. At center, ring pictured with Persian turquoise cabochon stones. At right, Juan Lorenzo (J.L.) Hubbell, c. 1905-1910.
Left and right photo source and © National Park Service