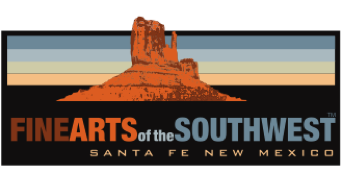 © 2010-2021 by Fine Arts of the Southwest, Inc. All rights reserved.
Unauthorized reproduction or use is strictly prohibited by law.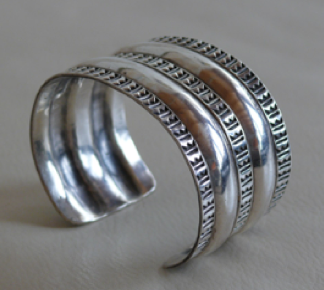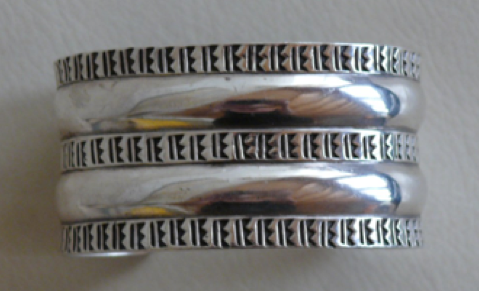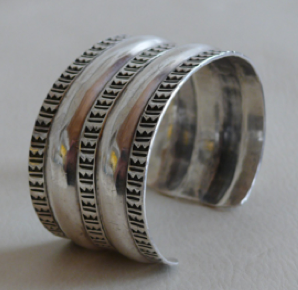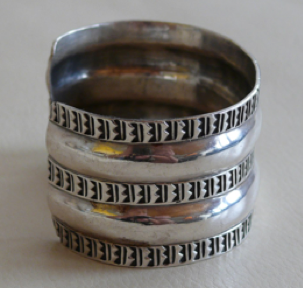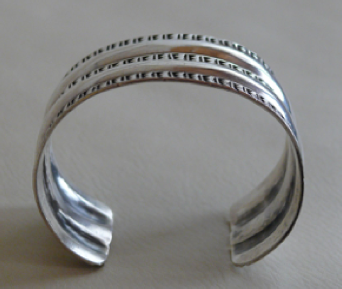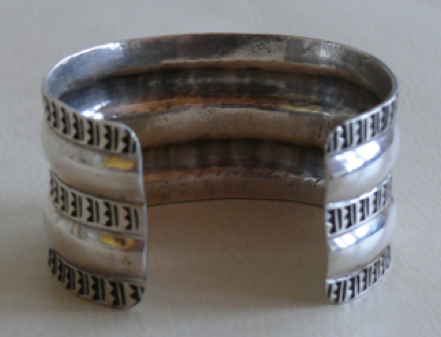 A modernist Navajo silver cuff bracelet possibly by Ambrose Roanhorse, c.1940's-50's
An outstanding, elegant and refined piece, this gorgeous bracelet bears many of the characteristics of Ambrose Roanhorse's distinctive style; impeccable, sleek, modernist design, outstanding technical mastery and restrained controlled stamp and repousse work. Roanhorse was one of the towering figures of 20th Century Native American jewelry-making. As an artist and highly influential instructor at The Santa Fe Indian School and later at The Navajo Arts and Crafts Guild, Roanhorse influenced several generations of Navajo and Pueblo jewelers, among them Navajos Kenneth Begay, Allan, George and Ivan Kee and Hopi Lewis Lomay.
The bracelet features three parallel bands of repeating beautifully-stamped designs enclosing two parallel bands of repousee. The bracelet is 1 5/8" wide and has an inner circumference of 5 5/8" with a 1 3/16" gap between terminals for a total bracelet circumference of 6 13/16". It weighs 59.6 grams or 2.1 ounces.
The bracelet is in excellent original condition with a beautiful patina and polish.
Price $1,575