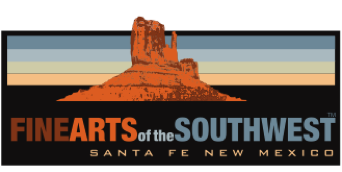 © 2010-2023 by Fine Arts of the Southwest, Inc. All rights reserved.
Unauthorized reproduction or use is strictly prohibited by law.
An exceptional, large-scale "Revival-style"
Navajo tufa-cast silver buckle, c.1940's-50's
Everything about this historic buckle screams "greatness"; the beautiful design, the incredible size, excellent condition and fine patina. In our view, this piece is a "Revival" type piece dating from the middle of the 20th Century,
a time when Navajo silversmiths led by Ambrose Roanhorse at The Navajo Arts and Crafts Guild were rediscovering and redefining the Classic-Period (1870-1910) Navajo silverwork of their forefathers. The painstaking ultra-precise art of tufa-casting was an important part of this tradition and it is executed to perfection here with the ideal combination of strength and delicacy one always looks for in fine tufa casting.
The size of the piece is extremely large in keeping with tradition, as can be seen in the c.1920 photo below. These buckles were quite large in the Classic Period and were often used as shown on Second-Phase Navajo silver concho belts where they had to hold their own with the very large silver conchos used in that style. The buckle is made in a typical Navajo four-part or four directions design of the type often seen on silver tufa cast buckles and on bowguards (Ketohs). After casting, the buckle was stamped and filed all over with very lovely linear decorative designs. A final perfectly-executed decorative and functional touch is the buckle's most beautifully hand-wrought thick silver tang.
A well-dressed Navajo man wearing a similar large tufa-cast silver buckle on a Classic-Period Navajo Second Phase style silver concho belt, c. 1920.
Photo source and © John Adair "The Navajo and Pueblo Silversmiths"
The buckle measures a very sizeable 4 1/8" in width and is 3 3/8" in height and 1/4" in thickness. It weighs a fairly massive, yet very wearable 189 grams or 6 5/8", not much less than half a pound. The buckle will accomodate a
leather belt strap of up to 1" in width. The buckle is unsigned for the maker, but the unknown Navajo silversmith
who crafted it clearly knew his business well. The buckle is in excellent original condition with a fine undisturbed patina. In traditional Navajo culture which valued large-scale pieces such as this, the amount and weight of a piece
of silver jewelry was directly proportional to its perceived value and prestige.
Silver was a difficult commodity to come by in early Navajo history, it could only be obtained from American or
Mexican silver coins—hard currency—which in the mostly trade-based Navajo economy had to be acquired through the trading of horses, sheep, goats or various crops. To say that this amount of silver was a rare commodity indeed is to understate it by a lot. This is the sort of piece which would have been worn with great pride by its fortunate owner;
to rodeos, sings, squaw dances and rare family trips into town where it would have been the source of great admiration and more than a little bit of envy.
According to the Navajo the highest, most ideal state of attainable being is to "Walk in Beauty".
When wearing this buckle, you will be doing precisely that.
Price $2,850
Note: The leather belt shown here is for demonstration purposes only and is not included in the sale
of this buckle. If desired, we can recommend an excellent custom leather belt maker in Santa Fe.