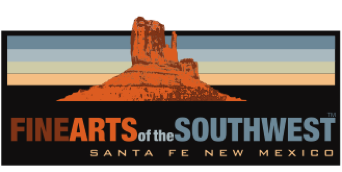 © 2010-2021 by Fine Arts of the Southwest, Inc. All rights reserved.
Unauthorized reproduction or use is strictly prohibited by law.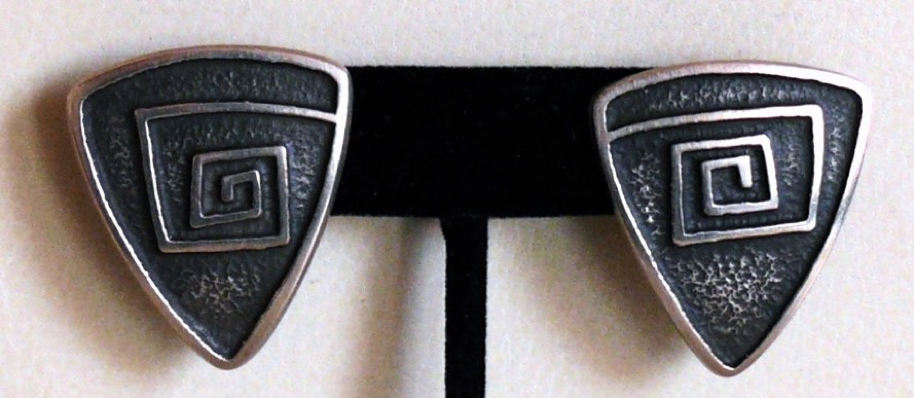 An extremely fine pair of tufa-cast Sterling silver
"Shield"-style earrings by Larry Golsh, c.1990
Larry Golsh (Pala Mission, b.1942) has been one of the most talented and highly-accomplished jewelers working in the Southwest over the past several decades. Initially trained in architecture and art, Golsh's jewelry career was launched when he met the renowned Hopi jeweler, Charles Loloma who invited him to come study with him and from whom Golsh subsequently learned to tufa-cast metal absorbing Loloma's characteristic subtlety and distinctive use of shapes and textures in casting. Golsh went on to study further with the great French fine jewelry instructor, Pierre Touraine at the Gemological Institute of America. In his work, Golsh combines the modern metalsmithing and lapidary techniques he learned from these mentors with the artistic and cultural inspiration of the indigenous Mission Indian basketry designs and ancient rock art of his Native upbringing in Southern California to create superbly wrought jewelry pieces of great beauty and distinction.
"They have attained a whole new aesthetic level,
keeping the vital connection with their past, yet transcending it.
Their style is now fully international."
Excerpted from "American Fabergé" , a Forbes Magazine
article about Golsh and Loloma. Quotation © Forbes Magazine
These earrings are a perfect example; bearing a beautiful cast-in spiral-like design which is evocative of the many rock art spirals seen in ancient petroglyphs and pictographs both in the Southern California deserts of Golsh's homeland and throughout the Four Corners region of Arizona, Utah, Colorado and New Mexico. The earrings are mounted on silver posts and they measure 1 1/4" in height and are slightly less than 1 1/8" in width at their widest point. They weigh a very comfortable and wearable 8 grams or 1/4 ounce each. They are in excellent original condition and both earrings are properly signed on the back with Larry Golsh's undulating "wave" insignia and are also marked "Sterling".
These earrings are striking and beautifully-wrought pieces of precious jewelry from one of the modern-day masters of the art; a perfect combination of the contemporary and the ancient.
Price $1,950