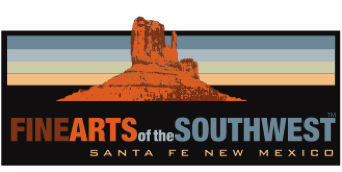 © 2010-2021 by Fine Arts of the Southwest, Inc. All rights reserved.
Unauthorized reproduction or use is strictly prohibited by law.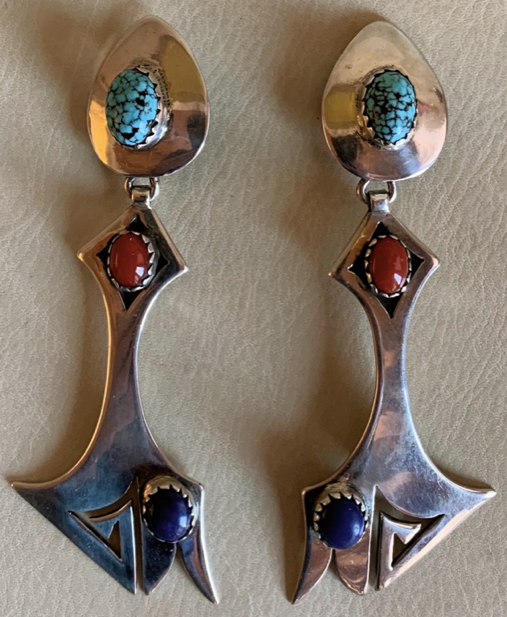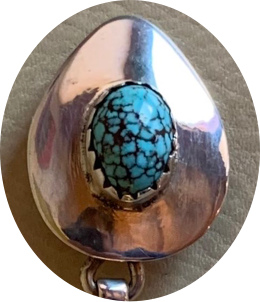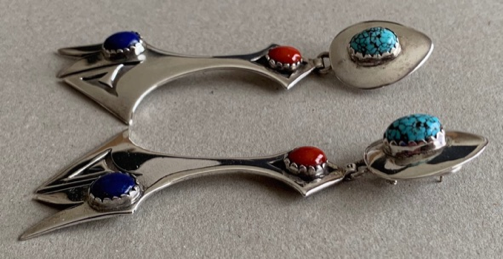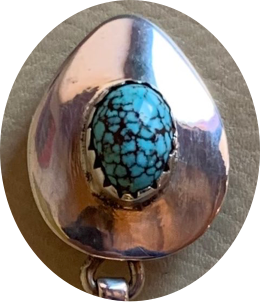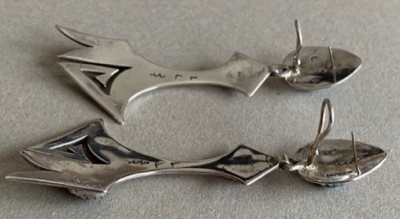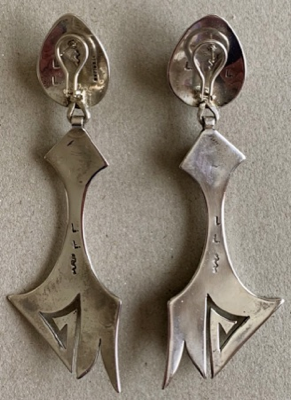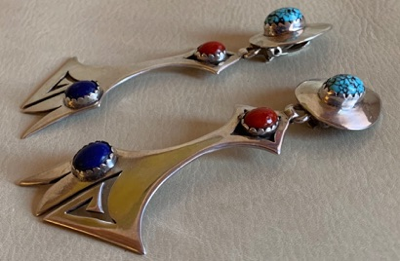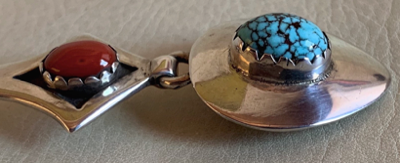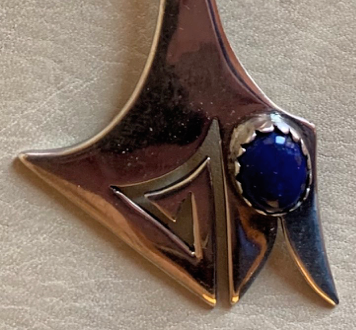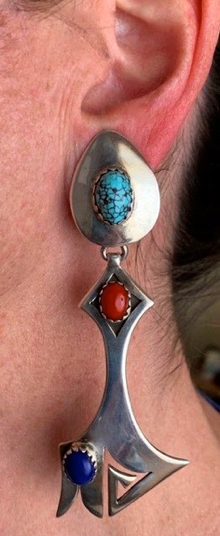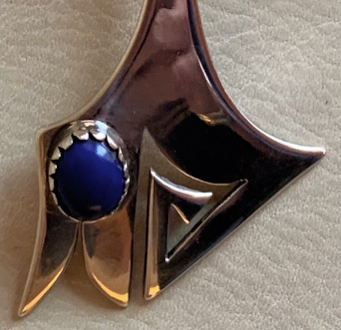 An exceptional and very dramatic pair of
Hopi Modernist-style silver and stone dangle
earrings by Lewis Lomay, c.1950's-60's
Lewis Lomay (Lomayesva) (1913-1996) is known for his exquisitely-made jewelry with a clean, modernist design sensibility with stylized abstracted Hopi motifs and also often infused with a certain European stylistic influence. Lomay was born in the ancient Old Oraibi village on the Hopi Third Mesa and moved to New Mexico as a teenager in the 1920's to study art at the Albuquerque Indian School. It is fairly unusual for a young Hopi man to move away from the Hopi mesas to live, but in this Lomay might have possibly been inspired by the example of his fellow Hopi artist, Fred Kabotie (1900-1986), 13 years his senior, who had also moved to Santa Fe in the early 1920's to study painting at The Santa Fe Indian School. Around 1930, Lomay transferred from Albuquerque up to Santa Fe to study painting himself at the Santa Fe Indian School where Dorothy Dunn had then begun teaching the flat-perspective style of painting for which the School would eventually become known.
Lomay's lack of interest in conforming to this somewhat restrictive style and his desire to break different artistic ground, met with Dunn's disapproval so he decided to switch to studying jewelry under the great Navajo silversmith and then Santa Fe Indian School instructor, Ambrose Roanhorse under whose tutelege he blossomed rapidly becoming a star pupil. After his initial schooling with Roanhorse, Lomay went to work at Santa Fe's renowned Thunderbird Shop under its European-born owner Frank Patania, Sr. where he remained for the next thirteen years. During that time Lomay continued to develop and refine his clean, modernist designs inspired by his apprenticeships with both Roanhorse and Patania.
From this point on in his budding independent career, Lomay had started to acquire a reputation as being one of the finest up and coming Native jewelers of his time. His work was highly praised for its innovation, and he is noted for being a cutting-edge designer who was well ahead of his time. His work was also lauded for its exceedingly high degree of technical excellence, his jewelry pieces are almost flawlessly done. After starting his own jewelry studio in Santa Fe, Lomay began entering his work in awards shows and immediately started winning prizes. The accolades and recognition continued for decades until his death in1996, just before the opening of the annual Santa Fe Indian Market.
These large silver dangle earrings are stunning examples of Lomay's finest work, both conceptually and executionally. The overall design in two separately fabricated and linked, highly-polishing hanging sections is simply spectacular and is incredibly dramatic in its graceful eye-catching shape, motion and the manner in which it catches and reflects the light. The earrings are each set with three beautifully chosen gem-quality cabochon stones of high-grade #8 Mine Nevada spiderweb turquoise, red oxblood coral and deep blue lapis lazuli and the stones are all nicely set in finely-serrated silver bezels
The influence of both Lewis Lomay's former Modernist mentors Ambrose Roanhorse and Frank Patania, Sr.
can be clearly seen here in the clean, streamlined presentation of these earrings. The earrings measure a very impressive 4" in length and they are 1 1/4" in width at their widest point. They weigh 21 grams or 3/4 of an ounce each. The earrings are properly signed with Lewis Lomay's "LL" initials and customary snake hallmark on the back of each earring. They are actually signed twice on each earring, on both the top and bottom sections and one earring is also marked "Sterling" on its top section. The earrings are in superb, essentially-pristine original condition, and, in our opinion, date from the 1950's to 1960's. We had our professional fine jeweler convert the earrings from their original clip closures to much more comfortable and wearable post and Omega clip fasteners.
These earrings are extremely rare pieces, we have only seen two somewhat similar pairs of long dangle earrings
by Lewis Lomay in the past 35 years. These earrings are pieces of world-class Modernist jewelry that would make the famous International jewelry houses of Cartier, Bulgari, Van Cleef and Arpels and Harry Winston proud. That they were made right here in dusty, little out of the way Santa Fe, New Mexico by an exceptionally talented Hopi silversmith working completely on his own makes them all the more amazing.
Price $3,900