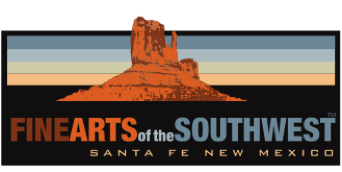 © 2010-2022 by Fine Arts of the Southwest, Inc. All rights reserved.
Unauthorized reproduction or use is strictly prohibited by law.

An extraordinary pair of long Modernist style Hopi silver earrings by Lewis Lomay, c. 1950's
Lewis Lomay (1913-1996), originally from the ancient village of Old Oraibi on the Hopi Third Mesa, was one of the finest and most inventive Native American jewelers of the 20th Century. He began his art career in the late 1920's first as a painting student in the Albuquerque Indian school under Florence Prentiss and in 1930 he moved north to Santa Fe to continue studying painting at the Santa Fe Indian School under Dorothy Dunn.
Dunn strongly disapproved of Lomay's Modernist art tendencies and tried to mold him along her standardized "flat-perspective" ideal of what she thought Native American painting should be. Discouraged, Lomay switched to studying jewelry at The Santa Fe Indian School under the renowned Navajo Modernist jeweler Ambrose Roanhorse who unlike Dunn, strongly encouraged the young Lomay to explore more Modernist and innovative forms of expression in his art as Roanhorse had himself. In jewelry, Lomay found his artistic calling.
After The Santa Fe Indian School, Lomay went to work for Roanhorse at The Navajo Arts and Crafts Guild.
Later, Lomay worked 13 years for Frank Patania's famed Thunderbird Shop on East Palace Avenue in downtown Santa Fe where he was also influenced by Patantia' sleek more Eruropean style. He left Patania to begin his own jewelry business and began entering his wok in shows where he immediately started winning awards. The accolades and recognition continued unabated until his death, just before the 1996 Santa Fe Indian Market.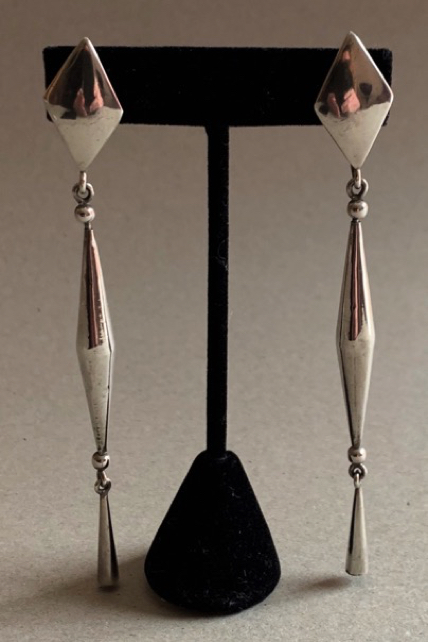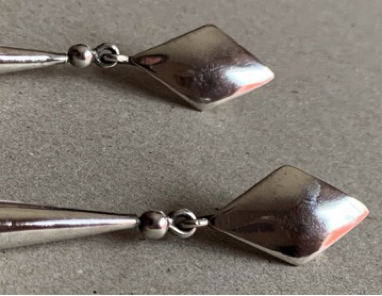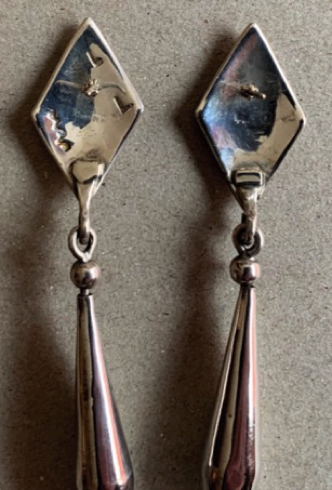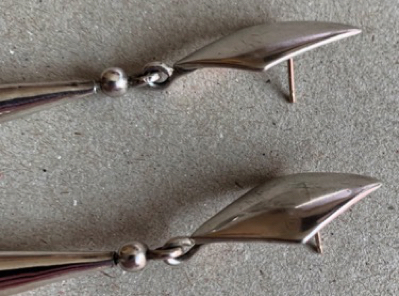 Lomay's work is imaginatively creative and highly-versatile, often international and Modernist in its approach and sleek appearance. This is precisely the case with these unique and dramatic long fabricated hollowform silver earrings with their unusual and very inventive three-section hinged drop configuration. The earrings are mounted on posts and measure an impressive 4 1/2" in length from top to bottom and are 1/2" in width at their widest points. They weigh a very comfortable 7 grams or 1/4 ounce each. The earrings are in excellent original condition. One earring is properly signed "L.L." on the back and is also marked with Lomay's customary Hopi snake insignia.
These earrings are very striking and highly collectible pieces by an extremely accomplished and significant Southwestern and world-level Native American jewelry artist. They would be just as beautiful and comfortable worn with a couture dress on the red carpet at the Academy Awards as they would on a Saturday morning suburban jaunt to the supermarket in jeans and a t-shirt.
Price $1,675