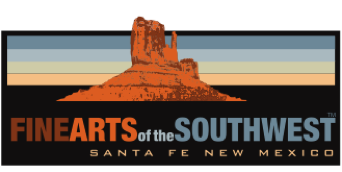 © 2010-2022 by Fine Arts of the Southwest, Inc. All rights reserved.
Unauthorized reproduction or use is strictly prohibited by law.
An outstanding vintage Lloyd Kiva New and Charles Loloma leather and brass handbag, c.1950's
Let's talk about a marvelous and unique collaboration between two brilliant artists. In the early 1950's, Native American fashion impresario Lloyd Henri Kiva New (1916-2002) commissioned his Hopi artist friend and colleague Charles Loloma (1921-1991) to create a series of original metal ornaments to adorn his line of custom handbags
to be sold on an individual order basis in his Scottsdale Arizona fashion atelier.
The bags were specially crafted by Lloyd Kiva for his select group of clients and each bag has a special handwritten inset tag indicating for whom it was originally made. These bags are extremely rare and difficult to come by today and they are especially difficult to come by in this completely excellent original condition. They are after all, around 70 years of age or more and many were clearly loved quite a lot by their successive owners over the past decades.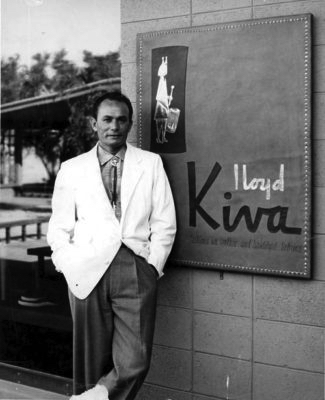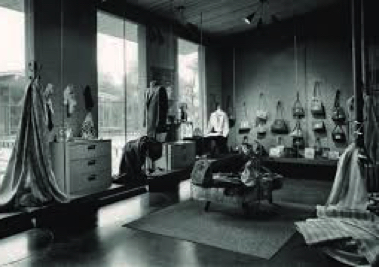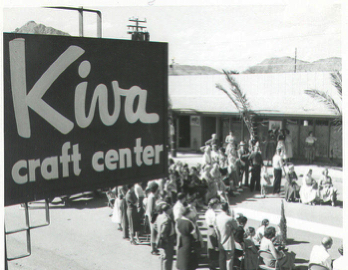 At center, Lloyd Kiva New in front of his atelier, c. 1950's. At left, the interior of the atelier with a display of handbags such as this one hanging on the rear wall. At right, exterior view of the Kiva Crafts Center in Scottsdale, Arizona.
Left photo source and © Santa Fe New Mexican. Center photo source and © Albuquerque Journal. Right photo source and © Scottsdale Historical Society.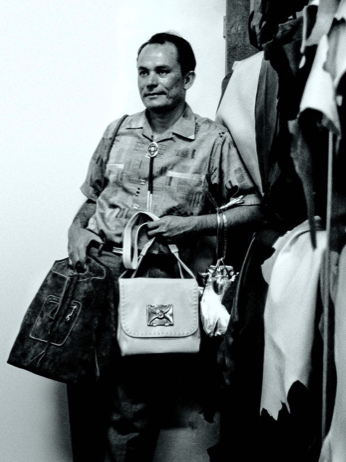 Below left, "Lloyd Kiva New with his handmade leather goods in Scottsdale, Arizona. Because fine leather was being diverted to outfitting soldiers, New had to be creative in sourcing the leather for his handbags which were also lined with (often contrasting) leather. Solution: he used unclaimed hunters' tanned hides found in the area." Below right, Charles and Otellie Loloma in their shop at The Kiva Craft Center, Scottsdale, AZ. c. 1956.
Left photo and quotation source and c Lloyd H. New papers, IAIA Archives, Santa Fe, New Mexico.
Right photo source and © "Loloma, Beauty is his Name" by Martha H. Struever, Wheelwright Museum, Santa Fe, 2005, pp. 12.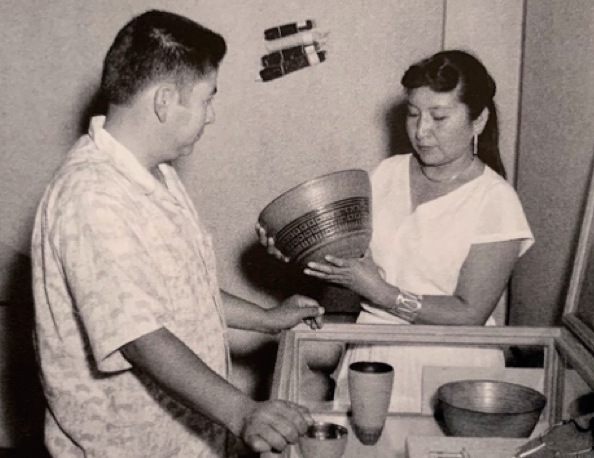 The body of the handbag measures 10 1/4" in height to the very subtly-peaked top center of the bag and it is 12" in width along the bottom tapering up to 10" in width along the top and it is approximately 5 1/2"-6" in depth. The leather handle rises 6 3/4" above the top of the bag. The bag is in exceptionally fine original condition particularly for its nearly seven decades of age and it almost looks as if it was never worn or only worn on a very few occasions. There is a very slight amount of wear to one corner and some very fine surface cracking along the side. We would say that condition-wise, this bag is 90-95% out of 100% which is fairly amazing. A very light application with mink oil or other leather conditioner would likely take care of any of the slight evidences of abrasion and cracking, if desired. The nearly unworn condition of this bag is quite possible to understand as this bag is different than the dozen or so others of Kiva New/Loloma handbags we have seen in one small but important way. As we said earlier, these bags were specially crafted for individual clients from a group of model pieces Kiva New would display in his showroom.
A client would in conjunction with Kiva New order this particular type of bag in this particular color made with this particular leather and New would make the bag to the order. The client's name would then appear on a beautiful metallic gold leather tag sewn inside the bag with the phrase "Styled for Client's Name by Lloyd Kiva". This bag has the gold tag sewn in and the words "Styled for________by Lloyd Kiva", but as seen below, the space for the client's name is blank which leads us to believe that this particular bag was one of Kiva New's prototypes or showroom demonstrator models and was thus most likely never worn or only worn for demonstration purposes such as a
runway show at his fashion showroom.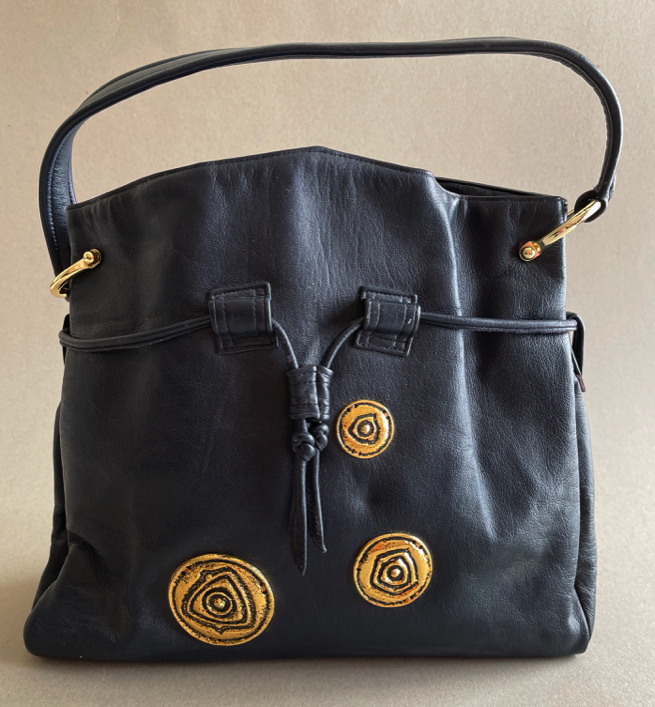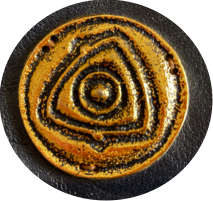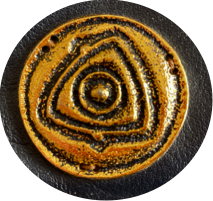 This bag is hand-crafted in a beautiful and supple dark navy blue leather with a matching dark blue leather interior in a shape and size which conveniently can be carried in a number of ways; in the hand, on the arm, under the arm or over the shoulder. It has a matching blue leather handle and drawstring closure which can be cinched tight or left open. The handle is suspended from beautiful brass handle loops and the sides of the bag are gusseted. The face of the bag proudly features three beautiful different-sized cast brass ornaments with somewhat circular spiral designs reminiscent of ancient Hopi rock art panels created by the renowned Hopi jewelry artist, Charles Loloma. The dark blue background of the bag's leather face functions as a beautiful canvas of sorts for featuring Loloma's jewelry art ornaments. The overall aesthetic effect is absolutely stunning as you can clearly see here. The bag's interior is remarkably clean with no stains or spots. The interior features two separate suede lined individual pockets.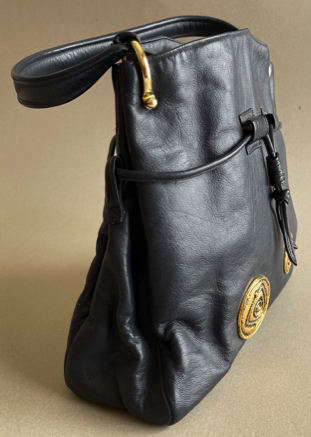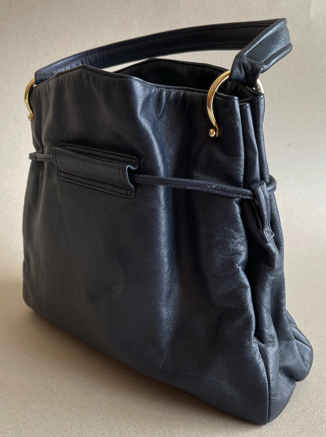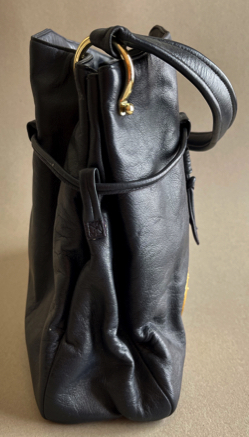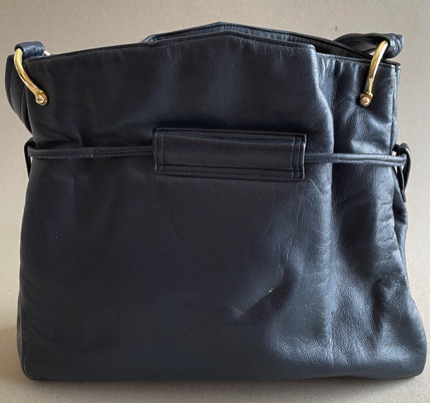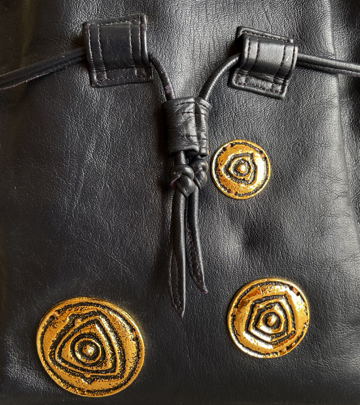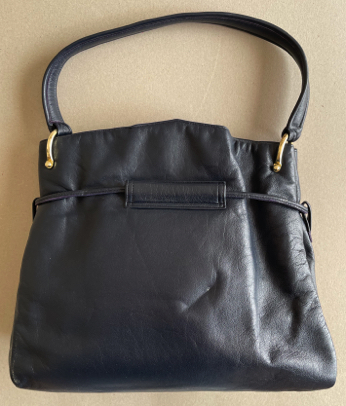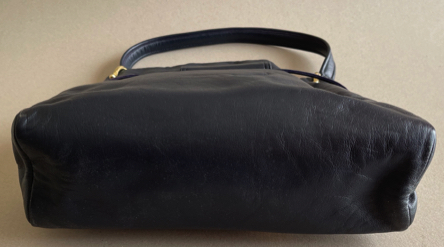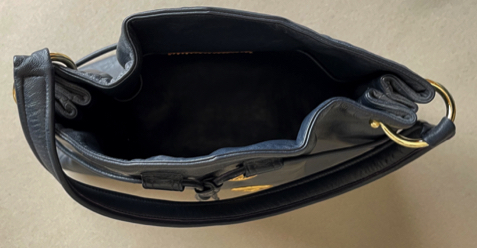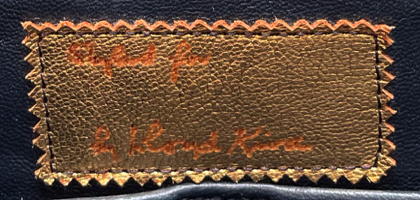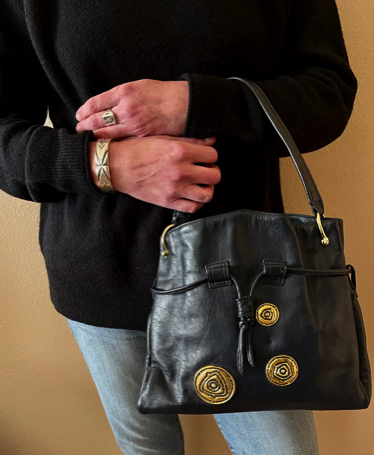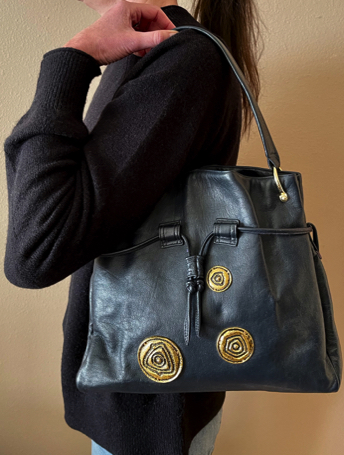 We can further speculate that New kept this bag in his own and his wife, Aysen's, collection until his passing in
2002 at which point it would have passed to Aysen Kiva New. Aysen Kiva New sold a number of Lloyd's personal pieces in Santa fe in 2016-17 and this bag might very well have been part of this sale. The time frame corresponds to when we acquired the bag and the bag also could very possibly have been worn by Aysen herself occasionally over the years.
Much of this, of course, is speculation but it is interesting and informed speculation and the proof of at least parts
of it lie in the remarkable condition of this bag, it's like a fashion time tunnel back to the 1950's! Lucky indeed will be its new owner!
This bag is a fashion and artistic icon; a very beautiful and easily wearable classic and wonderful piece from the
fertile imaginations and talented hands of two of Native America's most brilliant and influential artists. Seventy-plus years young and still at the cutting edge of couture. Beauty never goes out of style!
Price $3,950