© 2010-2021 by Fine Arts of the Southwest, Inc. All rights reserved.
Unauthorized reproduction or use is strictly prohibited by law.
A very beautiful, contemporary Nambe Pueblo Micaceous pottery bowl by Lonnie Vigil
Lonnie Vigil (b. 1949) is the undisputed modern-day maestro of micaceous Pueblo pottery. He has taken this ancient tradition to completely new heights, blending the age-old techniques and traditions of making utilitarian micaceous cooking ware with a distinctively modern sculptural sensibility. Since bursting on the scene in the mid-1990's, the self-taught Vigil has racked up an impressive array of awards including the coveted "Best of Show" at the prestigious August Santa Fe Indian Market in 2001 and his distinctive ceramics are held today in many prominent museums and private collections.
Micaceous utilitarian pottery has a long and storied tradition in the Southwest and New Mexico in particular. Mostly done in the pueblos of Taos and Picuris in addition to Nambe, micaceous pottery was also made by the Jicarilla Apaches in Northwestern New Mexico. Vigil's great-grandmother, Perfilia Anaya Pena, made micaceous pottery at Nambe Pueblo in the early years of the 20th Century, and as a child, Vigil would often her his mother and her sisters talking about the process. There is some early historic evidence from the 16th Century that the first Spanish conquistadores under Francisco Vasquez de Coronado and others confused the appearance of mica with gold not only in pottery pieces, but especially as regards the small rectangular sheets of natural mica which were then used as windows in the ancient pueblos of Zuni and Acoma and which glinted gold in the saturated golden light of desert sunrises and sunsets leading to the oft-repeated legends of the storied "Cities of Gold".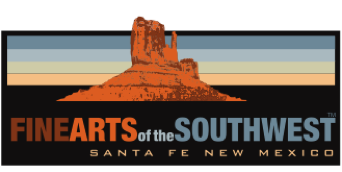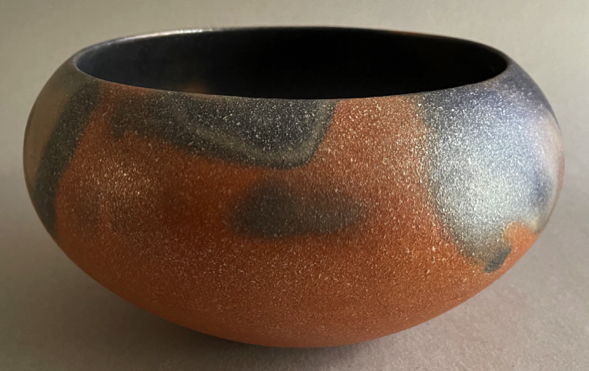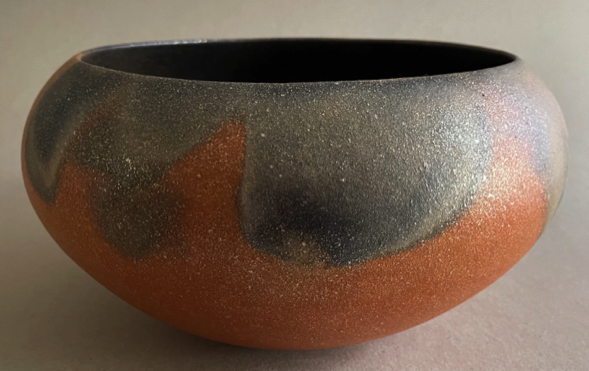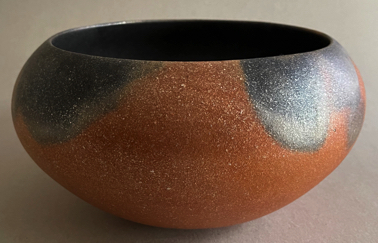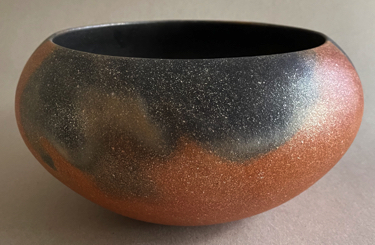 Lonnie Vigil's works are characterized by their often daring and stunning sculptural shapes, and their bold dark firing clouds which come from the pottery coming into direct contact with pieces of the burning fuel during the outdoor firing process. Vigil's pottery vessels are usually either a deep golden orange or deep grayish charcoal black in color, this particular bowl is unique in that it is orange on the exterior indicating firing in an oxidizing atmosphere and is completely deep charcoal grey-black in color on the interior indicating a reducing atmosphere. This is a wonderful and uniquely attractive combination and one which
we have not seen in any of his other vessels.
"In a way, for me, if they don't have fire clouds,
they feel a little incomplete. The way I feel, the fire clouding
is nature's way of designing." 
-Lonnie Vigil
The bowl measures 10 1/2" in diameter and is 5 3/4" in height. It is in pristine original condition and it is properly signed "Vigil, Nambe" in an inscribed signature on the bottom. This is an extremely striking and attractive piece by one of the finest Pueblo pottery artists at work today. It is as traditional as it is modern and it would be a beautiful addition to any interior from the most historic to the most ultra contemporary.
Price $2,750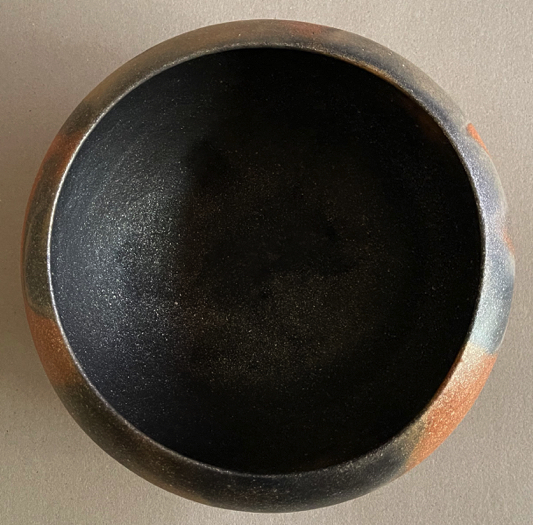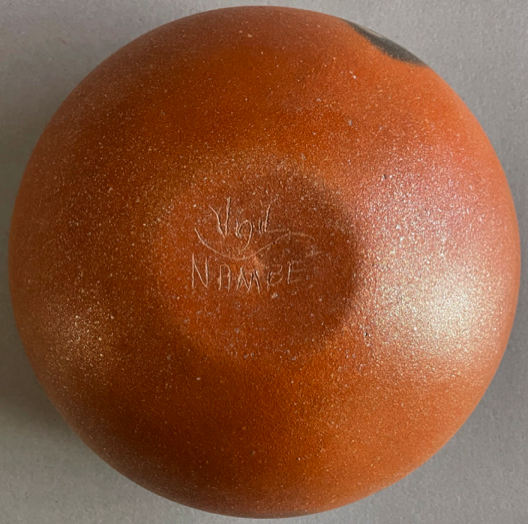 Nambe Pueblo potter Lonnie Vigil
Photo source and © The Santa Fe New Mexican