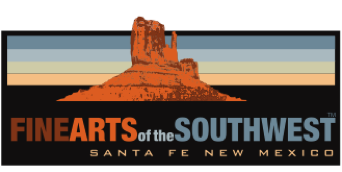 © 2010-2021 by Fine Arts of the Southwest, Inc. All rights reserved.
Unauthorized reproduction or use is strictly prohibited by law.

A very striking Los Castillos of Taxco Mexico
Sterling silver choker-style necklace, c.1980's
Let's talk about a style statement! Walk into a room wearing this baby and an off the shoulder black dress
(or jeans and a tee-shirt) and Kaboom, a giant fashion ball will have dropped!
This dynamic piece is a product of the highly-skilled artisans of Taxco Mexico, specifically those of the "Los Castillos, Plateros de Taxco" workshop there. Beginning in 1939, Los Castillos is one of Taxco's most prestigious silver shops. The construction of this piece is sheer artistic and engineering genius; 35 pairs of multiple flexible interlocking Sterling silver links that combine to produce a beautiful, layered almost mosaic- like surface and a marvelous almost magical molded and movable feel on the body.
"Antonio Castillo and his four brothers were all trained in Spratling's shop before they went out on their own to open Los Castillo, one of the most prominent of the Mexican jewelry producers which is now in its second generation."
-Quotation source and © The New York Times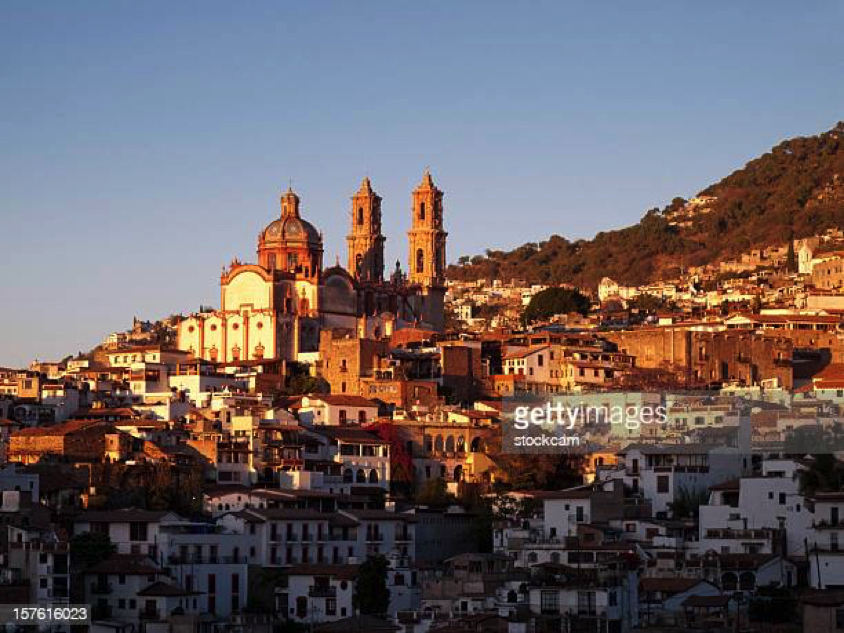 At left, a view of Taxco, Mexico, the center of Modern-era Mexican silverwork. At right, the Los Castillos shop in Taxco, c. 1950's
Left photo source and © GettyImages, right photo source and © Flickr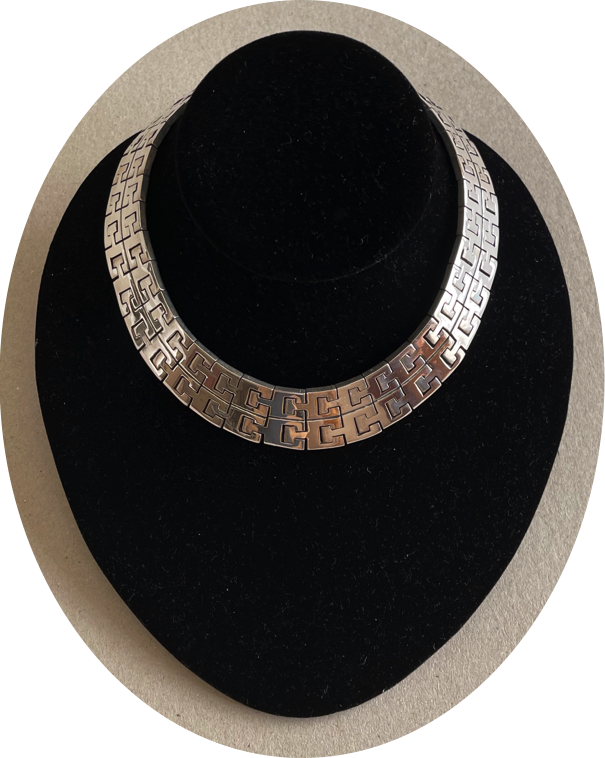 We ourselves are not experts in Mexican silverwork, we are merely enthusiastic admirers. We purchased this choker from the prominent Economos/Hampton Gallery of Santa Fe around 2008. Gallery owner Gilbert Hampton is one of the country's foremost authorities on Mexican silverwork and it is he who identified the necklace as being from the Los Castillos workshop in Taxco in the 1980's. The necklace is marked "Mexico .925" for Sterling silver and is also marked with the numeric code "TC-101".
The necklace's inner circumference all the way around is a relatively small 14" and it is 1" in width and slightly less than 1/8" in thickness. It weighs a very impressive 265 grams or 9 1/4 ounces, more than half a pound of solid silver. As an interesting comparison, the spot price of silver is currently around $23.00 per ounce making the silver alone in the necklace worth around $200. The necklace closes with a beautifully crafted notched pressure clasp and the necklace is in completely excellent original condition.
In the same manner as Luis Barragan's startingly modernist Mexican architecture or Diego Rivera's avant-garde Mexican paintings, this necklace is a beautiful synthesis of a rich and historic ancient culture and radically modern artistic ideas, precisely the sort of ultra-stylish way-ahead-of-its-time jewelry piece a futuristic and fashionable 23rd Century Aztec princess might want to wear.
SOLD