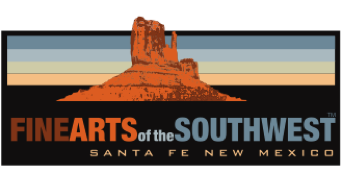 © 2010-2023 by Fine Arts of the Southwest, Inc. All rights reserved.
Unauthorized reproduction or use is strictly prohibited by law.
A very beautifully hand-carved and painted
wooden figure of Jesus Christ by New Mexico Santero artist, Luis Tapia, 1990
A very unusual and strikingly carved and painted wooden figure by the extremely accomplished and highly-influential contemporary Santa Fe, New Mexico artist, wood carver and furniture maker, Luis Eligio Tapia (b. 1950). Luis Tapia, who, interestingly, is a relative of the distinguished earlier 20th Century New Mexico woodcarver, Celso Gallegos, is one of the true giants of contemporary New Mexican art, a ground-breaking artist who has long struggled against and broken free of the restrictive limitations of a genre which is not always necessarily taken as seriously as it should be because it is often not considered to be so-called "Fine Art" as opposed to the less seriously taken in certain art circles designation of "Folk Art."
In the 1970s, at the height of the Hispano empowerment movement, Luis Tapia was one the founders of La Cofradía de Artes y Artesanos Hispanicos, a society devoted to contemporary New Mexican art and artists. For the past 40 years, Luis Tapia's work has been eagerly sought after for the collections of prominent museums such as the Smithsonian American Art Museum, The Museum of International Folk Art in Santa Fe and the Denver Art Museum. It is prized and coveted by collectors across the country and the world and it has been the subject of numerous one-man gallery shows and retrospectives. In a serious recognition of his artistic achievements, Luis Tapia was awarded the New Mexico Governor's Award for Excellence in the Arts in 1996.
"A native of Santa Fe, New Mexico, Luis Tapia is a self-taught, contemporary artist. Like many in his generation who grew up during a time of cultural homogenization — as well as the emergence of movements for civil rights and social consciousness — Tapia was determined to learn more about his culture. He began carving santos, studying them in churches and in the collections at the Museum of International Folk Art in Santa Fe. Around the same time, he helped found La Cofradia de Artes y Artesanos Hispanicos, which has been instrumental in the contemporary revival of Southwest art."
-Smithsonian American Art Museum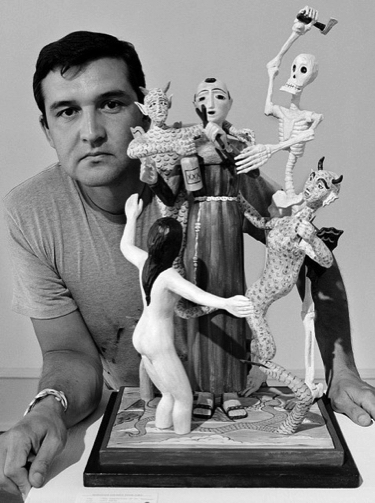 At left, Luis Tapia, Santa Fe, NM. 1991. At right, Luis Tapia in his 250 year old house with examples of his art, 2022.
Left photo source and © luistapia.com. Photograph © Charles R. Rushton. Right photo source and © New Mexico Magazine, 2022. Photograph © by Tira Howard 2022.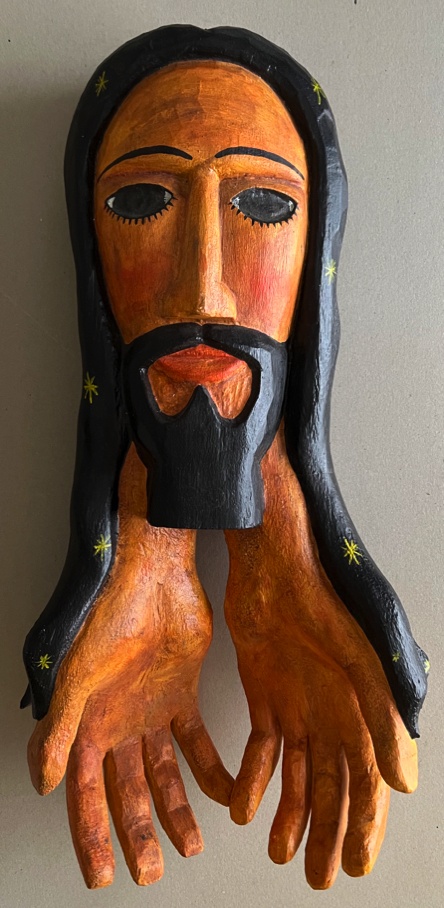 Luis' son, Sergio (b.1972) is also a distinguished and exceptionally-talented contemporary New Mexican artist and Luis' wife, Carmella Padilla, is one of the country's leading scholars and authors in the field of New Mexico art, history and culture.
To our eye, this fascinating piece appears deliberately intended to stand at the junction midway between Devotional Art, Folk Art and Modern Fine Art in that this particular stylized depiction of Jesus Christ appears to be both "saintly" or "God-like" and yet is also decidedly very human and contemporary. This is accomplished in our view by Tapia's sensitive and subtle presentation of Jesus Christ's face and his beautiful execution of and extreme emphasis on the size and detail of the Son of God's healing or blessing hands. The peaceful countenance and oversize prominence of Jesus' hands conveys the impression that the prophet is reaching out with love and understanding to embrace his followers.
The figure measures 20 1/2" in height, 10" in width and is about 4 1/2" in depth. It is signed and dated "Luis T 90" in pencil on the back. The figure is in excellent original condition. It could either be mounted on a display stand or hung on a peg or mounting bracket on the wall using the indentation Tapia drilled in the back for that purpose.
This is an exceptional piece made by an exceptional native New Mexican artist who is thoroughly invested in creatively and uniquely expressing his rich, vibrant and historic culture in the modern day in a modern way. As such, it would be a worthy credit to any museum or private collection.
Price $2,850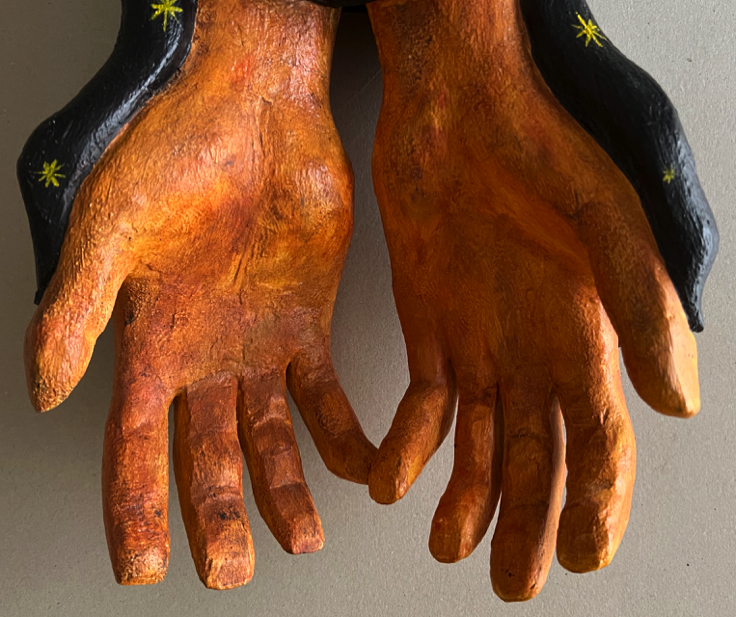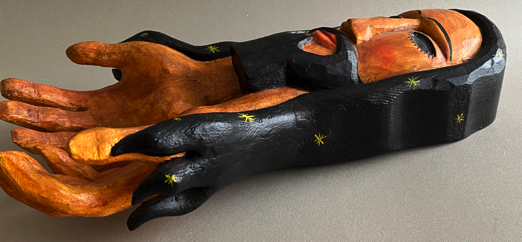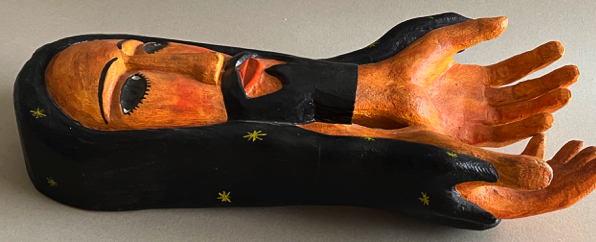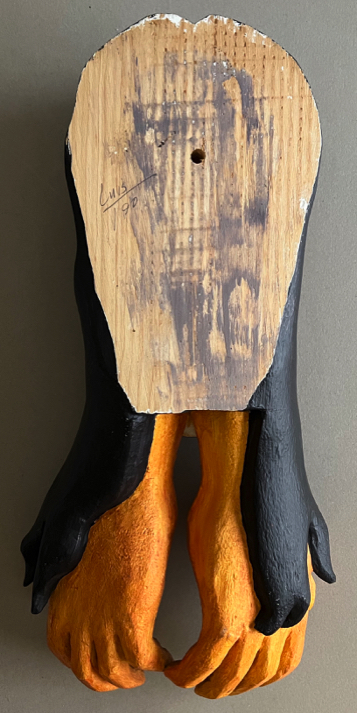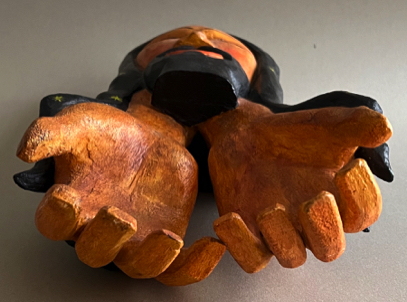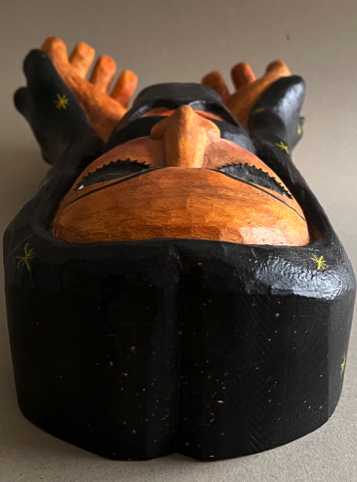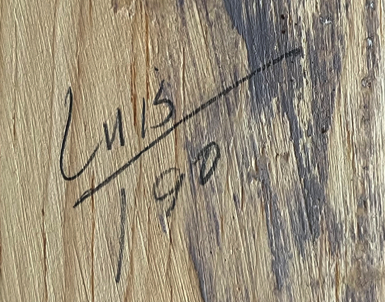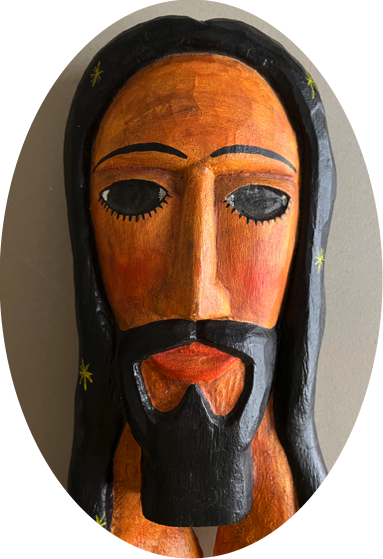 "I know a Joseph, but I call him José. I know a Mary—María. They have a kid named Jesús."
-Luis Tapia
Quotation source anud © New Mexico Magazine
July, 20, 2022. Article by Kate Nelson.