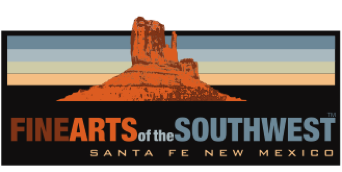 © 2010-2022 by Fine Arts of the Southwest, Inc. All rights reserved.
Unauthorized reproduction or use is strictly prohibited by law.

A spectacular large Navajo Sterling silver
and Blue Gem, Nevada turquoise pendant necklace by Mark Chee, c. 1950's-60's
A truly gorgeous and impressive piece by one of the all-time greatest superstars of Navajo jewelry, Mark Chee (1904-1981). Born in the tiny, remote one-horse hamlet of Lukachukai, Arizona out in the far reaches of the vast Navajo reservation, Mark Chee came to Santa Fe as a young teenager to work as a jewelry apprentice polishing stones for $5.00 a week. Due to his exceptional talent and expert instruction by some of the finest Navajo and Pueblo silversmiths of their day, people such as Ambrose Roanhorse, Sam Roanhorse and Joe Quintana, Chee rose rapidly becoming an ace silversmith whose pieces were always in high demand.
Chee always worked in a completely traditional manner using a simple set of tools he mostly made himself and always insisting on using only the finest stones as he did here with this terrific silver and Blue Gem, Nevada turquoise pendant.
"Blue Gem's hardness and fine colors makes this turquoise
much sought after by both jewelers and collectors."
-Turquoise authority and mine owner, Gene Waddell
Blue Gem Turquoise
"This mine, which is no longer active was located about six miles south of Battle Mountain, within a large copper-mining operation. Of the several Nevada mines that are named Blue Gem, this is the largest and most famous.
It produced a great variety of turquoise from intense blue to deep green combinations with a hard, irregularly distributed matrix. Blue Gem's hardness and fine colors makes this turquoise much sought after by both jewelers and collectors."
-Blue Gem turquoise photo and text source and © Waddell Gallery, Scottsdale, AZ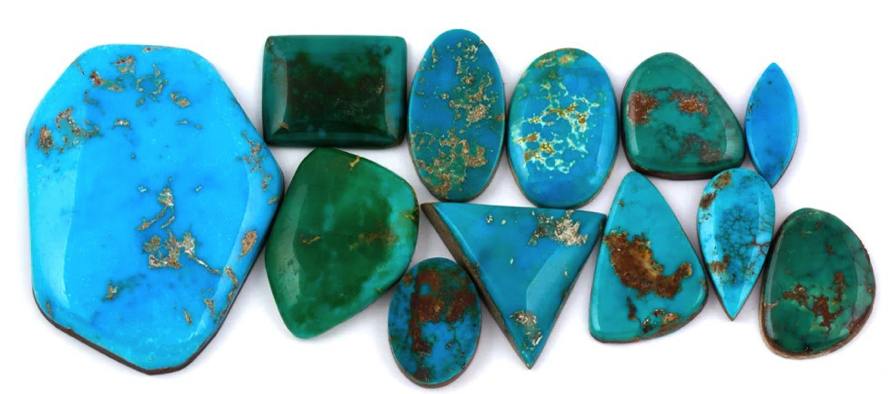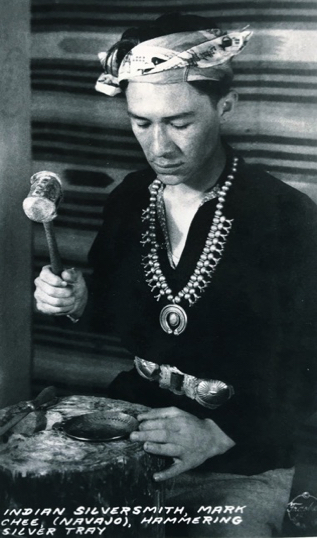 Mark Chee at his bench, Santa Fe, c. 1940's.
Photo copyright Frasher's Foto Postcards, Pasadena, CA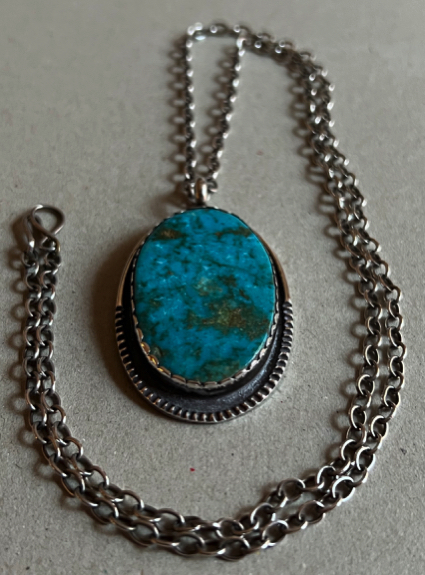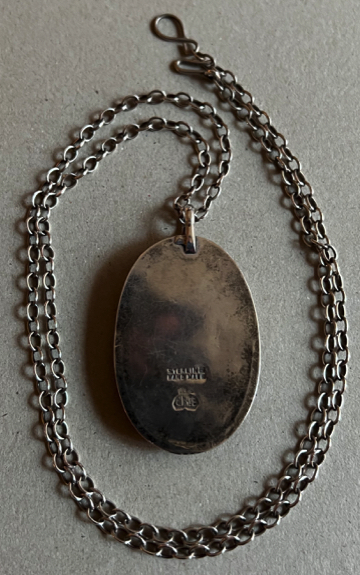 Blue Gem turquoise is one of the world's great turquoises; well-known and highly-prized for its beautiful color and hardness and Chee made wonderful and abundant use of it here; the one very large central stone is extremely impressive and striking with an extraordinary saturated blue color with green overtones and a medium brown matrix. The oval-shaped stone itself measures 1 7/8" in length and is 1 1/8" in width at its widest point. Chee set this wonderful hand-cut stone in a beautifully serrated or scalloped silver bezel and further accentuated the large central stone with a silver platform surround. The surround is done in overlay style and the contrast in color and texture between the darker inner area and the polished silver outer edge is particularly attractive.
In an inspired decorative final touch Chee decorated the bottom half of the silver surround's edge with a repeating pattern of very finely done chiselled and filed parallel lines. Again, the contrast between the chiselled and filed lower area of the outer edge and the plain polished upper area is remarkably handsome.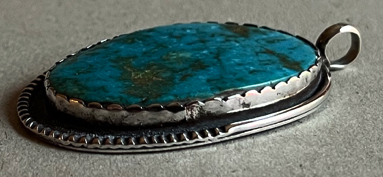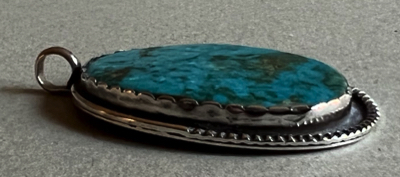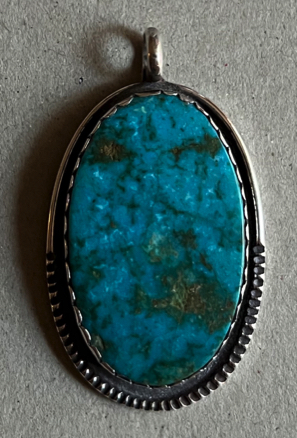 The exceptionally fine all around detailing and the classic simplicity of the pendant's appearance belies the complexity of its construction. The great ones always make it look easy! The pendant measures an impressive
2 1/2" in length including the bail and it is 1 3/8" in width at its widest point and is 1/4" in thickness at its thickest point. Together, the pendant and silver link chain weigh a substantial, but very comfortable 42 grams or 1 1/2 ounces. The pendant is in remarkably excellent original vintage condition and is properly signed on the back with Mark Chee's customary last name inside a bird's head hallmark and is also marked "Sterling" and "Handmade".
The chain measures 28 1/2" in circumference end-to-end. The hanging length of the pendant and chain is 16 1/2" from the top of the silver clasp to the bottom of the pendant, measured while lying flat on a table. And now,
a few words about the remarkable handmade silver link chain. It has approximately 170 individual links and a beautifully hand-fashioned hook and eye closure. It has a wonderful smooth, supple feel in the hand and falls just gracefully on the body. It's a lovely work of art in its own right.As a nice added extra, we will also include
a good length of black silk jewelry cord as the pendant looks very elegant hanging on that too.
This stunning pendant and chain necklace is a real bonafide head-turner, a completely classic historic
piece by a classic historic artist, one of the truly greatest Navajo silversmiths of all time.
SOLD