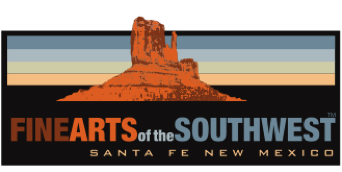 © 2010-2021 by Fine Arts of the Southwest, Inc. All rights reserved.
Unauthorized reproduction or use is strictly prohibited by law.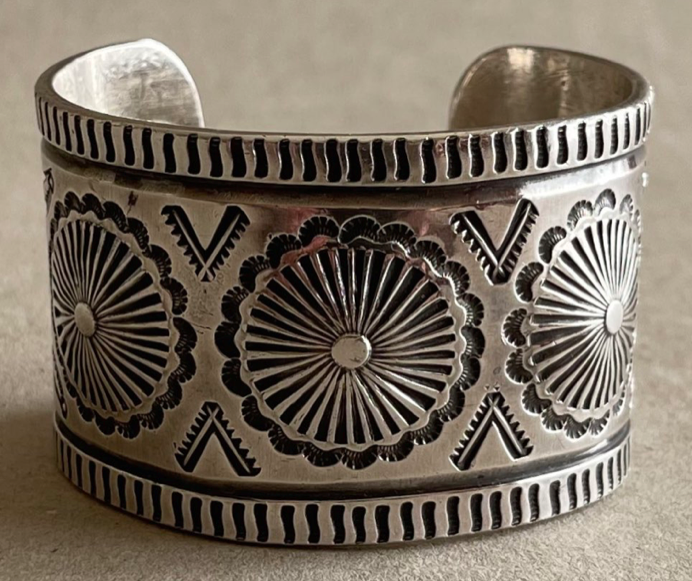 A superb Navajo cast ingot-silver cuff bracelet with
repousseed rosette designs by Mark Chee, c. 1940's-60's
IT IS ALWAYS A THRILL AND A PRIVILEGE to acquire another work by such an extraordinary artist. We have had a good number of Mark Chee's fine pieces over the years and they are always exceptional.
Mark Chee (approx. 1905-1981) is one of the most deservedly legendary names in the entire storied history of Navajo silversmithing. His imaginatively-designed and impeccably-crafted silver jewelry and flatware is renowned for its exceptional quality and beauty. Chee's work has a distinctively old-style character and feel and is characterized by its traditional use of heavy, often cast, silver with deep and detailed stampwork designs and finely-set, often very prominently featured stones of turquoise or red coral. Chee made many of his tools himself and he used only a very basic Navajo silversmithing kit consisting of torch, hammer, and hand-made stamps and chisels. His simple tools make his amazing technical virtuosity seem to be nothing short of miraculous.
Chee had a very long, 40-or-so-year career which began soon after arriving in Santa Fe from his home at a remote sheep camp in Lukachukai, Arizona at the tender age of 16 to begin work as an apprentice polishing stones for $5.00 a week at Julius Gan's Southwest Arts and Crafts on the downtown Santa Fe Plaza. Chee quickly earned a reputation as an up and coming silversmith in Santa Fe and moved on to a succession of bench smithing positions at prominent trading posts such as Frank Patania's Thunderbird Shop and Packard's Trading Post until going out on his own. Chee married a woman from San Juan Pueblo and spent the last 10 or so years of his life living there where he influenced and taught an up and coming generation of younger silversmiths including the now-renowned San Juan Pueblo silversmith, Mike Bird-Romero.
This extraordinary bracelet exemplifies all the very best things about Mark Chee's silverwork; exceptional, strikingly original design coupled with outstanding traditional craftsmanship. The top and bottom edges of the bracelet's heavy cast-ingot silver shank are decorated with perfectly-applied rows of parallel vertical stamp worked lines within a horizontal chiseled panel. These borders form a lovely "frame" of sorts for the bracelet's central panel which features a row of three large repousseed or bumped-out round rosette or button-shaped forms with nicely-scalloped edges. The interiors of these rosette designs are themselves decorated with fine beautifully stamped designs. The rest of the bracelet is adorned with a multiplicity of complex stamped, chiseled and filed designs. The unique and imaginative beauty and complexity of these designs and the precision of their application is just mind-boggling. It is indeed an artistic and technical tour de force.
The bracelet measures 1 1/2" in continuous width all the way around. The inner circumference end-to-end is
5 5/16" and the gap between the terminals is 1 1/16" for a total interior circumference of 6 3/8". The silver shank of the bracelet is just shy of 1/8" in thickness and it weighs an impressive 112 grams or 4 ounces, a delicious silver "Quarter-pounder" if you will! The bracelet is in excellent original condition with some age-appropriate wear and a fine patina from use. The bracelet is properly signed on the interior with Mark Chee's customary beautiful bird's head in profile hallmark enclosing his last name.
This bracelet is a visually exciting and beautifully made classic and compelling piece of Navajo silverwork
by an extremely significant and highly-collectable artist. A true masterwork by a true master maker.
SOLD
Mark Chee at his bench, Santa Fe, c. 1940's.
Photo copyright Frasher's Foto Postcards, Pasadena, CA