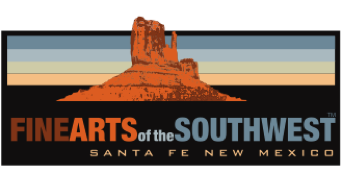 © 2010-2021 by Fine Arts of the Southwest, Inc. All rights reserved.
Unauthorized reproduction or use is strictly prohibited by law.

A vintage Mark Chee Navajo cast ingot-silver cuff bracelet with incredible stamp work, c.1940's-50's
This piece is the exceptional product of a Navajo silversmithing genius at the very height of his powers. Mark Chee (1904-1981) is justifiably renowned as one of history's greatest Navajo silversmiths and a piece like this explains precisely why. Chee became a Santa Fe superstar beginning his long 40-plus year career here at around age 14 working for Julius Gan's Southwest Trading company for five dollars a week and steadily rising through the ranks to occupy one of the top spots in an exalted group of Native American silversmiths which included such luminaries as Ambrose Roanhorse, David Taliman, Louis Lomay and Joe Quintana.
It is important to keep in mind as you examine and evaluate this piece that Chee was a completely traditional Navajo silversmith, he used a simple tool kit of tools he made himself in addition to making all of his own stamps. Think about that as you marvel at this almost unbelievable stamp work. The artistic creativity and design sense required to do this let alone the physical strength, balance and control is absolutely mind-boggling. we tried to count them individually and had to stop at around 300, all are artistically arranged, beautifully balanced, and perfectly applied. It's like a spectacularly detailed miniature painting in silver.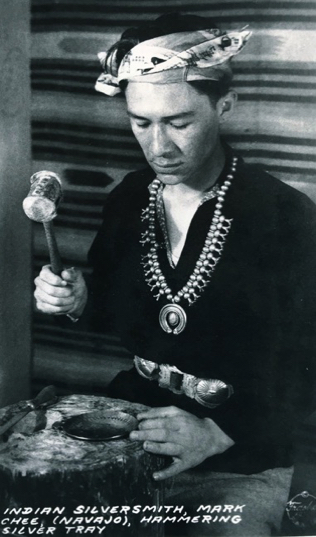 Mark Chee at his bench, Santa Fe, c. 1940's.
Photo source and © Frasher's Foto Postcards, Pasadena, CA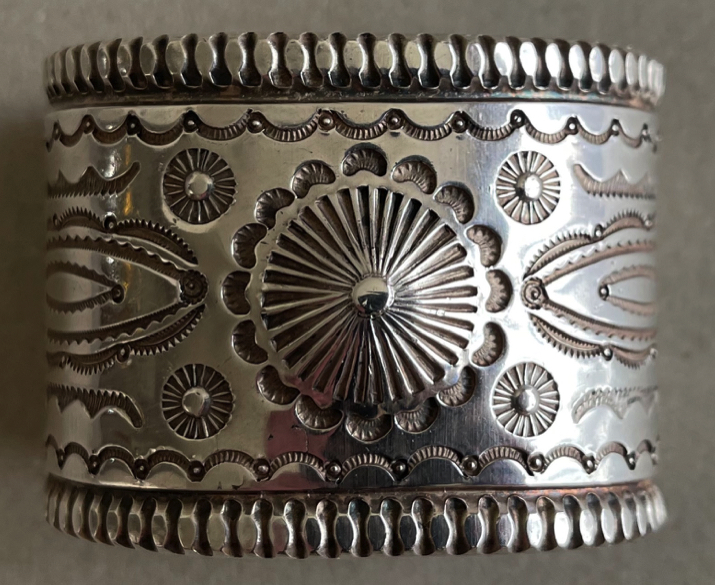 The bracelet is made on a fairly large scale. It measures 1 3/4" in width all the way around. The silver shank is almost a full 1/8" in thickness and weighs an impressive 128 grams or 4 1/2 ounces, over a quarter-pound of solid silver. The inner circumference end-to-end is 5 5/8" and the gap between the terminals is 1 1/8" for a total interior circumference of 6 3/4". The bracelet is properly signed with Chee's distinctive hallmark of a bird's head in profile atop the capital letters of his last name "CHEE". The bracelet is in excellent original condition with some age appropriate wear and a great patina and "glow".
This bracelet is one of the finest efforts you will ever see from one of the finest Navajo silversmiths who ever swung a hammer. It possesses a classic and timeless beauty, traditional but strikingly modern too. Walk into a party, a restaurant, a bar or an Academy Awards presentation wearing this baby and serious attention will be
paid and serious envy will rear its head.
SOLD