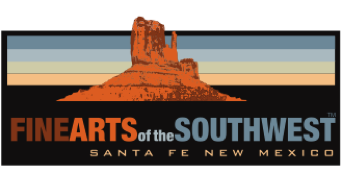 © 2010-2021 by Fine Arts of the Southwest, Inc. All rights reserved.
Unauthorized reproduction or use is strictly prohibited by law.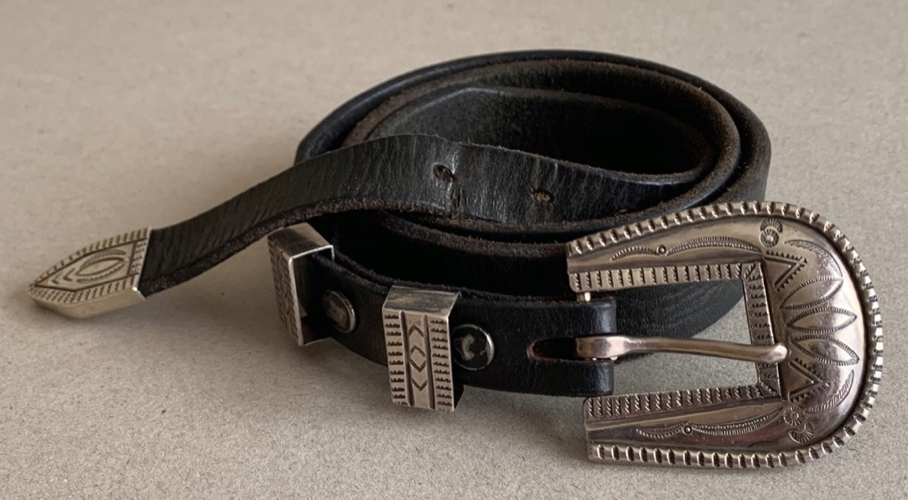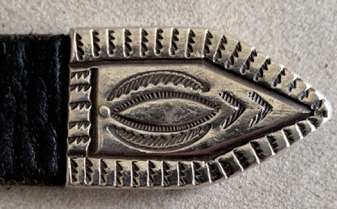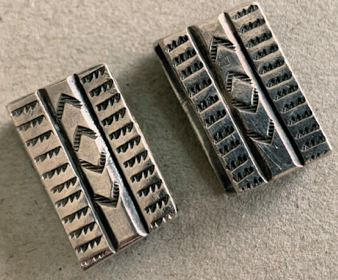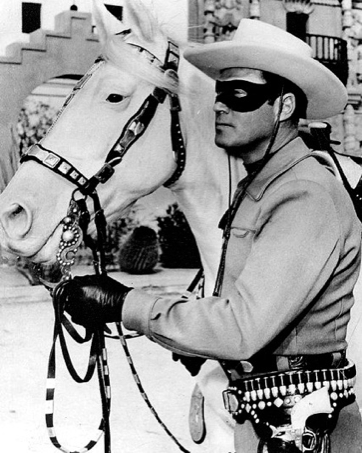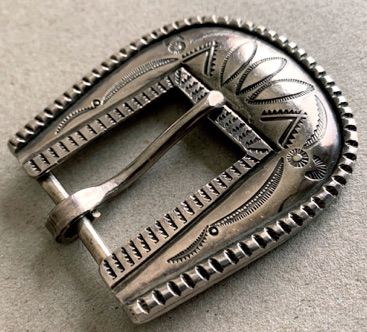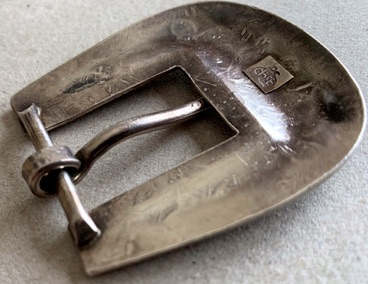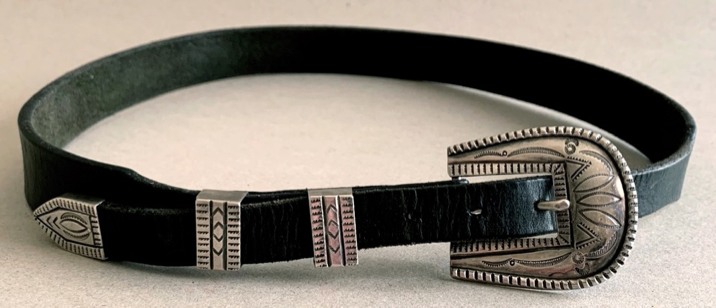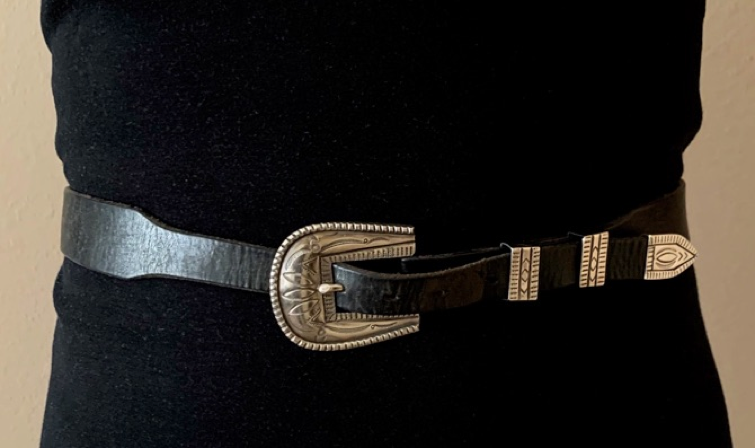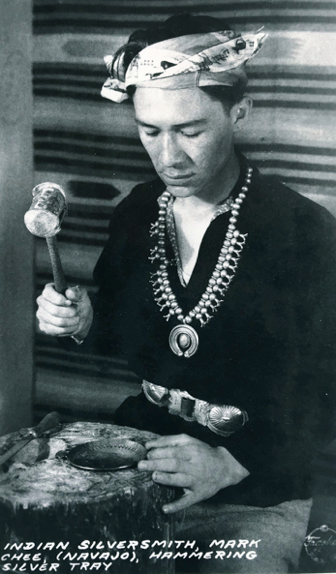 A unique four-piece Navajo silver "Ranger"
buckle set by Mark Chee, circa 1940's-50's
We have always loved Mark Chee's wonderful silver work and we've had quite a few of his beautifully handwrought pieces over the years. We have had numerous bracelets, rings, necklaces, concho belts, hair barrettes, salad sets, pendants and buckles, but this is the very first time we have ever seen a "Ranger" style belt set of his, it's the "Lone Ranger" of Mark Chee silver belts, if you will.
Mark Chee (Aprrox. 1900-1981) was one of the major figures of Twentieth Century Navajo silversmithing. He left his home in remote Lukachukai, AZ to come to the big city, Santa Fe at the tender age of twelve where he began his career polishing stones for $5 a week. He rose through the ranks rapidly working at several of Santa Fe's finest trading posts such as Julius Gans, Frank Patania and Al Packard's before eventually going out on his own. Chee's work is characterized by the use of heavy old-style silver, often cast, high-quality stones all decorated with incredibly detailed and precise stamping and deep chisel work. In these ways, it is essentially the gold standard of Navajo silver. Chee influenced a great many silversmiths of succeeding generations especially San Juan Pueblo silversmith Mike Bird who he got to know after marrying a San Juan Pueblo woman and moving there from Santa Fe.
Every detail of the design and craftsmanship of this set is simply stunning to behold; the overall design layout, the inventive perfectly executed stamp work, the lovely beautifully hand-wrought silver tang of the buckle, nothing has been left to chance, nothing has been less than perfectly done. The four silver pieces in the Ranger set measure as follows: The buckle is 2 3/8" wide by 2" in height at the highest point, the two "keepers" are each 7/8" in height and 1/2" in width and the tip is 1 1/4" in width and 3/4" in height. The set is in excellent original condition and it is properly signed with Mark Chee's customary last name inside a profiled bird head hallmark on the back of the buckle. The set is presently mounted on a nice black cowhide saddle leather belt. The entire belt from the tip of the silver buckle to the tip of the silver tip measures 40 1/2" and it measures 31 1/2" from where the belt is attached to the buckle to the shortest hole in the belt and just slightly under 35" to the loosest hole in the belt. The buckle and the keepers can accommodate a belt width of up to 3/4". The leather belt is in very good vintage condition with a nice patina.
Perhaps the most well-known Texas Ranger of all is the legendary and mythical
"Lone Ranger" played on television by Clayton Moore shown here with his trusty steed "Silver." Note the "Ranger" style belt the Lone Ranger is wearing.
Photo source and © Wikipedia
The silver buckle itself weighs 33 grams or 1 1/8 dunces and each of the silver keepers weighs 6 grams or 1/4 ounce. We cannot weigh the silver tip on its own since it is attached to the belt. The entire set and leather belt together weigh 147 grams or 5 1/8 ounces. While the Ranger set is not a traditionally Navajo silver form it was adopted enthusiastically by Navajo silversmiths in the 1930's to 1940's and later to fill consumer demand from cowboys and cowgirls and others who liked the handsome look and relative ease of wear. The "Ranger" set was aptly named originally for the buckles on the leather holster gun belts worn by the officers of The famed Texas Rangers and it holds a long proud place in the history, romance and mythology of the American West, here given considerable additional meaning and beauty with the singular original and exceptional artistic interpretation of a brilliant and sensitive Navajo silversmith. Each of the four pieces of the Ranger set is like a beautiful little stand-alone painting stamped in silver each with its own lovely compositional details and all working beautifully in harmony.
This set would be an absolutely perfect piece for a man or woman to wear or share. It looks equally attractive with jeans and a western shirt or loosely worn on the hips over a black dress as pictured below or over a long crisp white shirt. So head 'em up all you cowboys and cowgirls, real or just honky-tonk heroes; The Mark Chee "Lone Ranger" set has just ridden into town, but he probably won't be staying here long before he's off on his next adventure.
SOLD
Mark Chee at his bench, Santa Fe, c. 1940's.
Photo copyright Frasher's Foto Postcards, Pasadena, CA