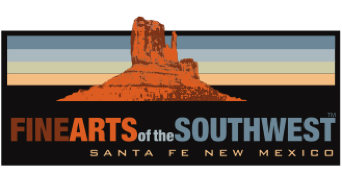 © 2010-2023 by Fine Arts of the Southwest, Inc. All rights reserved.
Unauthorized reproduction or use is strictly prohibited by law.
A spectacular pair of large Navajo silver
and high-grade Morenci, AZ turquoise earrings
by Mark Chee, c. 1950's-60's
These extraordinary silver and turquoise earrings are astonishingly beautiful and impressive pieces and the large, penetrating blue oval-shaped turquoise stones are exceptionally compelling. We believe that this is the so-called "Robin's egg" variety from the famed Morenci mine in Southern Arizona The stones are a bright luminous blue and are very lightly and subtly matrixed in areas, the light-colored matrix giving it an ethereal summer sky-like quality. There are also several small inclusions of iron pyrite, so-called "Fool's Gold" in the stone, a strong indicator of a Morenci mine origin. The stones are very beautifully set in an old-style "Foldover" type sawtooth or serrated silver bezels.
The overall design and hand craftsmanship on display here is remarkable in every aspect, the silver surrounds and stone settings are beautifully and gracefully proportioned and the finely serrated silver bezels are most perfectly and evenly applied to accentuate the gorgeous turquoise stones.
Mark Chee (1904-1981) was a completely traditional Navajo silversmith in every way and he used only a few simple tools, most of which he made himself. To attain such a degree of elegance, finesse and refinement with such basic materials and methods is a testament to his exceptional imagination and ability. He was well-trained in a succession
of positions at some of Santa Fe's finest trading posts beginning his apprenticeship as a young teenager in the 1920's at Julius Gans' Southwest Arts and Crafts. Over the decades he was able to learn from and refine his craft in the company of such accomplished luminaries as Ambrose and Sam Roanhorse, David Taliman and Joe H. Quintana before going out on his own sometime in the 1950's.
These earrings are most certainly not for the faint of heart, they are impressively large and they vary just very slightly in size, one is 1/16" longer than the other; the first measures 1 3/8" in height and the second measures
1 7/16" in height. Both earrings are 1" in width at their widest points. The earring's "drop" length is 2" and they are 1/4" in thickness. The earrings weigh a fairly substantial 13 grams or 1/2 ounce each, but they are nevertheless quite surprisingly comfortable to wear throughout the day. They have a beautiful "swing". Both earrings are properly and beautifully signed on the backs with Mark Chee's customary last name inside a profiled bird's head hallmark and they are in completely excellent original vintage condition with some small amount of age-appropriate wear and a nice, soft patina, but no damages or problems at all. We have had our professional jeweler replace the original screwback closures with elegant and graceful long handmade silver wire hooks.
We have been fortunate to have seen a great many of Mark Chee's fine jewelry pieces over the years, and we can conclusively say that while quite of few of these were very very good or really really excellent, in our view these particular pieces stand near the top of the hill literally glowing with the aura of true and unique artistic greatness. While they might seem somewhat simple, the only thing simple about them is their simple pure unadorned greatness.
Want to make a powerful statement about elegance and beauty in historic Southwestern jewelry? Now's your chance.
Price $2,600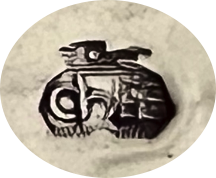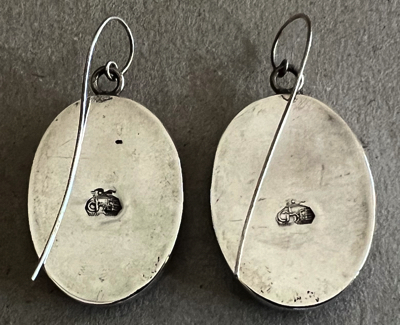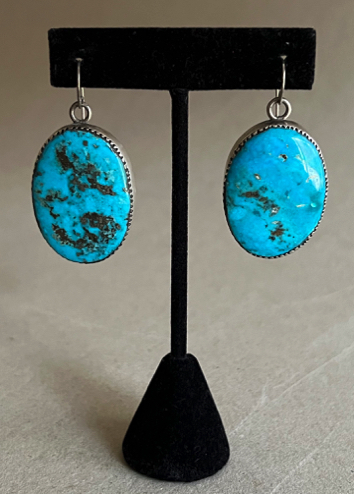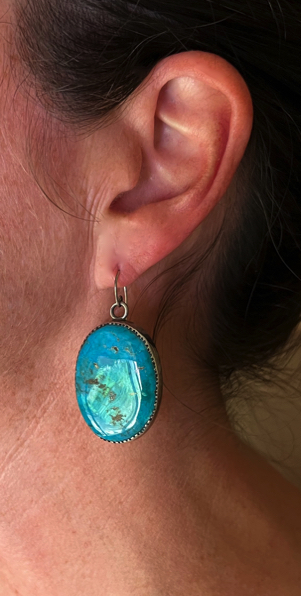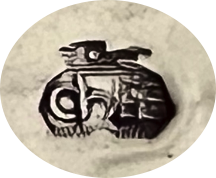 At left, Navajo silversmiths at Julian Gans' Southwest Arts and Crafts, Santa Fe, NM, 1935. Mark Chee is pictured second from left. At right, Mark Chee at work, c. 1940's
Left and right photo source and © Frasher's Fotos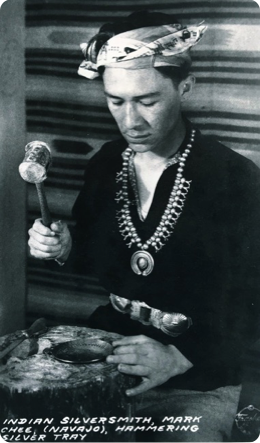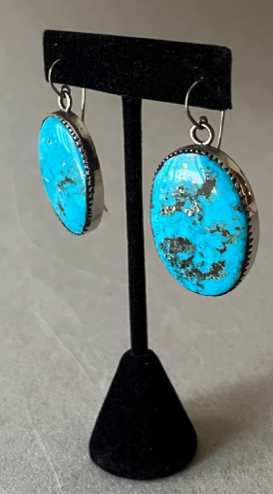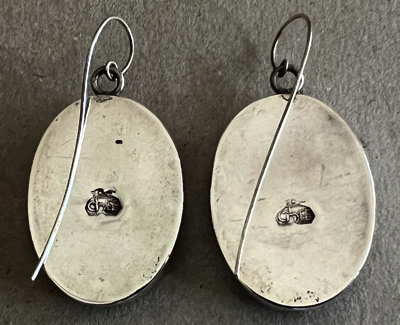 Morenci Turquoise
Morenci turquoise was mined in Greenlee County in southeastern Arizona. This turquoise is highly sought after for its blue colors and iron pyrite, or "fools gold," matrix. From 1956 to 1984, the turquoise rights were granted to William "Lucky" Brown. Lucky retired in 1982 and his sons continued to mine the turquoise until the lease ended. The Browns still have quite a stash of rough stone, enough to release a small amount every year to keep it available. Morenci is highly valued and difficult to obtain.
-Morenci turquoise text and photo source and © Waddell Gallery, Scottsdale, AZ