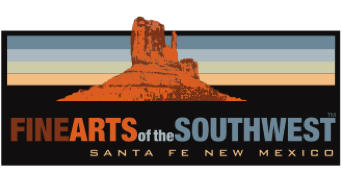 © 2010-2021 by Fine Arts of the Southwest, Inc. All rights reserved.
Unauthorized reproduction or use is strictly prohibited by law.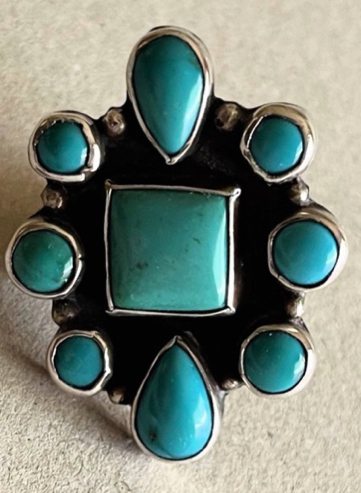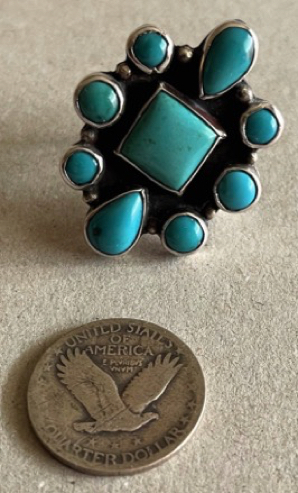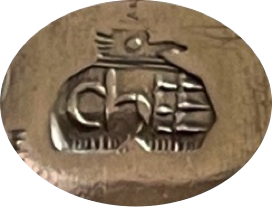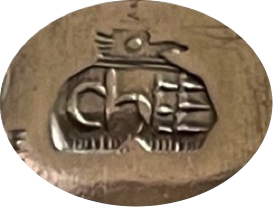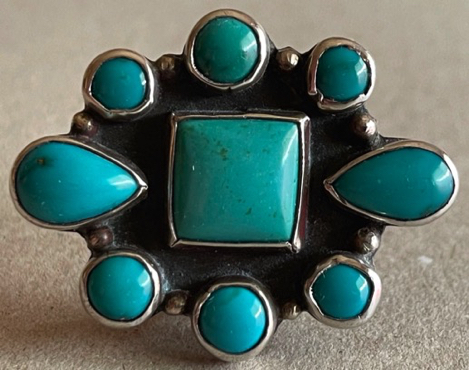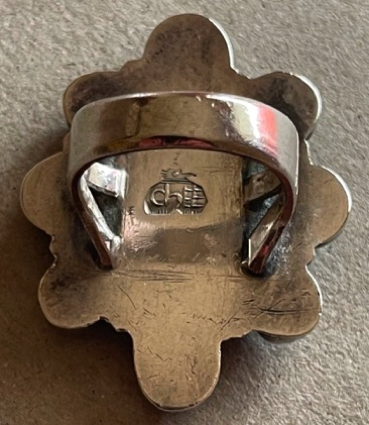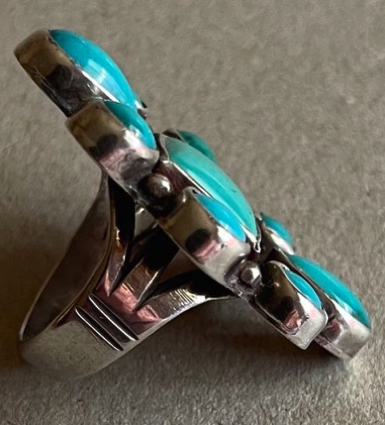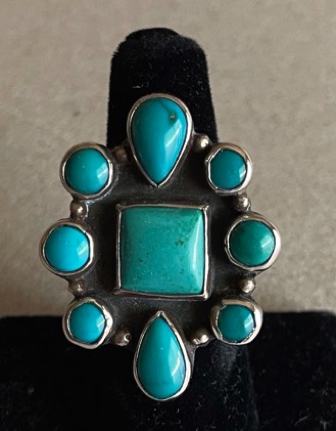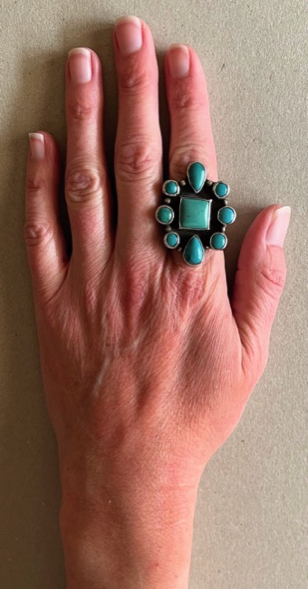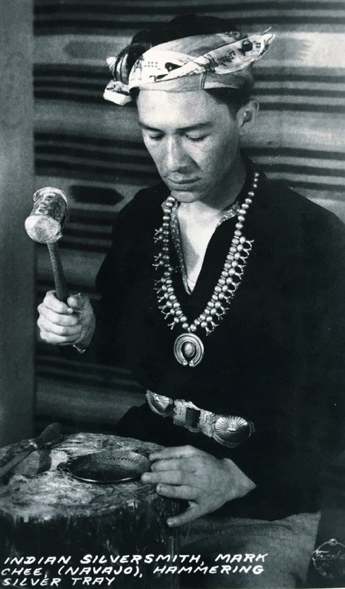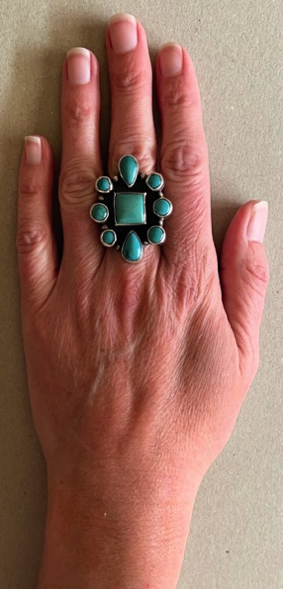 A terrific vintage Mark Chee Navajo silver
and turquoise "cluster" ring, c.1930's-50's
To say that we are huge Mark Chee (1900's-1981) fans is to underestimate it by half. He is the Navajo silversmith's silversmith in our opinion, making intensely traditional, old-style, gorgeously hand-crafted, large-scale heavy silver masterpieces over the course of a forty or so year long career which he began in Santa Fe as a young teenager polishing stones for Julius Gans' Southwest Trading post on the Santa Fe Plaza for five dollars a week. 
This gorgeous cluster style ring is a perfect example of Mark Chee's finest work. The heavy triple split cast silver shank is perfectly shaped and topped with a silver bezel platform holding no less than nine perfectly wrought old-style "foldover" type silver bezels each of which holds a beautiful natural hand-cut blue-green turquoise stone possibly Fox from Nevada or King's Manassa from Colorado although we are not completely certain of which mine. Whichever mine it is, the stones are all most beautifully colored, hand-shaped and set. The large square central stone is flanked on the top and bottom by large oval-shaped stones and then the entire central panel of three large stones is surrounded on both sides by a group of six smaller round-shaped stones, three on either side. The amount of concentrated detailing and the skill it takes to execute at this exalted level is difficult to comprehend.
The nine turquoise stones are arranged in a "shadowbox" of sorts against a black background to further accentuate their color and shape. In a wonderful subtle touch, an encircling accent border of eight very finely crafted silver "raindrops" are applied around and between the stones. It's a stunningly artistic arrangement and overall presentation. The way the hand-cut individual turquoise stones are juxtaposed against the shining surfaces and edges of their beautifully hand-crafted individual silver bezels against the dark shadowed background is just extraordinary. Every element of the design and fabrication works together perfectly here making the ring a truly stunning sculptural object.
The ring officially measures a size 6 3/4 on a professional graduated ring sizer, but it will fit a finger up to size 8 as pictured below. The ring's face is a nicely-sized 1 1/2" in height and is 1 1/4" in width at its widest point and the ring weighs a completely comfortable to wear 13 grams or 1/2 ounce. The ring and stones are all in excellent original condition and the ring is properly signed on the inside with Mark Chee's beautiful customary hallmark of his last name enclosed inside a profiled bird's head.
This ring is a classic completely impressive piece by one of the finest Navajo silversmiths who ever lived;
classic and traditionally Navajo as all get out, yet world-level sophisticated contemporary artistic as all hell
too! See how much attention you get from the fashionistas when you next belly up for a couple cocktails at the Carlyle or Beverly Hills Hotel wearing this knockout cocktail number with your little black dress.
And for you gents, if you can ever get your significant other to hand it over, try this one on likewise
at an evening out for a fancy cafe dinner or at your next company board meeting.
Price $2,850
Mark Chee at his bench, Santa Fe, c. 1940's.
Photo source and © Frasher's Foto Postcards, Pasadena, CA