© 2010-2021 by Fine Arts of the Southwest, Inc. All rights reserved.
Unauthorized reproduction or use is strictly prohibited by law.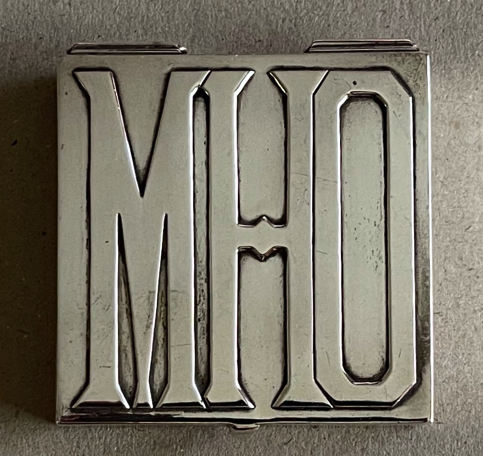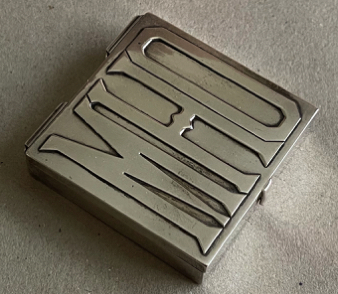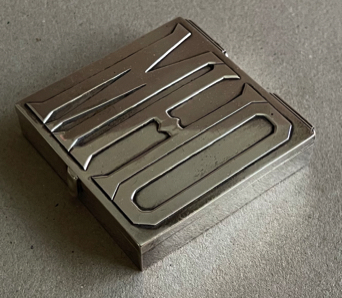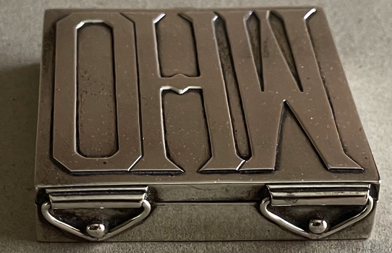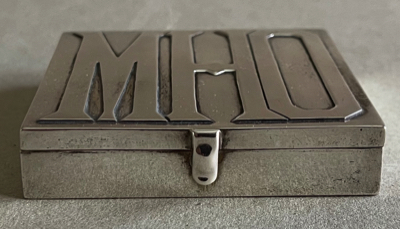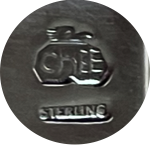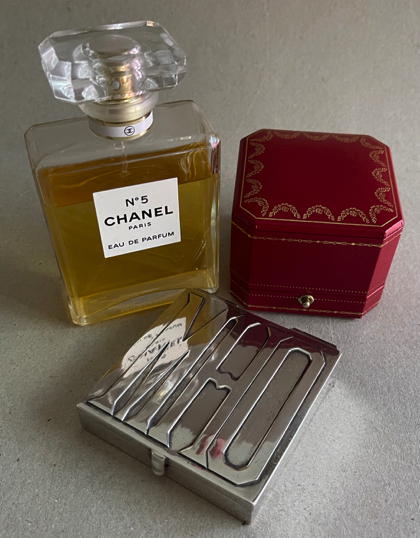 A remarkable one-of-a-kind monogrammed
Navajo Sterling silver makeup compact case
by Mark Chee, c.1950's
Talk about a collision of completely different worlds! Navajo silversmith Mark Chee (1904-1981) was born and raised in one of the most remote out of the way places in America, the tiny, dusty one-horse hamlet of Lukachukai Arizona way out in the far reaches of the Navajo Reservation about as far away as you can get both physically and otherwise from the fashion capitals of the world and the entire glittering world of fancy make-up and cosmetics.
Chee moved to Santa Fe from Lukachukai around 1920 as a teenager and began his silversmithing career working for Julius Gans' Southwest Arts and Crafts for five dollars a week. By the 1940's, Chee had become one of Santa Fe's pre-eminent silversmiths with a major reputation for outstanding artistry and craftsmanship. Along the way, sometime around the 1950's, a client or owner at one of the various trading posts he worked for somehow commissioned the making of this specially monogrammed piece for a very lucky unknown someone with the initials "MHO". It's a testament to Chee's remarkable talent that he made this piece from a completely different culture than his own so beautifully and well.
The workmanship is truly incredible; just look at the stunning overall precise fabrication of the silver box itself, the almost impossibly beautiful hand-chiseled initials, down to the perfectly formed, forged and fitted hinges! This gorgeously crafted luscious-looking piece of precious fine jewelry would look perfectly at home gleaming beautifully in a display case at Tiffany or Cartier on Fifth Avenue in New York City or on the Place Vendome in Paris. You will notice that we have pictured the compact below with such estemmed fashion icons as Chanel No. 5 perfume and the famous Cartier red leather jewelry box and it fits right in perfectly.
The square-shaped compact measures 2 3/4" by 2 3/4" and it is 5/8" in depth. It weighs a very substantial 168.5 grams or 5.95 ounces and is in near-mint original condition. The compact is properly signed "Chee" on the back in Mark Chee's customary hallmark of a bird's head in profile above his last name "CHEE" in capital letters and it is also stamped "Sterling". The compact has a small round face mirror mounted inside the lid and there is still an old Revlon powder puff and a packet of face powder inside.
This unique and special piece is still completely usable as a makeup compact. (Of course, we would suggest replacing the powder and puff first.) Alternatively, it could easily be used as a pillbox or small trinket box, if desired. It would also make just a lovely display art object in a home or in a museum as the beautiful vintage example of exceptional Navajo silverwork it is. Naturally, it is a fascinating mystery to speculate on the identity of "MHO"; clearly a person of taste and means commissioning such a special piece from a special artist in Santa Fe, New Mexico some seventy years ago, but we will likely never know who they were.
This completely unique and elegant compact is certainly the sort of piece you don't see every day,
or really ever in fact. In that light, it would make a most perfect gift for the person who has
(or thought they had) everything!
SOLD
Mark Chee's silver compact pictured with two of the world's great fashion
icons, Chanel No. 5 perfume and the Cartier red leather jewelry box.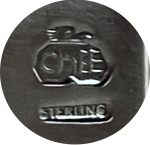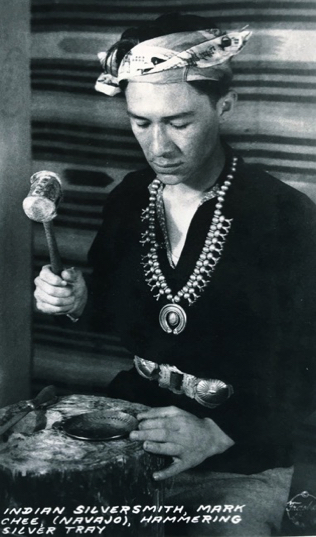 Mark Chee at his bench, Santa Fe, c. 1940's.
Photo source and © Frasher's Foto Postcards, Pasadena, CA