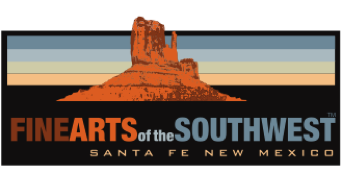 © 2010-2022 by Fine Arts of the Southwest, Inc. All rights reserved.
Unauthorized reproduction or use is strictly prohibited by law.

A superb vintage Navajo silver and Morenci, Arizona turquoise pin by Mark Chee, c.1950's-60's
A truly gorgeous piece by one of the all-time greatest superstars of Navajo jewelry, Mark Chee (1904-1981).
Born in the tiny, remote one-horse hamlet of lukachukai Arizona out in the far reaches of the vast Navajo reservation Mark Chee came to Santa Fe as a young teenager to work as a jewelry apprentice polishing stones for $5.00 a week. Due to his exceptional talent and instruction by some of the finest Navajo and Pueblo silversmiths of their day, people such as Ambrose Roanhorse, Sam Roanhorse and Joe Quintana, Chee rose rapidly becoming an ace silversmith whose pieces
were always in high demand.
Chee always worked in a completely traditional manner using a simple set of tools he mostly made himself and always insisting on using only the finest stones as he did here with this terrific silver and Morenci, Arizona turquoise pin.
"Morenci turquoise is highly sought after for its blue colors and iron pyrite, or "fools gold," matrix"
-Gene Waddell, American turquoise authority
Morenci Turquoise
Morenci turquoise was mined in Greenlee County in southeastern Arizona. This turquoise is highly sought after for its blue colors and iron pyrite, or "fools gold," matrix. From 1956 to 1984, the turquoise rights were granted to William "Lucky" Brown. Lucky retired in 1982 and his sons continued to mine the turquoise until the lease ended. The Browns still have quite a stash of rough stone, enough to release a small amount every year to keep it available. Morenci is highly valued and difficult to obtain.
-Morenci turquoise photo and text source and © Waddell Gallery, Scottsdale, AZ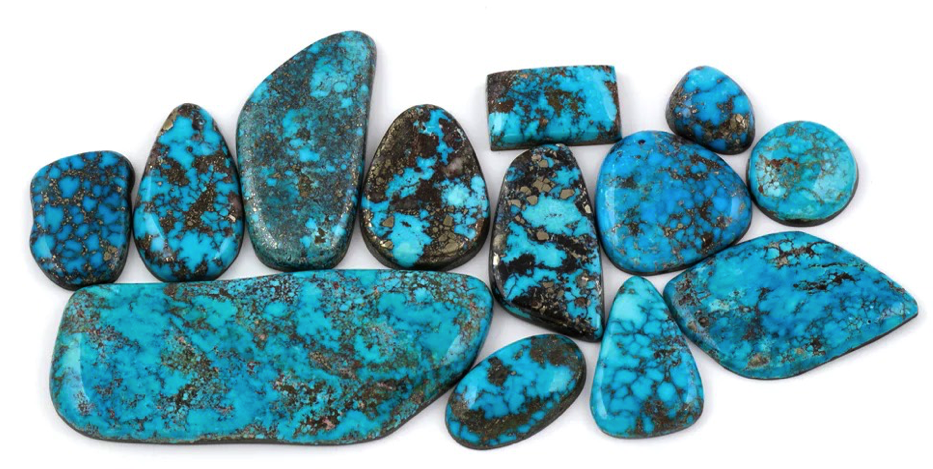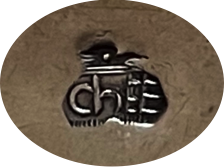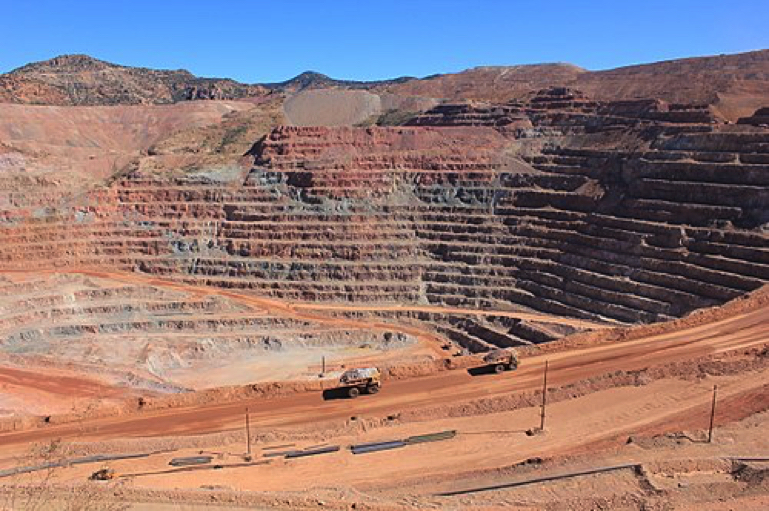 Morenci Arizona is one of the world's great classic turquoises and Mark Chee made wonderful use of it here,
highlighting the large triangularly-shaped stone with its characteristc iron pyrite inclusions which catch the light beautifully and its penetrating blue color with a lovely old-style "foldover" type silver bezel and accentuating the silver bezel with a perfectly-crafted hand wrought twisted silver wire bezel surround. Like much American turquoise, Morenci is
a beautiful by-product of copper mining and the Morenci Copper mine is one of the largest in the United States. The simplicity of the pins appearance belies the complexity of its construction. The great ones always make it look easy!
The pin measures 1 3/4" in width and it is 1 3/8" in height. It weighs a comfortable ans easily wearable 22 grams or
3/4 ounce. The pin is in excellent original vintage condition and is properly signed with Mark Chee's customary last
name inside a bird's head hallmark.
This superb pin is a classic historic piece by a classic historic artist, one of the truly greatest of all time.
Price $1,950
The Morenci Copper/Turquoise mine outside of Safford, Arizona.
Photo source and © Wikipedia