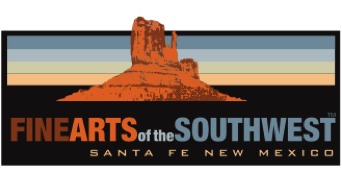 © 2010-2023 by Fine Arts of the Southwest, Inc. All rights reserved.
Unauthorized reproduction or use is strictly prohibited by law.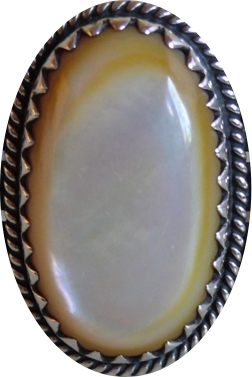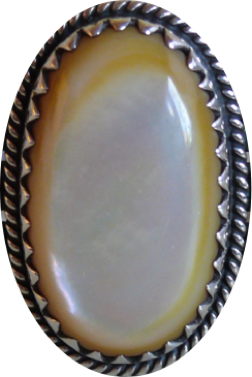 An exceptional Navajo silver and golden-lipped
mussel shell bracelet by McKee Platero, c.1998
We are calling this piece "Return of the Jedi" for a number of reasons. First off, Navajo Silversmith, McKee Platero
(b. 1957), is like one of George Lucas' mystical "Jedi Knights" in the "Star Wars" epic movies. He is possessed of vastly superior abilities compared to those of mere mortals and he carries with him the wisdom of the ages, and is simultaneously humble, proud and resolute. In our view, McKee is probably the finest known Navajo Silversmith who ever lived; certainly in the top three along with Kenneth Begay (1913-1977) and the late 19th Century smith, "Slender, Maker of Silver".
This fantastic bracelet was originally purchased from McKee's longtime Santa Fe dealer, Teal McKibben, at her Canyon Road gallery, "La Bodega", in August, 1998. It has remained in the same collection until we purchased it from its original owner several years ago. Ironically, we initially missed being able to buy it first by only a few days ourselves at Teal's gallery back when it was originally there which is why we refer to it now as having "returned".
McKee Platero, left, and Teal McKibben, right, at her La Bodega Gallery, Santa Fe, c. 1998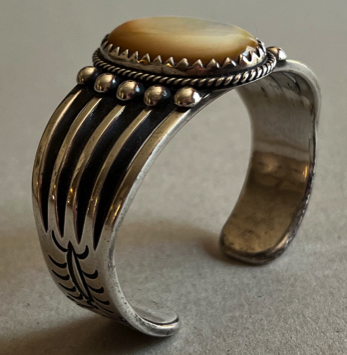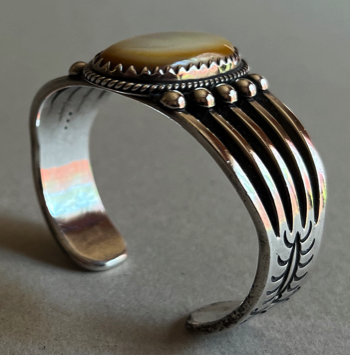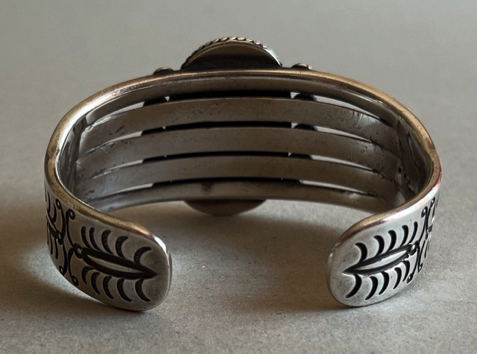 This bracelet was made during a several-year time period when McKee created a small suite of unique and wonderful
pieces featuring this beautiful, precious "golden-lipped" mussel shell. The beautifully cut, oval-shaped, shell is set in
a gorgeous serrated heavy silver bezel surrounded by silver twisted wire and further embellished with ten large, round applied-silver "Raindrops". The bezel platform sits atop the bracelet's perfectly-crafted quadruple split-chiseled silver shank which is decorated with beautiful, deep stampwork in the form of stylized "insect" designs. All in all, this is an extremely complex and difficult design to achieve and Platero pulls it off perfectly. The bracelets from this late 1990's to early 2000's time period are some of the most beautifully-fashioned, imaginative and intense pieces that McKee has
ever done with great feel, powerful presence and real "heft".
"Insects are the true owners of the world. They were the first to arrive.
Man was the last to arrive. We are still of the earth and we have to take care of
the natural world. We must return to exalting the earth."
-McKee Platero
The bracelet measures 1 1/2" in width at its widest center point and it tapers down to 3/4" in width at the terminals.
The bracelet's inner circumference end-to-end is 6 1/8" with a 1 1/16" gap between the terminals for a total interior circumference of 7 3/16". The bracelet's shank is approximately 1/8" in thickness and the bracelet weighs an extremely substantial 105 grams or 3 3/4 ounces. It is properly signed on the inside with McKee Platero's customary hallmark of three parallel stamped dots and it is in excellent original condition.
This bracelet is a splendid, perfectly-crafted classic piece from the unique artistic mind
and incredible hands of one of the true masters of Navajo jewelry.
Price available upon request
McKee Platero quotes excerpted from "Southwestern Indian Jewelry, Creating New Traditions" by Dexter Cirillo, Rizzoli, NY, 2008, pp.37.
Copyright 2008 by Dexter Cirillo. "Return of the Jedi", "Jedi Knights", "Star Wars" copyright by LucasFilm Limited.