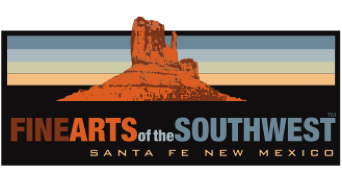 © 2010-2021 by Fine Arts of the Southwest, Inc. All rights reserved.
Unauthorized reproduction or use is strictly prohibited by law.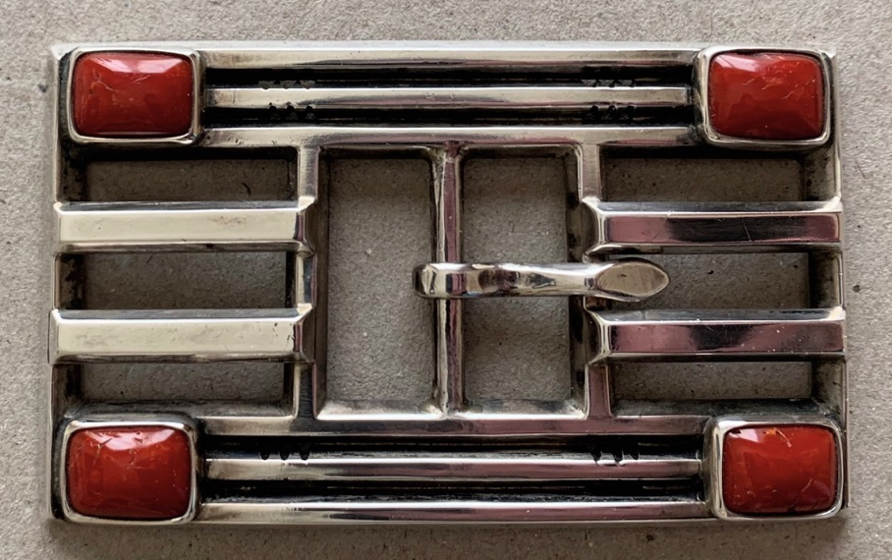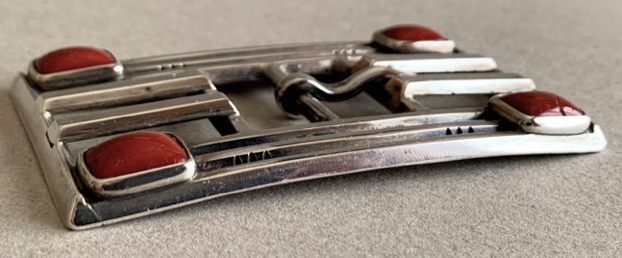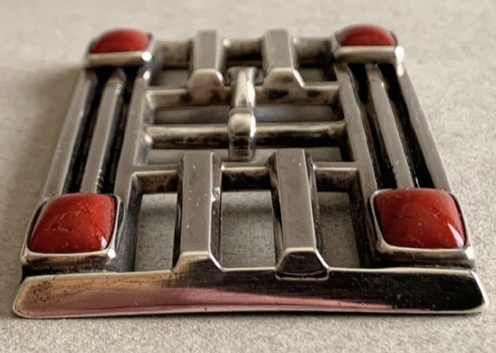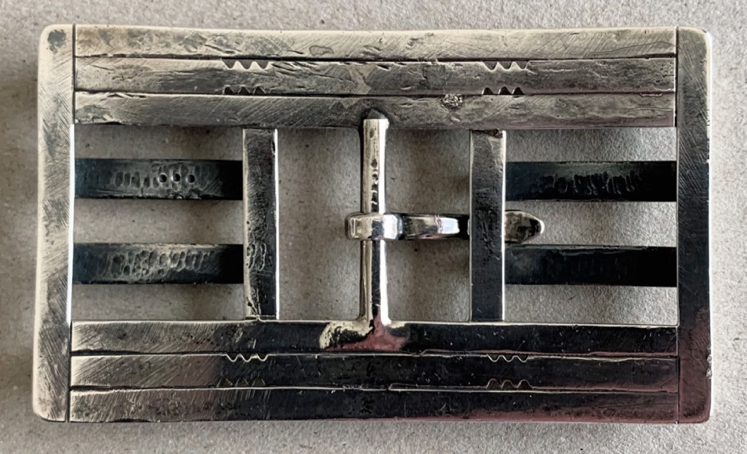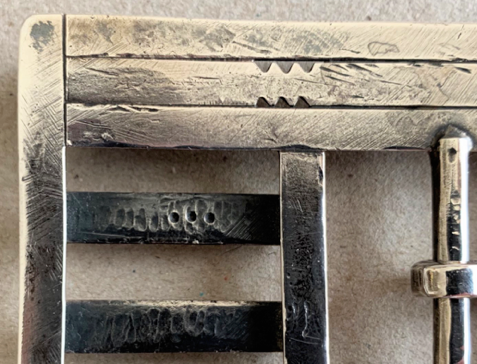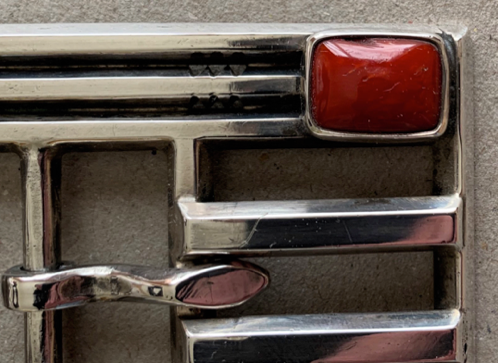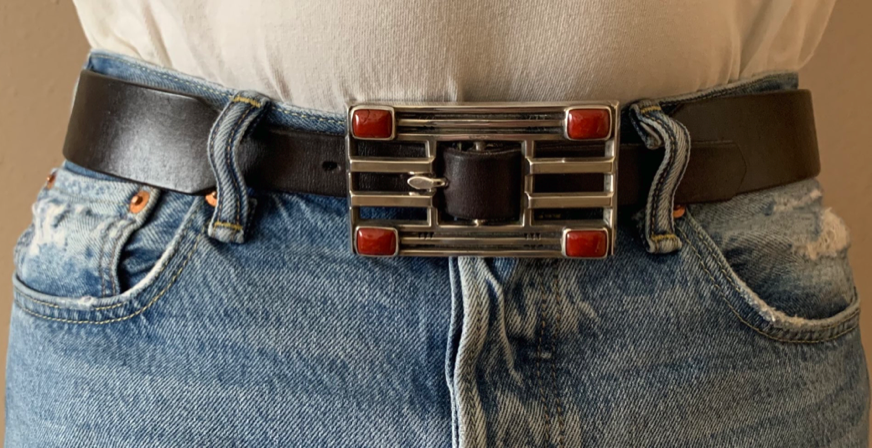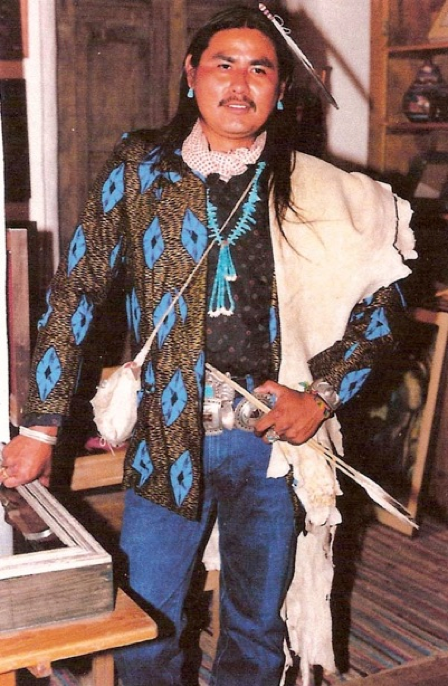 A truly magnificent McKee Platero Navajo silver buckle set with four matching deep red Mediterranean coral cabochon stones. c.1990's
This buckle is the very definition of the term "magnificent". It is in every conceivable way a magnificent creation, with a magnificent design, magnificent silversmithing, craftsmanship and technique and set with four magnificent pieces of the finest deep red Mediterannean coral. Such an artistic achievement could only be the product of the mind and hand of the great contemporary Navajo silver master, McKee Platero (b. 1957). Platero, taught silverwork from a very early age by his brilliant silversmith Uncles, Jack Adakai and Austin Wilson is arguably the finest Navajo silversmith who ever lived with an incredible, wide-ranging body of work behind him today at age 63 and still going strong.
His overall conceptual sense of combining a distinctively modern viewpoint with completely traditional forms and methods is unique as is his innovative use of figural elements such as insects and flowers in his designs. He is an undisputed virtuoso of every technique in the Navajo silversmith's bag of techniques and methods; from tufa-casting to all forms of fabrication to extraordinarily creative stamp work, chisel work and painstakingly exotic techniques such as rocker-engraving and inscribing.
"Platero comes from a family of silversmiths, his grandfather and his uncles were known for their heavy silver jewellery with deep and precise stampwork, and Platero continues this tradition."
-The British Museum 

The buckle is very interestingly and creatively constructed of thirteen heavy bars of carinated silver which range from about 1/8" to just under 1/4" in width, eight bars running horizontally across the buckle from side to side and the other five running across the buckle vertically from top to bottom. The center silver crossbar secures the very finely hand fabricated silver tang of the buckle which is itself a beautifully-wrought miniature sculptural artwork. The buckle is a very stripped down basic yet intrinsically complex sculptural piece in that all its basic structural elements, the "bones" or girders of its construction so to speak form the structural foundation and the decorative elements of its design as well.
As a perfect finishing touch, set into each of the four corners of the buckle is a very nicely-sized beautiful, finest-quality, matched rectangularly-shaped, deep red coral stone, a color Platero favors for its pure deep clear quality of red. In typical fashion, Platero carefully hand-shaped the four stones into beautiful soft-cornered rectangles and set them into perfectly wrought old style silver "fold-over" type bezels. The buckle measures a nicely-sized and proportioned 3 5/8" in width and 2 1/8" in height. The four red coral stones each measure about 1/2" in width and 3/8" in height. The buckle weighs a very substantial 107 grams or 3 3/4 ounces.
The buckle is in excellent original condition and it is properly and artfully signed on the back with McKee Platero's customary three-dot insignia which signifies his deep identification with the three stars in the belt of the famous constellation of Orion the Hunter in the night sky. There are also a number of other subtle 3-part triangularly-shaped cutouts visible in the silver which recall Platero's signature present in the body of the buckle as well. The buckle was originally purchased in the mid-1990's from McKee Platero's exclusive gallery at the time, Teal McKibben's "La Bodega" Gallery on Santa Fe's Canyon Road. McKibben represented Platero from around the mid-1980's through the early 2000's.
This buckle is an incredible piece of jewelry art which beautifully encapsulates McKee Platero's unique and extraordinary artistic vision, his impeccable, unparalleled craftsmanship and his boundless imagination inextricably coupled with his deeply-felt Navajo identity. This buckle is a true artistic treasure in every way; a remarkable repository and expression of extraordinary inspiration and incredible skill, history, culture and a lifelong devotion to excellence by an artist existing and operating on a level entirely his own.
Please note that the leather belt pictured here is for photographic purposes only and is not
included in the sale of this buckle.
SOLD
McKee Platero at La Bodega Gallery, Santa Fe, c. 1998