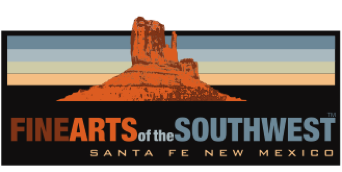 © 2010-2021 by Fine Arts of the Southwest, Inc. All rights reserved.
Unauthorized reproduction or use is strictly prohibited by law.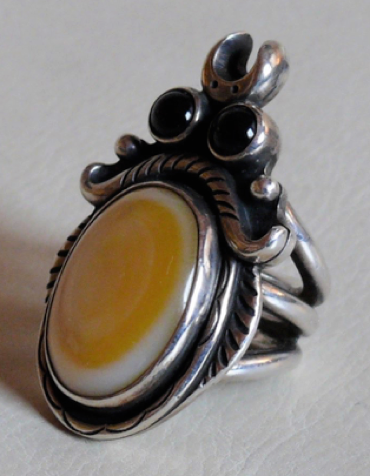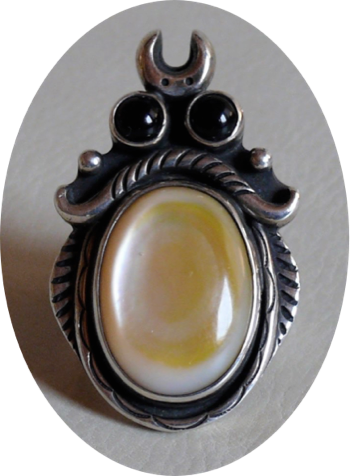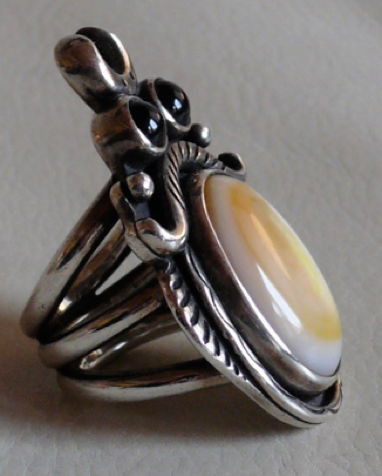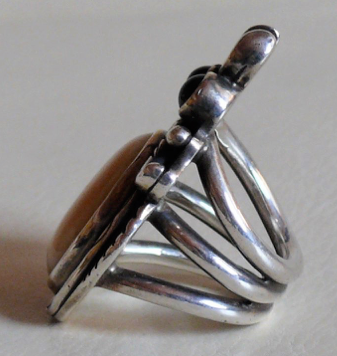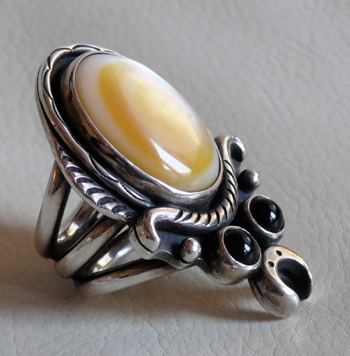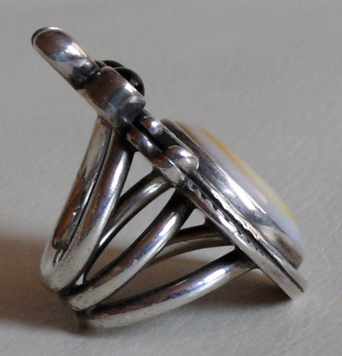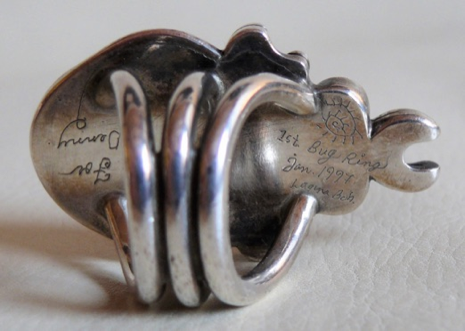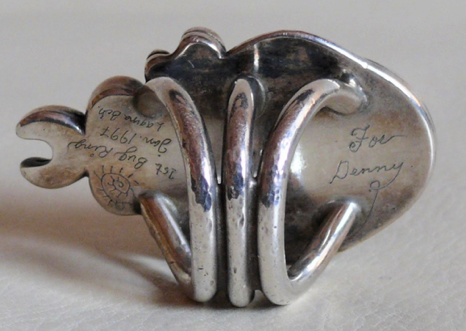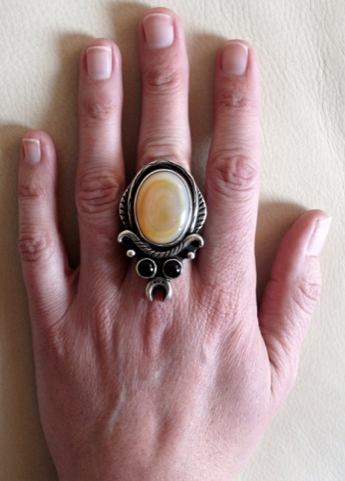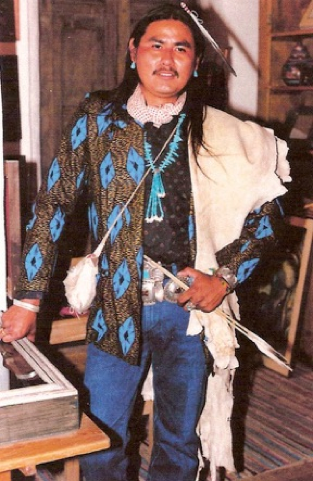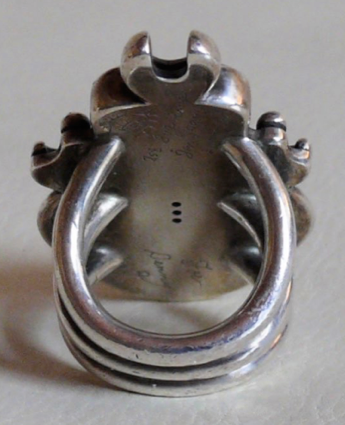 A magnificent Navajo silver pictorial
"bug" ring by McKee Platero, 1997
McKee Platero is one of the very finest Navajo silversmiths who ever lived, with a 30-plus-year body of work characterized by startling and enduring beauty, quality and originality. Artistically and technically, he has no equal, in our opinion, and this ring is a complete validation of this statement. Over the years, McKee has made a few different variations of these elaborate "pictorial" type rings with stylized bug, fly or other insect motifs. This ring is the very first one of these he ever made and it is so inscribed by McKee on the ring's interior.
The ring is beautifully cast, fabricated, wrought, chiseled and stamped (It almost appears hand-carved) into the stylized insect form with large prominent jaws and finely-chiseled and stamped scales or wings along the outside edges. The main "body" of the insect is formed of a large and very lovely set piece of precious golden-lipped mussel shell and the "eyes" are set with round pieces of black jet or onyx. The bezel platform sits atop a masterfully-wrought triple-split silver shank which appears to have been tufa-cast.
The ring is 1 7/8" in length and is 1 1/8" in width at its widest point. It measures a size 7 1/2 on a professional graduated ring sizer and it weighs a quite substantial 44 grams or 11/2 ounces. The ring is properly signed with McKee Platero's characteristic three-dot insignia on the interior. In addition to the signature, the ring bears the following inscriptions in McKee Platero's hand: "For Denny, 1st Bug Ring, Jan. 1997, Laguna Bch" (In the 1990's, Platero spent periods of time in Laguna Beach, California making jewelry and teaching.) These various inscriptions are accompanied by a wonderful artistic bonus; a small original, whimsical, engraved drawing by Platero which appears to be a centipede or other stylized insect form. The ring is in excellent-plus original condition with no issues whatsoever.
The provenance of the ring is also interesting and excellent. Platero originally made it as a special commission for a close friend and customer of Platero's original gallery dealer, the late Teal McKibben (1928-2006), who owned the La Bodega gallery on Canyon Road in Santa Fe. McKibben was McKee's primary dealer throughout the 1980's and 1990's and her incomparable knowledge and wise professional guidance helped him and his career immeasurably. Eventually, this ring came back to Teal after her customer's death whereupon she then sold it a second time to another longtime client of hers, from whom we eventually acquired it.
The amount of artistic and technical skill, knowledge and imagination required to create and hand make such a piece is difficult to comprehend and the numerous steps required to complete the process would take about a week to discuss so suffice it to say that this ring is an amazing achievement and leave it at that. McKee Platero is an undisputed artistic genius, an overwhelming giant in his field, and the proof is right here in the pudding. There are no flies on this extraordinary bug, so to speak, it's a masterwork by a master artist, worthy of any museum or private collection.
SOLD
McKee Platero at La Bodega, Santa Fe, c. 1997
Teal McKibben at La Bodega, Santa Fe, c. 2002