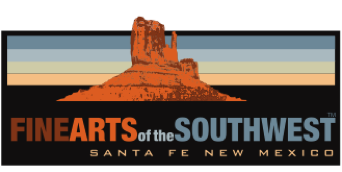 © 2010-2022 by Fine Arts of the Southwest, Inc. All rights reserved.
Unauthorized reproduction or use is strictly prohibited by law.
A contemporary Southwestern ceramic bowl
made in the style of Ancient Hopi "Sikyatki Polychrome" pottery by Michael P. Hawley, 1989
Michael P. Hawley (1948?-2012) of Scottsdale, Arizona was a true modern-day ceramic genius. After years of fascination with the fabled ancient Hopi pottery type known as "Sikyatki Polychrome" (1375-1625 A.D.), which
is generally regarded by pottery experts as being the finest pottery ever produced on the North American continent, Hawley painstakingly taught himself how to make it.
He did this not in a modern, shortcut replica sort of way using contemporary materials and modern methods and copying old designs, but, instead, in the painstakingly natural ancient way using exclusively native clays dug by hand then ground fine with hand-made stone tools, paint ground from the same indigenous native minerals and plants used by the ancient Hopi and applied with no previously sketched design templates using only a hand-cut and chewed yucca fiber brushes. Hawley never fired his ceramics in high-tech electric kilns, but in hand dug pits filled with hot-burning lignite coal mined from the exact same deposits the ancient Hopi Sikyatki potters used on the remote Hopi Antelope Mesa.
The result, as you see here, is nothing short of astonishing; a finely-made and extravagantly-decorated ancient Sikyatki style pottery bowl, completely authentic in every single way, but only three decades old, instead of five centuries. Michael Hawley refers to these ceramics as "Chakoptewa Polychromes", Chakoptewa being his adopted Hopi Tobacco Clan name. This is a truly phenomenal feat, one only equalled by the great Hopi pottery matriarch, Nampeyo of Hano (1858-1942) who herself led a Sikyatki pottery "revival" in the late 19th century and who also made her own completely original ceramics in the ancient Sikyatki style using the ancient Sikyatki methods.
At left, Nampeyo of Hano making Sikyatki-Revival style pottery, c. 1905. At right, Michael Hawley making Sikyatki-Revival "Chakoptewa Polychrome" pottery, c. 1985.
Left photo source and © Suduva. Right photo source and © Michael Hawley "Chakoptewa Polychrome; The Re-Emergence of a Lost Art"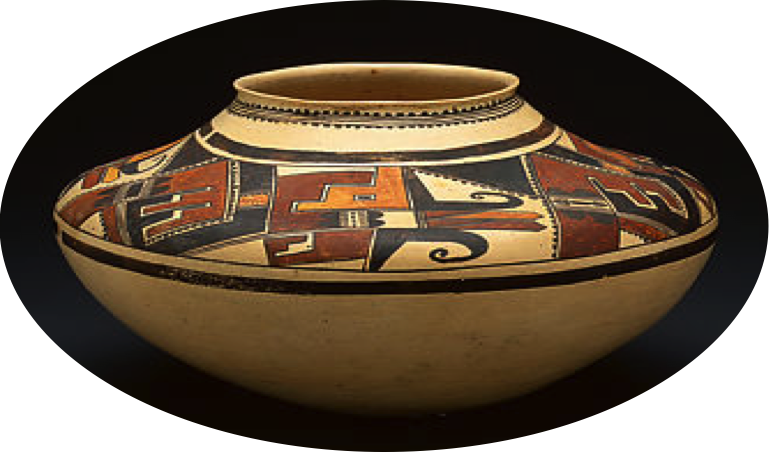 Sikyatki Polychrome pottery jar with abstract bird and feather designs, c. 1450-1500 A.D.
Photo source and © The Metropolitan Museum of Art
Hawley's groundbreaking ceramic work was resoundingly well received by the contemporary Southwestern Indian Arts world. In the 1970's and 1980's, Michael Hawley had a series of sold out one-man shows of his ceramics at the prestigous Gallery 10 and also at the Elaine Horwitch Galleries in Scottsdale, AZ and Santa Fe, NM.
The bowl is very beautifully formed with thin high-fired vessel walls and a lovely deep profile shape with an incurving rim echoing the distinctive shape and profile of the famous Sikyatki pottery bowls/jars. The bowl has
a marvelous and striking painted interior design composed of a variety of stylized avian elements adding up to a giant abstracted bird with stylized wing and tail feather motifs interspersed with terrace designs and a field of splatter paint and another area of stylized x-shaped "stars" in the sky. The expert use of negative and positive spaces in the design give it a highly energetic quality, the bird form almost seems suspended in the air inside the bowl, as if ready to fly off at a moments notice.
The interior design is further enhanced by the beautifully wrought painted glyph on the bowl's exterior shoulder. Both designs are executed in three different colors of paint which when added to the yellow clay background color make this vessel a four-color polychorme as opposed to the usual three color. Again, this is
a characteristic harkening back to Sikyatki, there are two subtypes of Sikyatki Polychrome pottery, Kawiaka-a Polychrome and Awatovi Polychrome both of which occasionally exhibit the pumpkin yellow fourth color in addition to the usual red and black. All in all, this is an extremely vibrant, masterfully conceived and beautifully-executed design.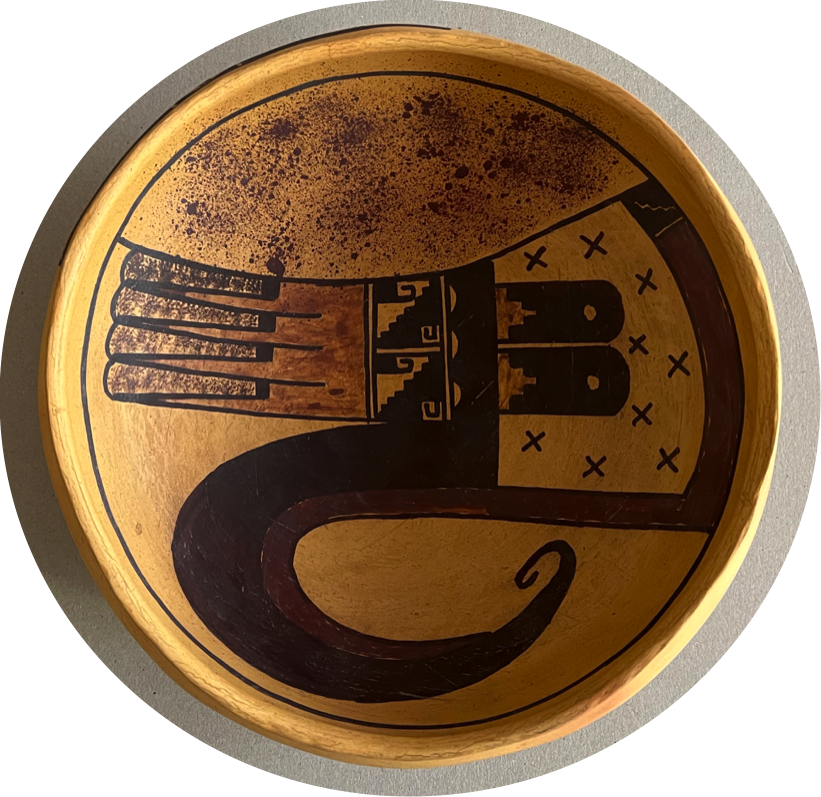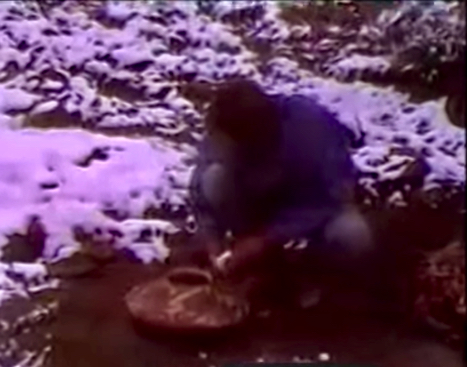 The bowl measures 10" in diameter and is 3 7/8" in height. It is in generally excellent original condition. There
is a very tiny surface crack which could have easily happened in the original firing which extends three or so inches down from the rim which could be easily restored if desired. We don't think this is necessary at all as this tiny crack is barely visible, does not appear to go entirely through the clay body, is quite stable and does not interfere in any way with the visual enjoyment of the bowl, but the next owner can decide to restore it if they wish. The bowl is properly signed on the bottom with Michael Hawley's smoking pipe insignia and his adopted Hopi name "Chakoptewa" and it is dated "1989".
Additionally, the bowl has an excellent and interesting provenance as well, included is the original November 29, 1992 purchase reciept from the bowl's original owner who purchased the bowl at The Furnace Creek General Store located in The Furnace Creek Inn, the famous Fred Harvey Company's owned and operated luxurty hotel in Death Valley National Park, California. The original sales price almost exactly thirty years ago was $425.00.
This bowl is a striking and compelling contemporary ceramic piece; an outstanding example of an extraordinary ancient art form brought back to life in the modern day by an inspired and brilliant modern artist.
To view a fascinating 1980's video of Michael Hawley making a Chakoptewa Polychrome pottery jar entitled "Chakoptewa Polychrome: The Re-Emergence of a Lost Art" from start to finish please click here.
Price $1,650