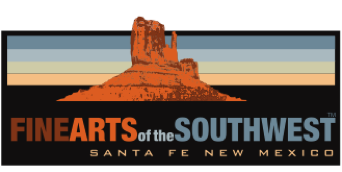 © 2010-2023 by Fine Arts of the Southwest, Inc. All rights reserved.
Unauthorized reproduction or use is strictly prohibited by law.
A magnificent large contemporary Hopi Sikyatki-style
four-color polychrome pottery low-profile "Flying Saucer"
jar by Michael Peter Hawley, Scottsdale, AZ, c. 1988-89
THIS PIECE LOOKS EVERY DAY OF FOUR CENTURIES OLD, BUT IT ISN'T. This one is the throughly ancient type creation of the thoroughly modern world made not in an isolated dusty windswept high-mesa Pueblo, but in the backyard of a suburban house in Scottsdale, Arizona. That's because the late Scottsdale, Arizona pottery artist Michael Peter Hawley (1948-2012) was a true and incredibly innovative certified ceramic genius who discovered an important key to the ancient Hopi Pueblo world. After years of fascination with ancient Native American pottery types of the prehistoric Southwest, he taught himself how to make a number of them, including cracking perhaps the greatest ceramic secret of them all; accurately and faithfully making the fabled Hopi Sikyatki Polychrome, c.1375-1625 A.D.
Michael did this not in a modern, shortcut replica sort of way using contemporary materials and modern methods and rote copying old designs, but, instead, in the exact same painstaking, natural, traditional, completely ancient way using exclusively native Hopi clays which he ground by hand with hand-made stone tools, using only paint pigments he found and made himself from the same indigenous local minerals and plants used by the ancient potters and which he then applied in the age-old manner with no previously sketched designs or templates of any kind using only a hand-cut and chewed yucca fiber brush and his inspired mind, artist's eye and experience to guide him. You would never believe it was possible if it wasn't right here looking at you.
Hawley also never fired his ceramics in modern high-tech electric pottery kilns. Instead, he constructed his own handmade firing pits using only the technology available from the 14th to 17th centuries, in the case of this particular Hopi Sikyatki-style jar, fueled by 1200-plus degree hot-burning Lignite coal mined from the exact same deposits the ancient Hopi potters used from the walls of Antelope Mesa on the far eastern edge of the Hopi mesas.
The result, as you see here, is nothing short of astonishing; a finely-made and extravagantly-decorated full-blown
Hopi Sikyatki-style low-profile "Flying Saucer" jar made nearly four centuries after Sikyatki pottery ceased being made in 1625. The famous Sikyatki "Flying Saucer" low-profile jar form has long been admired and coveted around the
world as one of the most beautiful and excruciatingly difficult of all Southwestern Pueblo pottery forms to make successfully due to its extreme low swooping overhanging shape, thin walls and very large size. This jar is a completely authentic Sikyatki-type ceramic in every single detail, but it is remarkably only three decades old, instead of four centuries. It is important to note the fact that Michael Hawley's pieces are inspired, completely original one-of-a-kind pieces of contemporary ceramic art informed by ancient tradition and custom. They are not in any way copies or replicas.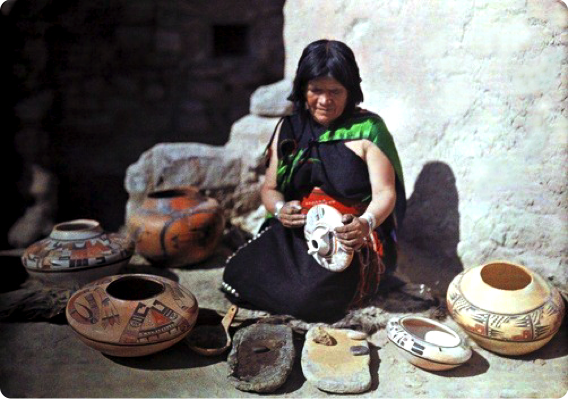 At left, Nampeyo of Hano making Sikyatki-Revival style pottery, c. 1905. At right, Michael Hawley making a Sikyatki-Revival "Chakoptewa Polychrome" pottery jar, c. 1985.
Left photo source and © Suduva. Right photo source and © Michael Hawley "Chakoptewa Polychrome; The Re-Emergence of a Lost Art"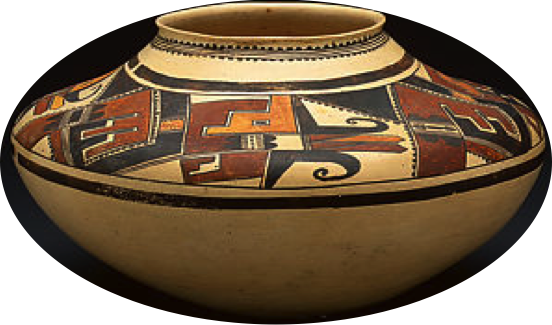 Sikyatki Polychrome pottery jar with abstract bird and feather designs, c. 1450-1500 A.D.
Right photo source and © The Metropolitan Museum of Art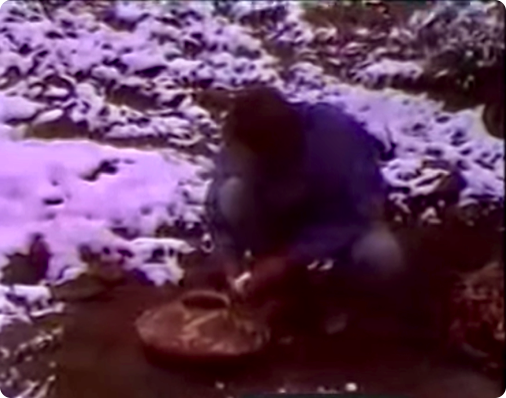 The jar is in excellent original condition overall with no restoration or overpainting as evidenced by a thorough examination of the vessel under UltraViolet light. There is one very slight chip to the rim and an all over pattern of very tiny spots or pop-outs in the painted and unpainted surfaces all around the body of the jar. This is characteristic of historic Sikyatki pottery and is due to the extreme high temperature firing of the vessel. There are also a few slight slip cracks around the coils on the jar's bottom which do not go through the clay body and are of no consequence.
The thin-walled high-fired jar pings perfectly and clearly when tapped lightly on the shoulder. On a jar of this size, complexity of design and difficulty in manufacture, this is absolutely remarkable condition indeed. The overall quality
of the potting, painting, stone polishing and coal-firing on this jar are all worth mentioning specifically here as it is all completely extraordinary as is the bottom surface of the jar which is almost like a minimalist abstract work of art in itself with its marvelous subtle pattern of lighter yellowish white firing "blushes" on the yellow clay resulting from the intense, blast furnace-like heat of the coal-firing process.
The jar measures a very impressively-sized 15" in diameter and it is 7 1/4" in height. It has an almost explosive, extremely complex and beautifully-detailed four-color polychrome design of stylized pendant bird tails, feathers, terraces and various geometric designs rendered in four symmetrical sections of paired and horizontally-opposed design fields. Michael also employed cross-hatching in certain sections of the painted designs to a beautiful visual and textural effect and in a final interesting and highly authentic and distinctive design touch, the four primary pendant bird tails extend almost all the way up the neck nearly to the rim.
Since the ruin of Sikyatki village on the slopes of the Hopi First Mesa was excavated by The Smithsonian Institution in 1895 and many of the ancient ceramics there uncovered for the first time in Centuries, a Sikyatki pottery "revival" of sorts has taken place at Hopi spearheaded by the great 19th and 20th Century Hopi pottery Matriarch, Nampeyo of Hano (1858-1942). Three centuries after Sikyatki pottery had died out, she would "revive", modify and re-interpret the ancient Sikyatki vessel shapes and stylized bird and feather designs like these in her own unique manner such as seen below which she would then feature prominently in her and her family's pottery continuing on to the present day.
This jar has an absolutely perfect provenance, we purchased it directly from Michael Hawley himself around 2009-10 shortly before his untimely death in 2012. Mike was a longtime friend and professional colleague and we spoke with him over the years regularly and at considerable length about pottery, his own and others, archaeology and all manner of things Southwest. This particular jar is an unsigned piece which Mike told us was simply an oversight on his part which happened from time to time and particularly when he made vessels for his own enjoyment and his own personal collection. he offered on any number of occasions for us to come visit him in Scottsdale and bring him back the jar
which he would sign for us and give us a few pottery-making lessons in the process. Sadly, we never took him up on his generous offer. Michael Hawley always somewhat prosaically referred to his Sikyatki-style pottery pieces as being "Chakoptewa Polychromes" which is his invented pottery type name for them based on his adopted Hopi name, "Chakoptewa".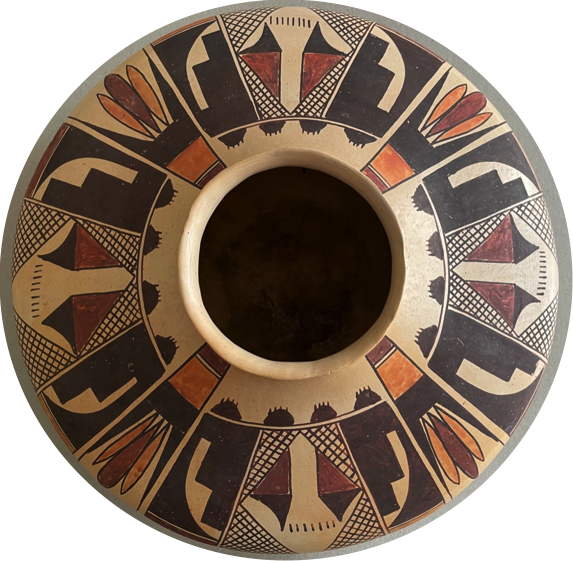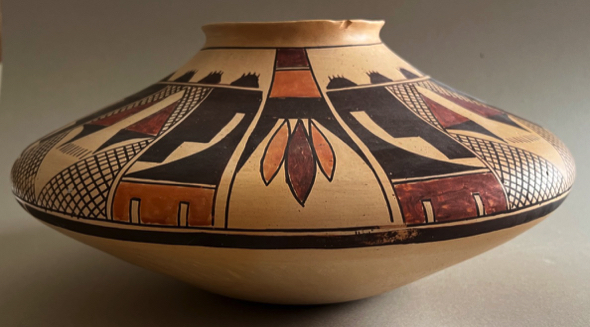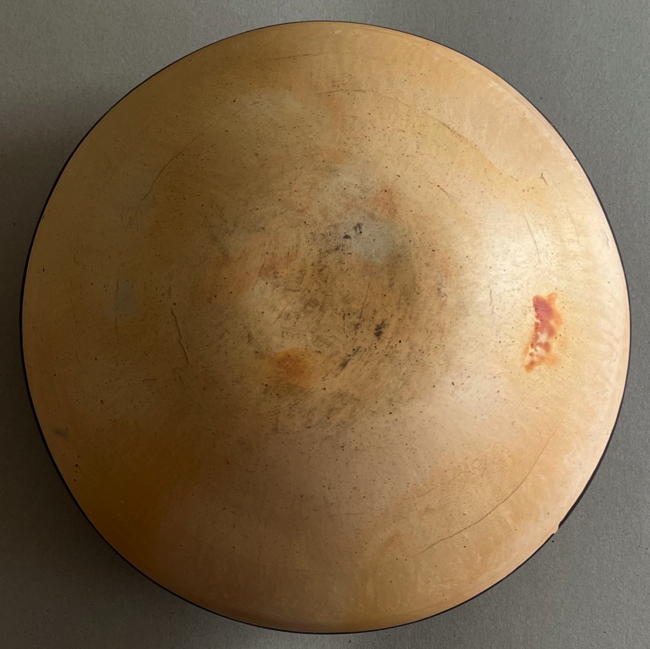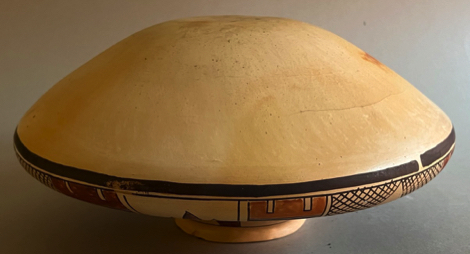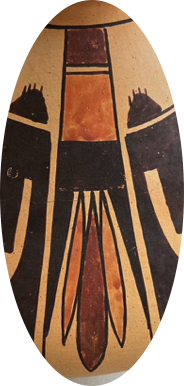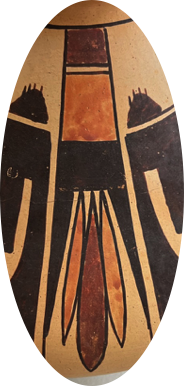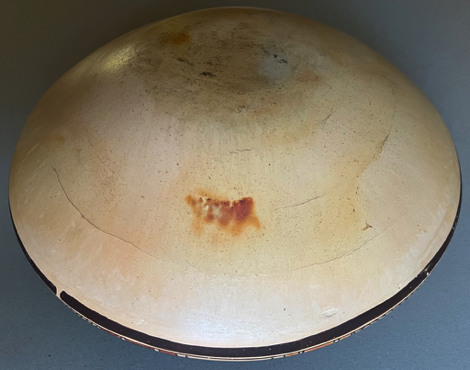 The degree of all-out aesthetic and technical excellence and expertise demonstrated in the making of this vessel is nothing short of astounding. We have owned perhaps a dozen in all of Michael's large Sikyatki-style jars over the past thirty-five years and seen perhaps 20-30 others and this particular jar is among the very finest of all of these in our personal opinions. Michael got this one just right. Michael Hawley self-produced a short film in the 1980's documenting the entire process of him making one of these large Sikyatki-style pottery jars from start to finish, from finding and preparing the clay and the paint pigments to preparing the yucca fiber brush to smoothing, painting, polishing and ultimately firing the jar. It is a thoroughly fascinating and remarkable presentation which simply has to be seen to be believed. To view a YouTube video of this film, please click here.
During the 1980's, Michael Hawley had a series of completely sold-out, lines around the block one-man pottery shows
at the prestigious Gallery 10 in Scottsdale, Arizona and the equally prominent Elaine Horwitch Galleries in Scottsdale and in Santa Fe, New Mexico. When you look at outstanding original pottery art pieces such as this one, it is very easy to understand why this was the case. They are true Southwestern pottery treasures, extraordinary and compelling modern day links to our deep and ancient American past.
Provenance:
The Artist, Scottsdale, AZ, c. 2010
Price $2,475