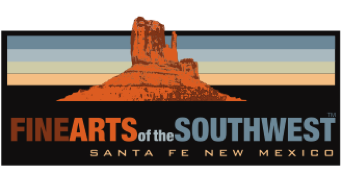 © 2010-2022 by Fine Arts of the Southwest, Inc. All rights reserved.
Unauthorized reproduction or use is strictly prohibited by law.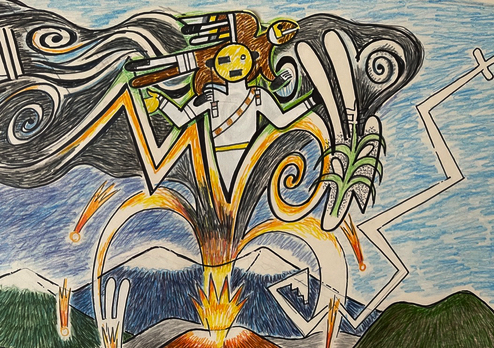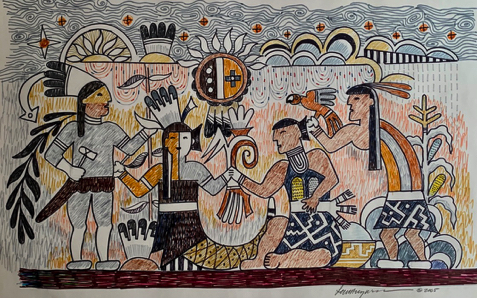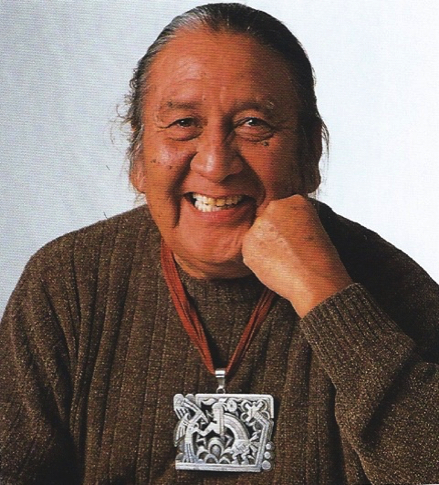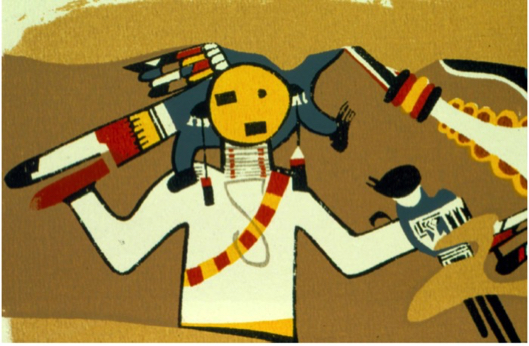 Michael Kabotie wearing one of the panels from his Awatovi Silver Room #1 depicting a Hopi priest holding a macaw.
At left, detail of Michael Kabotie Awatovi-style Kiva mural drawing study with macaw. At right, Awatovi Kiva mural, Test 14 Room 2. Restoration from the Peabody Museum, Harvard University Awatovi Expedition, by Fred Kabotie (1900-1986), Michael Kabotie's father.
Right image source and © "Kiva Mural Decorations at Awatovi and Kawaika-a", Peabody Museum, Harvard University, 1952, plate "E"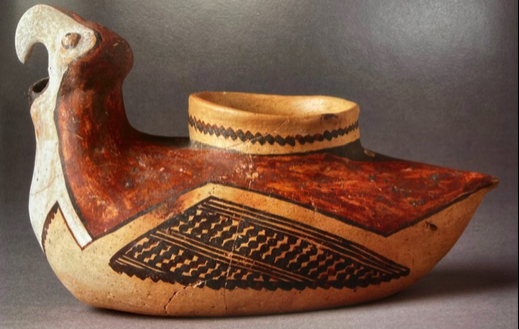 At left, Scarlet Macaws in the wild. At right, a Sikyatki Polychrome pottery effigy bottle of a Scarlet Macaw, c. 1500-1550 A.D.
Right photo source and © Edwin L. Wade, "Canvas of Clay", El Otro Lado Publishing, pp. 74-75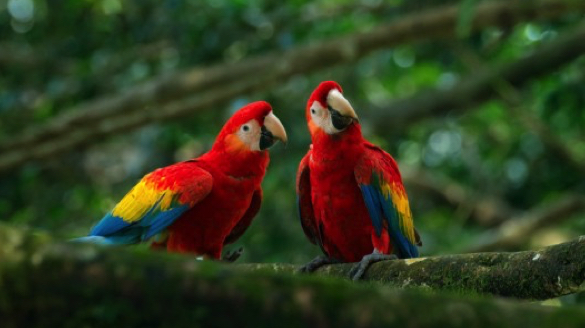 At left, macaw petroglyph at Pottery Mound Pueblo and illustration of a prehistoric Kiva Mural at Pottery Mound Pueblo, New Mexico with "Macaw Maiden". At right, Kiva mural-style drawing by Michael Kabotie, 2005.
"Birds are symbolically important within Puebloan society as messengers to the upper realms and the supernaturals who dwell there. The people's prayers for prosperity and well-being, as well as their thanks for such gifts are conveyed in this manner. Within ancient Hopi society scarlet macaws imported from Central America were ritually sacrificed as eagles are today. The freeing of the in-dwelling spirit provided the spiritual conduit through which mortal and divine communication could be achieved."
E.L. Wade, "Canvas of Clay", El Otro Lado Publishing, pp. 74
A Hopi silver overlay bolo in the form of a scarlet macaw by Michael Kabotie (Lomawywesa), c. 1990
One of the most in-demand Native American artists today is Michael Kabotie (1942-2009). His distinctive silver overlay jewelry is coveted worldwide for its unique beauty and expressiveness. Michael Kabotie grew up in one of the most inspiring artistic environments imaginable, his Father Fred Kabotie (1900-1986) was one of the most significant Hopi artists and educators of the modern era and the important Co-Founder of The Hopi Arts and Crafts Guild. In that role along with his colleague, jeweler Paul Saufkie, he established the enduring tradition of Hopi silver overlay jewelry which would later become one of his son Michael's primary artistic vehicles.
The resounding theme that informed and inspired Michael Kabotie's art for most of his life and career were the magnificent ancient Hopi painted Kiva murals discovered in the 1930's at the ancient ruined Hopi villages of Awatovi and Kawaika-a on Antelope Mesa on the far eastern edge of the Hopi Reservation. Fred Kabotie assisted the 1935-39 Harvard University Peabody Museum archaeological expedition that discovered and excavated these murals and he interpreted and presented them in a set of original paintings done for The Golden Gate Exposition in San Francisco in1939 where he was assisted by the young Hopi artist Charles Loloma.
Young Michael Kabotie was completely entranced by the awesome beauty, imagery, majesty and meaning of these sacred Kiva paintings and ihe subsequently nterpreted and reinterpreted them in various ways and forms throughout his life in his own paintings and drawings and particularly in his spectacular jewelry pieces.
This bolo is a perfect example; the subject depicted here is the sacred scarlet Macaw bird a recurring prominent theme in the Awatovi kiva murals and also in the closely related ancient murals at New Mexico's prehistoric Pottery Mound Pueblo. Macaws were traded to the Hopi from the Aztecs in Mexico and as well to the ancient Puebloan civilization at Chaco Canyon in what is now Northwest New Mexico. Macaws were highly prized for the extraordinary beauty of their incredibly colored feathers which were used (and still are used today) in various Hopi ceremonials. It is well to remember that Hopi migration legend says that the Hopi people migrated to their present day Hopi mesa villages from the South as in central Mexico around the region of the Barranca Del Cobre (Copper Canyon) so they would be well familiar with the Scarlet Macaw.
Macaws begin appearing in the archaeological record of the Southwest beginning around 900 A.D. not long before the Hopi villages began to be established in their present locations. There is a considerable amount of evidence that shows that Macaws were not only traded up from Mexico, but that they were also bred locally by the Hopi and Chacoans.
"Even now, ceremonial regalia in a lot of cases have macaw feathers in them. If you go
to see a Pueblo dance, there's a good chance you'll see macaw feathers on at least some of the dancers.
Macaws can also mimic human speech, and so are often viewed as a bit more human-like, which
could have enhanced their significance."
-Archaeologist Stephan Plog,
University of Virginia, Charlottesville.
The silver bolo slide measures 2 3/4" in height and it is 1 3/4" in width at the widest point. The slide is in excellent original condition and it is properly signed "Lomawywesa" (Michael Kabotie's Hopi name) in a cursive script on the back.
The bolo's silver tips are standard trading post jewelry supply-type silver tips and were not made by Michael Kabotie. Most likely, Kabotie purchased these and the braided brown leather tie at a local Northern Arizona trading post and assembled the bolo. It is also possible that he simply sold the bolo slide on its own to a customer who wanted to use their own tie and tips. The overall length of the braided leather tie including the tips is approximately 36" approximately and the length of the silver tips themselves is 2 1/4". The overall weight of the bolo slide, leather tie and tips is a comfortable 36 grams or 1 1/4 ounces.
Michael Kabotie's jewelry is becoming increasingly rare and exceptionally difficult to come by in the marketplace
today due to a skyrocketing international demand for his pieces over the past several years and when one is lucky enough to come upon a piece of his available today the price is often quite high. This bolo is an opportunity to acquire
a particularly beautiful and meaningful piece of Kabotie's exceptional jewelry at a cost that won't break the bank.
It works equally nicely as a bolo for either a man or a woman and if ever desired it could be converted by a qualified jeweler into an especially beautiful pin.
Price $3,250