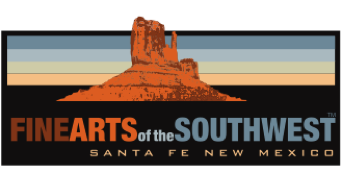 © 2010-2022 by Fine Arts of the Southwest, Inc. All rights reserved.
Unauthorized reproduction or use is strictly prohibited by law.

A beautiful Modernist-style silver pin of unknown origin set with a large desert jasper or agate stone
To be honest, we're a little stumped here. We love everything about this pin, its impressive size, its graceful elegant shape and its exceptional stone. The only thing is, we don't know exactly what it is. We have variously thought that it might possibly be Navajo made or Pueblo made or even Mexican made. But for various different reasons we now think it
is none of those. after a good amount of thought, we now think it might very possibly be European in origin, as in some kind of Danish Modern. It's sleek design, sophisticated manufacture and overall sensibility are pointing us in the Danish Modern direction, but at the end of the day what matters most is that it's just beautiful and that we just love it.
The pin measures a nice-sized 2 7/8" in length and is 1 3/4" in width at the widest point and weighs a very comfortable
and easy to wear 25 grams or 7/8 ounce. It is unsigned for the maker and is not marked in any other way. The pin is in completely excellent original condition. The pin closure has the very tiniest bend in it but this is of absolutely no consequence, it is in perfect working order. We would guess-timate the pin was made around the 1950's-60's.
And now a few words about the gorgeous stone. It appears to be some type of jasper or agate and it has an extraordinary pattern of swirling colors ranging from reds to orange to purple to cream to grey to near white.
It is deeply reminiscent of the colors of our Southwest desert canyons particularly river canyons such as the Colorado or the San Juan both of which we have rafted on several occasions. The landscape in and around Mexican Hat, Utah or Lee's Ferry, Arizona come strongly to mind. The desert colors are perfectly set off and beautifully accentuated by the wide highly-polished silver surround.
It's a beautiful desert mystery to contemplate.
Price $675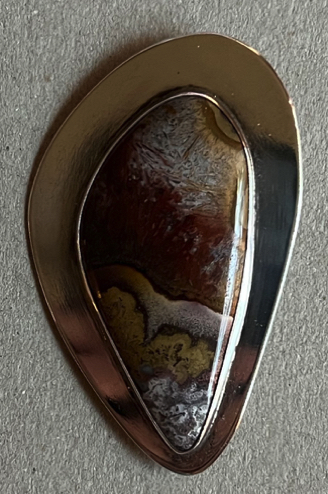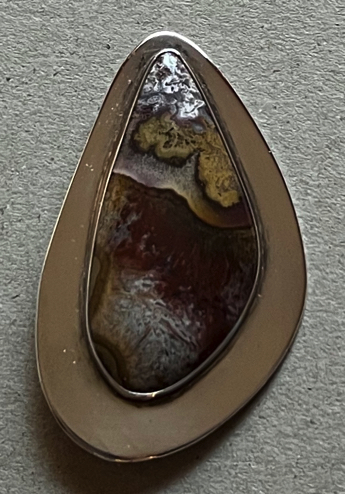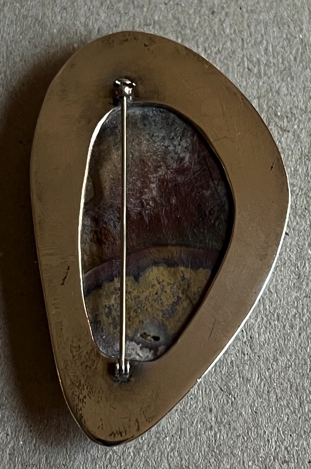 At right, aerial photo of the Grand Canyon and the Colorado River.
Photo source and © Getty Images UK