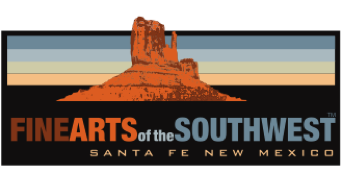 © 2010-2021 by Fine Arts of the Southwest, Inc. All rights reserved.
Unauthorized reproduction or use is strictly prohibited by law.

THIS WONDERFUL PIECE is a perfect testament to the exceptional abilities of the silversmiths of the famed Navajo Arts and Crafts Guild. To craft a simple, basically functional item so beautifully and well with such obvious skill and meticulous attention to detail is quite remarkable. The Navajo Guild was formed by the Navajo Tribal Authority in 1941 under the direction of the great Navajo silversmith and teacher, Ambrose Roanhorse and his deputy and former student, Chester Yellowhair with the goal of ensuring that traditional Navajo silversmithing skills were passed on to succeeding generations. Under Roanhorse's inspired direction The Guild became an all-star team of the finest Navajo and Pueblo silversmiths of the time. To read more about The Navajo Arts and Crafts Guild, please click here.
The stampworked design on this letter opener is quite unique in keeping with the Guild's principals of favoring the use of all silver with a very limited use of set stones and the restrained and elegant application of stamp and filework designs. The design is essentially a miniature rendition of the entire piece superimposed onto the entire piece.
The designs give the piece a great feeling of forward motion as if a smaller version inside the larger outline is on the move forward. The opener also feels great in the hand with a nice solid feel and interesting and tactile bevels and contours in the body of the opener.
The opener is good-sized and measures 8 1/2" in length and just slightly under 1" in width at its widest point. It weighs a substantial 71 grams or 2 1/2 ounces. The piece is in excellent original condition with some age-appropriate wear and it is properly signed on the back with The Navajo Arts and Crafts Guild's famous "Horned Moon" hallmark.
Open your letters in the finest historic Southwestern style with this beautiful classic piece or just put it on your desk or coffee table and stare at it fondly and often.
Price $1,250
SOLD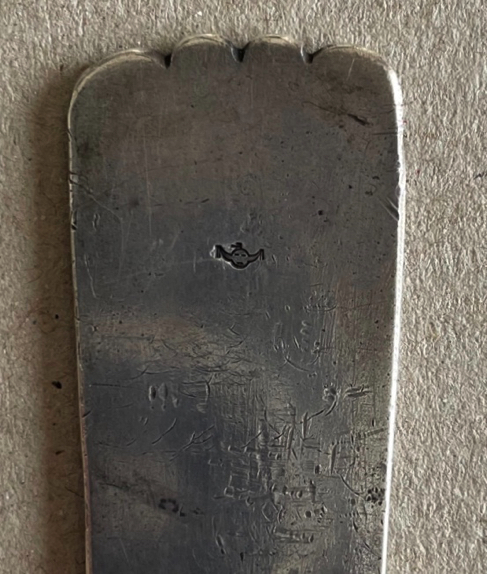 A beautifully-stamped vintage Navajo cast-ingot silver letter opener by The Navajo Arts and Crafts Guild, c.1940's