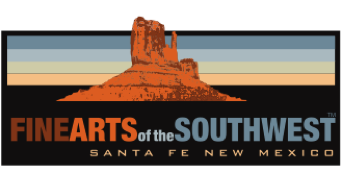 © 2010-2022 by Fine Arts of the Southwest, Inc. All rights reserved.
Unauthorized reproduction or use is strictly prohibited by law.
A unique early coin-silver cuff bracelet by
The Navajo Arts and Crafts Guild, c. 1940's
The silversmiths of the Navajo Arts and Crafts Guild which began in 1941 were an All-Star team of the highest order, selected and trained by their brilliant co-founder and leader, renowned Navajo silversmith Ambrose Roanhorse (1904-1982). They made beautiful silverwork of the finest artistry and technical excellence. Roanhorse directed the Guild's aesthetics, emphasizing the use of all silver primarily with limited use of set stones, a restrained use of decorative elements, a Modernistic streamlined design aesthetic and the use of traditional Navajo silversmithing techniques and an extremely high overall standard of craftsmanship. This bracelet meets all those criteria and then some.
A few words about its interesting method of construction. This bracelet appears to be made using an unusual early traditional technique of Navajo silversmithing. This technique is used relatively infrequently because of its difficulty. It involves heating a quantity of silver coins until red hot and hammering them together annealing them into each other and folding them repeatedly until they are formed into a single bar which the body of the bracelet is then formed from. This is similar to the ancient Japanese sword-making technique known as "Mokume Gane" which uses different layered metals. The telltale indication of the possible use of this technique here is the presence in several places on the bracelet of small sections of repeating parallel edges of what were formerly the serrated stamped edges of the individual coins.
The much easier way to make a bracelet from silver coins is to melt all the coins together first and then cast the molten silver into an ingot-silver "slug" which is then hammered out to form the body of the bracelet. This bracelet might possibly have been a "demonstration" piece of sorts made by Roanhorse or another instructor at the Guild to demonstrate to students how this old technique was used.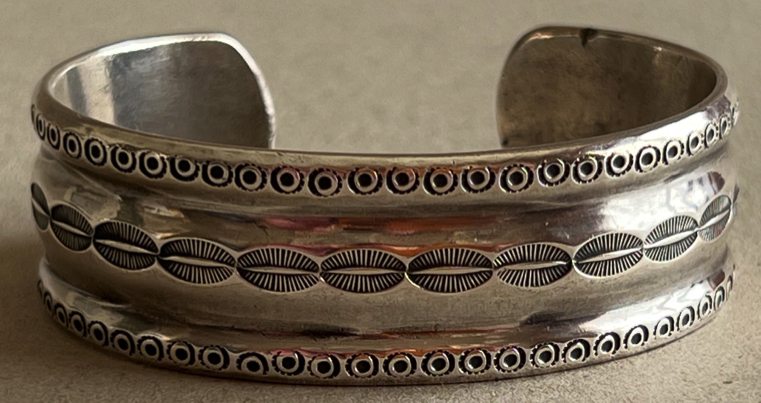 In any case, this particular silversmith was a real glutton for punishment so to speak in that he aimed so high and did everything on this bracelet so ambitiously and perfectly that he could have had a disaster on his hands at any moment. It's like attempting the toughest never-before attempted move in gymnastics in the Olympic finals and scoring a perfect 10. He didn't just apply stamp worked borders along both sides of the bracelet, he applied no less than 49-50 tiny perfectly round end-of-the file type stamps in a perfect row all the way down each edge of the silver shank. The control and coordination required to do this so well is astounding. The chiseled and raised panel in the center of the bracelet's shank is also further decorated with precise perfectly applied stampwork designs. This is an aesthetic and technical triumph of a high order indeed.
The bracelet measures 3/4" in continuous width all the way around. The inner circumference end-to-end is 5 1/2" and the gap between the terminals is 7/8" for a total interior circumference of 6 3/8". The bracelet weighs a solid 63 grams or 2 1/4" ounces, substantial for its fairly narrow width. The bracelet is in completely excellent original condition and is properly hallmarked with The Navajo Arts and Crafts Guild's famous "Horned Moon" insignia. Individual artists were not allowed to use their personal signatures on pieces made for the Navajo Guild, only the Guild's hallmark could be used so we will never know the individual who made this bracelet, but it was certainly someone very very good. It's a very beautiful thing indeed, very beautifully made, a richly understated and extremely elegant presentation.
To read more about The Navajo Arts and Crafts Guild, please click here.
Price $1,650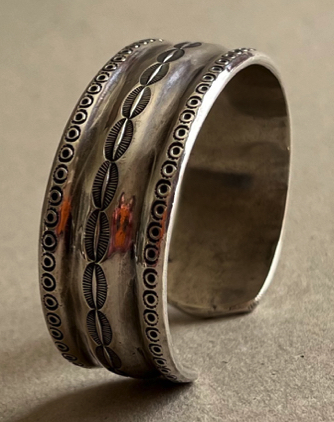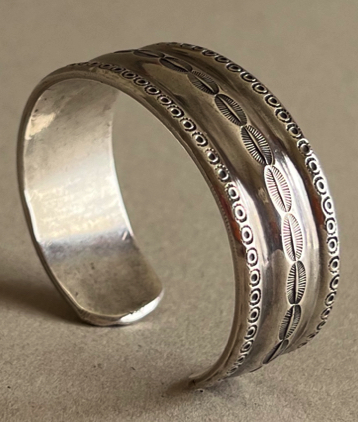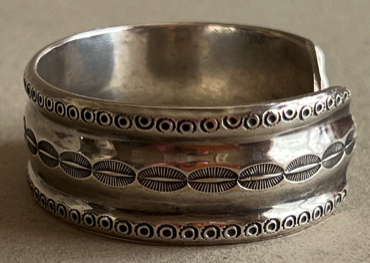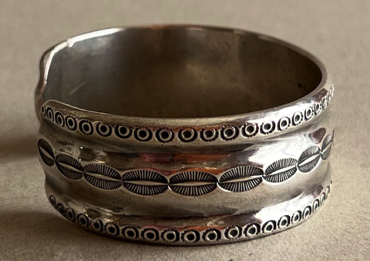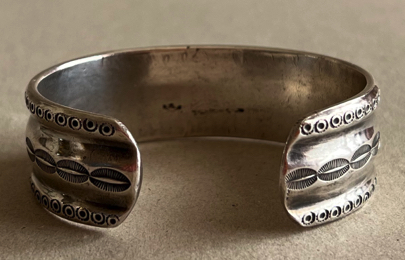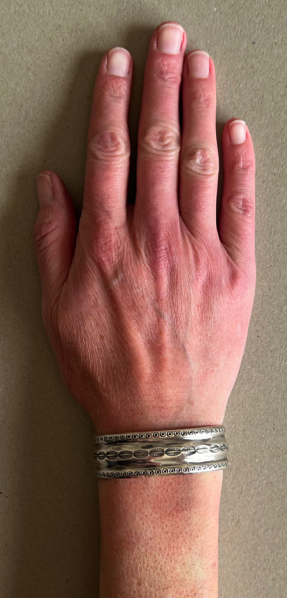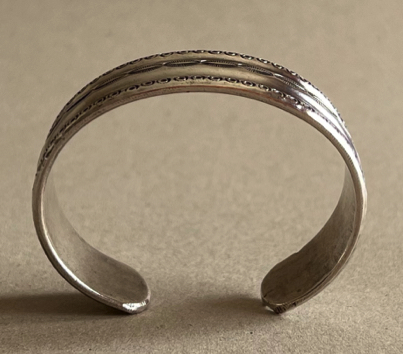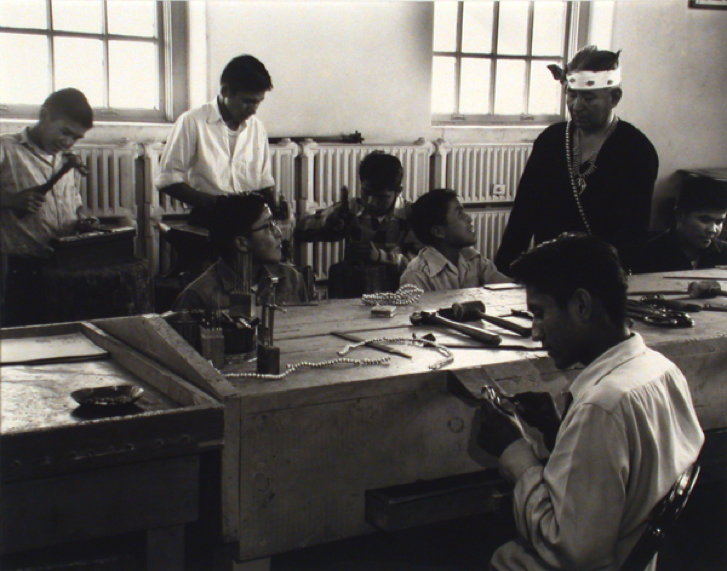 Ambrose Roanhorse teaching silversmithing students at the Navajo Arts and Crafts Guild, c. 1940's
Photo © by Laura Gilpin