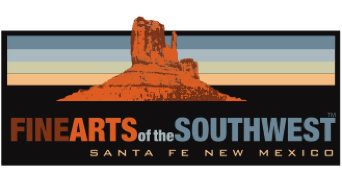 © 2010-2021 by Fine Arts of the Southwest, Inc. All rights reserved.
Unauthorized reproduction or use is strictly prohibited by law.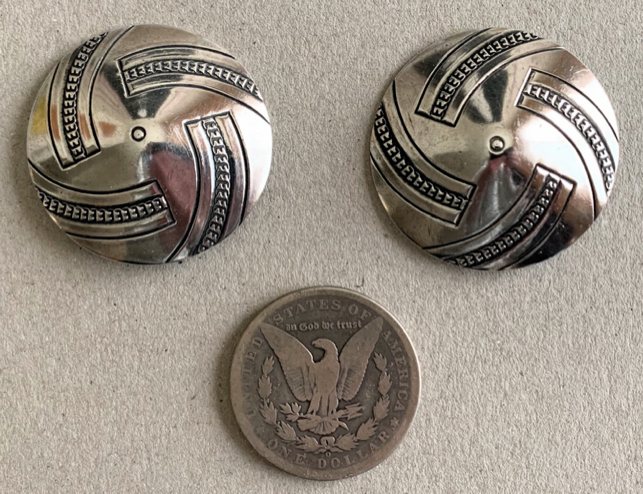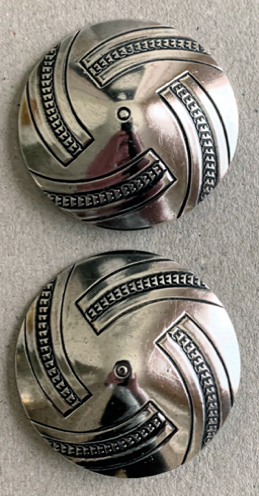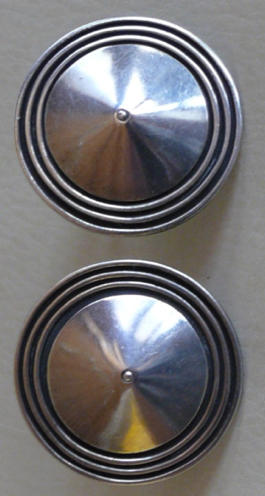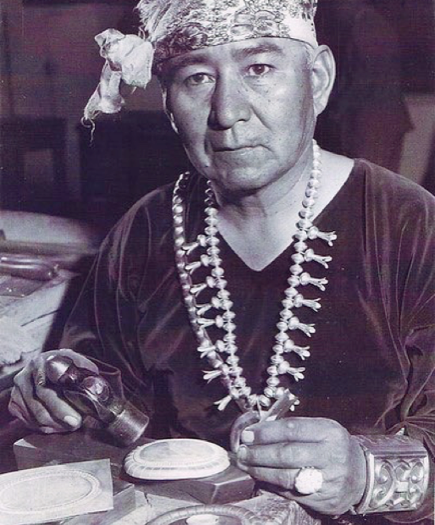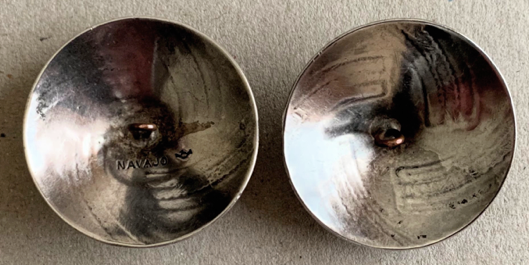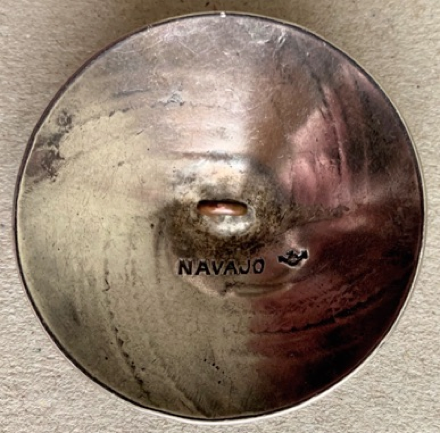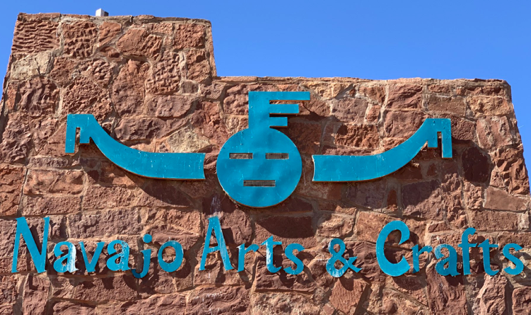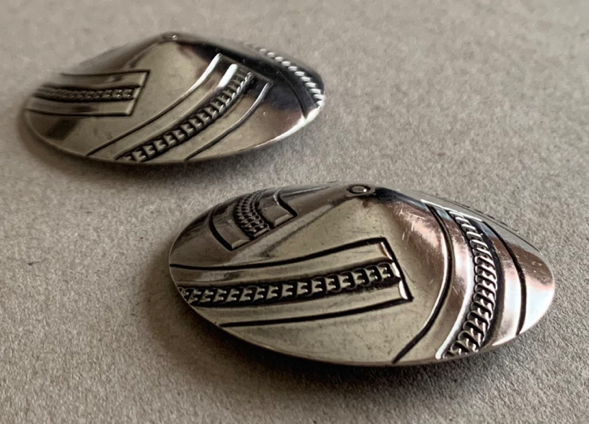 A magnificent matching pair of very large
vintage Navajo silver buttons by The Navajo Arts and Crafts Guild, c. 1940's-50's
These big, bold, beautiful Navajo silver buttons are absolutely the bomb; they've got superb craftsmanship, great history and gorgeous looks all wrapped up in a very dramatic package. Imagine wearing this elegant pair of beauties
on a fabulous blazer or jacket or sweater or handbag or even on a leather bridle for your horse. Que Fashionable indeed! The buttons could also very easily be converted by a professional jeweler into pins, if desired.
The buttons are the product of the superlative silversmiths of the renowned Navajo Arts and Crafts Guild (NACG) who made some of the finest Navajo silverwork the world has ever seen. The Guild was founded in 1941 by the great Navajo silversmith and teacher Ambrose Roanhorse and his talented student Chester Yellowhair. Ambrose Roanhorse could very well have made these buttons himself, they have a number of characteristics we identify with his work.
Another prime candidate for the artist here is the great Kenneth Begay whose later earrings with very similar looking high-domed shapes and single center stamp are pictured below. Since individual artists were not permitted to use their personal signatures on NACG silver pieces they are not easy to identify with an individual maker, only the official horned sun or moon hallmark of the Guild and the word "Navajo" were permitted signatures. To learn more about the Navajo Arts and Crafts Guild, please click here.
At left, a pair of similarly domed and shaped Navajo silver earrings by Kenneth Begay c. 1950's
The design and fabrication of these buttons is completely captivating; first they are very high-domed in an almost conical shape which gives them a great and extremely sculptural sense of depth and relief, then they are decorated with an elegant swirling pattern of four matching panels of perfectly applied diagonally-oriented stamped and chiseled designs in a whirlwind pattern. In keeping with the Guild's streamlined restrained brand of Modernism the designs are spare in nature and say a great deal with their sparseness. They are like a pair of miniature round Modernist paintings done in silver.
The buttons measure a very nicely-sized 2" in diameter and they are just slightly shy of 1/2" in depth. They weigh
19 grams or 5/8 ounce each. The buttons are in excellent original condition with a small amount of expected age-appropriate wear and they have a very fine patina. They are properly hallmarked on the back of one of the buttons with the Horned Sun/Moon hallmark of the NACG and the word "Navajo" in capital letters. The buttons are mounted on traditional copper hanging loops.
Stunning, historic, fashionable, timeless, classic pieces. There's a whole lot of goodness here for not a whole lot of dinero. To view other silver pieces by The Navajo Arts and Crafts Guild available on our website, please click here.
Price $1,350 for the pair, sold as a pair only
Ambrose Roanhorse circa 1940's
A modern day branch of The Navajo Arts and Crafts Guild in Cameron, Arizona