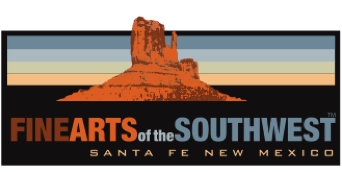 © 2010-2021 by Fine Arts of the Southwest, Inc. All rights reserved.
Unauthorized reproduction or use is strictly prohibited by law.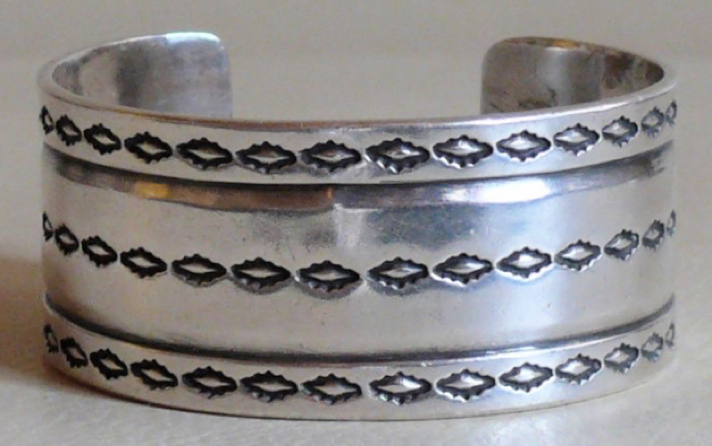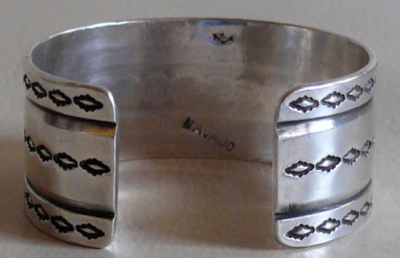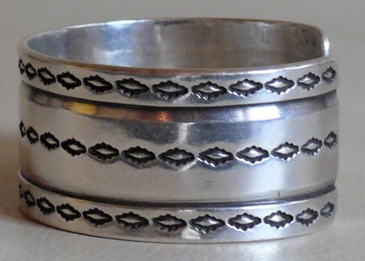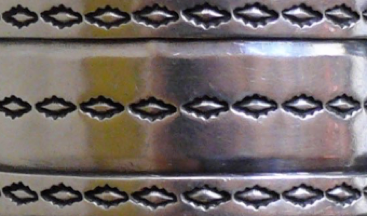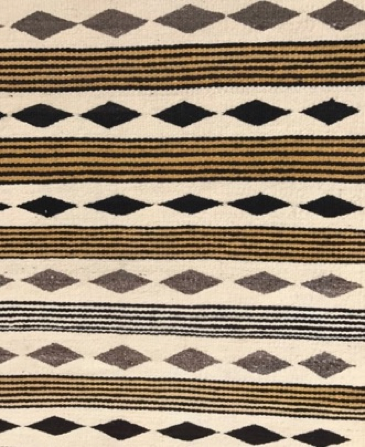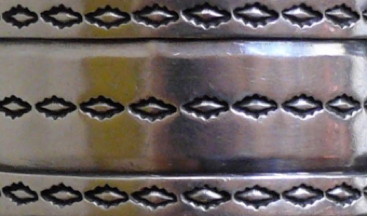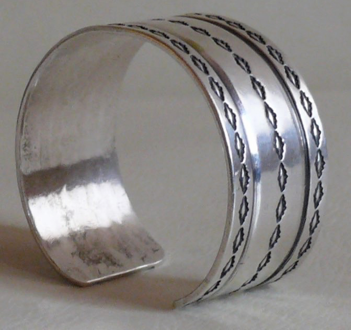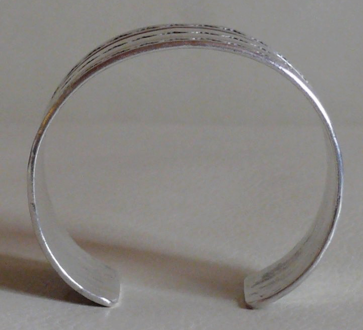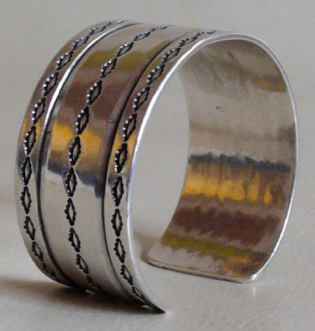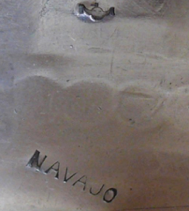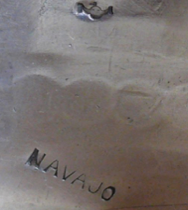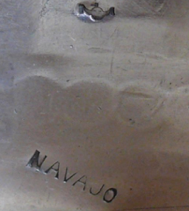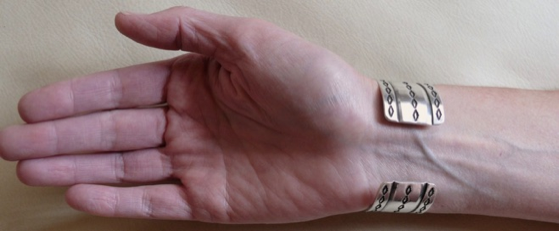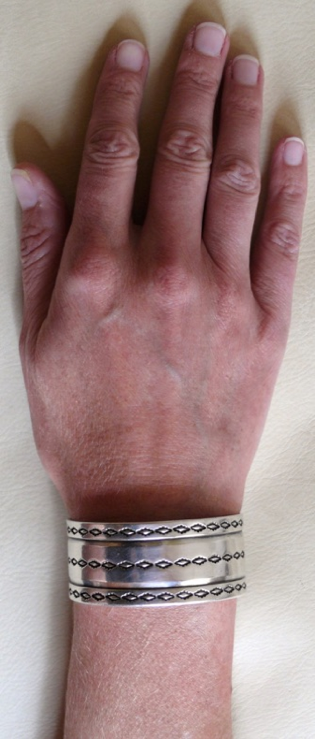 A historic "Revival" style Navajo silver cuff bracelet
by The Navajo Arts and Crafts Guild, c.1940's
This beautiful bracelet is made in the elegant, traditionally-based "Revival" style of Navajo jewelry pioneered by the renowned silversmith, jewelry instructor and Co-Founder of the Navajo Arts and Crafts Guild, Ambrose Roanhorse (1904-1982). Under the auspices of the Navajo tribal authority and the U.S. Government's Indian Arts and Crafts Board, Roanhorse and his former student, Chester Yellowhair, co-founded the NACG in 1941 with the express purpose of preserving and maintaining the quality of traditional Navajo silversmithing into succeeding generations.
Subsequently, in teaching their jewelry students, they emphasized clean lines, open space, and restrained use of decoration and limited use of set stones in the creation of Navajo jewelry and also advocated the importance of using completely traditional Navajo silversmithing techniques to achieve these goals. This bracelet is precisely the type of aesthetic and technical result they were looking for and is perfectly evocative of the Guild's design sensibility and very high standard of quality. For more information about The Navajo Arts and Crafts Guild, please click here.
In fact, Ambrose Roanhorse could possibly have even made this gorgeous piece himself. We can never know for certain because in accordance with the Guild's strict regulations which forbid the use of individual artists' signatures, the bracelet is signed only with the Navajo Guild's famous "horned sun" insignia. However, certain details of the craftsmanship and quality level are things we associate with other, personally signed pieces of Roanhorse's work. But no matter who made it, it's a great piece made by a great Guild silversmith to the Guild's extremely exacting standards.
The craftsmanship on display here is just remarkable; the bracelet's shank is bordered on both sides by a double line of perfectly executed chiselwork. Within these raised borders is a beautifully conceived and executed design field consisting of three parallel rows of small perfectly-stamped horizontal terraced diamond designs, 78 in all, much like those which are often seen on historic Navajo textiles as pictured below. The precision and control required to stamp these small designs so precisely, so evenly, so perfectly in alignment is difficult to comprehend. The overall visual effect here is of a cool, clean Modernism done in a totally traditional Navajo manner, the kind of compelling combination which completely characterizes the very best of the the Navajo Guild's distinctive style.
A "Chinle Revival-Style" Navajo weaving circa 1940's.
Photo copyright by and courtesy of Will Knappen Associates, Santa Fe, NM
The bracelet's shank measures 1" in width all the way around and has a noticeably "round" profile. The inner circumference end-to-end is 5 3/4" and the gap between the terminals is 1" for a total interior circumference of
6 3/4" . The bracelet weighs an extremely comfortable 64 grams or 2 1/4 ounces. The bracelet is in excellent-plus original condition with some very minor age-appropriate wear and it is properly hallmarked on the interior with The Navajo Arts and Crafts Guild's famous "Horned Sun" insignia and is also stamped "Navajo".
This bracelet is one of the finest products of an organization which was completely dedicated to the highest standards of quality and whose ranks were filled with a veritable All-Star team of many of the most accomplished Navajo silversmiths of all time. It's a classic piece that anyone who cares about historic Navajo jewelry should be pleased and proud to own.
Price $1,950