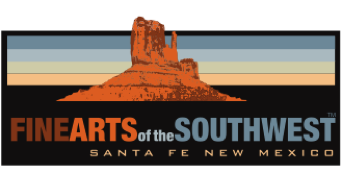 © 2010-2021 by Fine Arts of the Southwest, Inc. All rights reserved.
Unauthorized reproduction or use is strictly prohibited by law.

A spectacular historic Navajo Guild Modernist-style silver and turquoise cuff bracelet, possibly by Ambrose Roanhorse, c.1940's-50's
How do an ancient nomadic people living out in the middle of vast deserts, isolated arid canyons and steep, rocky mountains, people living in primitive mud and wood dwellings come up with design ideas that rival the finest and most sophisticated of those in European or any other so-called "civilized" Modern cultural capitals of the world?
By the middle of the 20th Century, virtually no Navajo people had traveled around to art galleries or museums or to big cities or to foreign countries nor had they seen pretty much anything other than their regular everyday surroundings; sun, sand, rock, sky, sheep, horses etc. so where in the world did they get the radical inspiration to create such cutting edge works of Modernist art? A very good question, and one to be contemplated and discussed for a good long while, but, in the meantime we are sure glad they did.
Certain Navajo Classic-Period textiles of the mid-to-late 19th Century also often exhibit an extraordinary and radical Modernism so much so that recently in September-October, 2018, a marvelous special exhibition by the Palo Alto, California branch of New York's famed Pace Gallery, guest curated by our colleague, Joshua Baer, took place in Palo Alto exhibiting and juxtaposing19th Century Navajo Classic-Period blankets alongside the large starkly modernist paintings of the important American Modernist painter, Agnes Martin.
A view of The Pace Gallery Palo Alto, California exhibition in September-October, 2018 of Classic-Period Navajo blankets and paintings by Agnes Martin entitled "Agnes Martin / Navajo Blankets" guest curated by our colleague, Joshua Baer. This exhibit opened at Pace Gallery in Palo Alto, CA in September 2018 and then traveled to Pace Gallery, Chelsea, NY in November 2018.
Photo source and © Pace Gallery
All of which brings us to this incredible bracelet and the people who made it and the circumstances under which it was made. The time was the 1940's and the place was around Fort Wingate in the far Western part of New Mexico just outside the large border town of Gallup. Fort Wingate was the first home of the famed Navajo Arts and Crafts Guild, an organization founded in 1941 by the Navajo Tribe under the auspices of the United States Department of the Interior's Indian Arts and Crafts Board. The Founder and original Director of the Guild was the brilliant Navajo silversmith and teacher Ambrose Roanhorse (1900-1981) who had already spent several years working for the IACB supervising the U.S. Navajo jewelry quality assurance program. Roanhorse, in his capacity as The Guild's founding director, emphasized The Guild's guiding principles of traditional methods of craftsmanship, a strong and primary focus on the silver itself, a limited use of set stones, and a restrained elegant aesthetic use of stamp, chisel and filework decoration. The Guild's sleek streamlined work had a distinctly Modernist lighter International look and feel to it, considerably ahead of its time in America, but well in line with the European Bauhaus design aesthetic created by Walter Gropius and Mies van der Rohe and the work of French architect Le Corbusier and industrial designers Jean Prouve and Charlotte Perriand. 
Through the 1950s's, 60's and 70's, The Guild's aesthetic was subsequently absorbed and carried on by several of its brilliant and influential students including Kenneth Begay and Allan Kee and their various colleagues at Scottsdale Arizona's famed White Hogan Shop and by Hopi silversmith, Lewis Lomay in Santa Fe and separately, by the great Hopi jeweler, Charles Loloma who was initially inspired to begin to make jewelry by the beauty and uniqueness of Kenneth Begay's work. To learn more about The Navajo Arts and Crafts Guild, please click here.
The Navajo Arts and Crafts Guild is still in operation today.
Here is its outlet in Cameron, Arizona.
The bracelet's dramatic design literally breathes energy and motion and dynamism, like a propeller of sorts
on the wrist. A sleek streamlined polished two-piece wide silver shank borders a fantastically offset turned parallelogram-shaped silver bezel holding a large and beautiful bright blue turquoise stone. The juxtaposition
of the straight lined linear silver shank and the sharply angled, asymmetrical stone is a complete and highly energetic artistic tour de force.
And now a few words about the bracelet's remarkable large turquoise stone. It is a penetrating brilliant sky blue in color and is shot through with what appears to be a grayish whitish lightish brownish matrix; all characteristics which lead us to conclude that the stone is most likely from the famed Bisbee, Arizona turquoise mine, which is considered to be one of the most highly-prized and valuable turquoise varieties in the world today. The stone itself measures 1 1/2" in height and is 7/8" in width and we would roughly estimate its weight at 50-60 carats and its value in the marketplace today at around the $1,200 to $1,500 range.
 On both sides of the turquoise stone, the bracelet's silver shank is beautifully and powerfully decorated with
a very restrained and elegant pattern of five parallel chiseled lines. These lines accentuate and focus one's attention perfectly on the turquoise stone and integrate it perfectly into the bracelet shank by running directly downwards from the center of the stone around the sides of the bracelet and ending in the center of the terminal ends which are very beautifully finished with fabricated sharply-angled silver caps. This unique terminal treatment is something we strongly identify with as a telltale "signature" of the work of Ambrose Roanhorse and we have seen this specific treatment on numerous of Roanhorse's personally signed bracelets. Keep in mind that individual artist's signatures were not allowed on Navajo Arts and Crafts Guild pieces during this time period, only the official Horned Moon insignia of the Guild and the word "NAVAJO" were permitted.
Ambrose Roanhorse, c. 1940's
The bracelet measures 1 1/2" in width at its widest points, on either side of the turquoise stone and it tapers
down to 1" in width at the terminal ends. The interior circumference end-to-end is 5 3/4" and the gap between the terminals is 1 3/16" for a total interior circumference of 6 15/16" . The bracelet weighs 84 grams or 3 ounces.
The bracelet is in excellent plus original condition, looking essentially still as fresh as a daisy, quite remarkable for its 70-80 or so years of age. The bracelet is properly marked with the Navajo Arts and Crafts Guild's famous Horned Moon hallmark and the word "Navajo" in capital letters on the interior.
"It sure feel good when you wear handmade jewelry."
-Ambrose Roanhorse, 1936
Quotation source "The Little Book of Marks on Southwestern Silver" © 2011 by Bille Hougart, TBR International, Washington D.C.
What we have here all in all is quite simply, a unique Modern masterpiece of the highest order, of the finest Navajo art and craft; fully worthy in every way of display at The Museum of Modern Art in New York City. Fortunately, you don't have to go there and arm wrestle them to get it.
SOLD
Ambrose Roanhorse teaching students at The Navajo Arts and Crafts Guild, Fort Wingate, New Mexico c. 1940's.