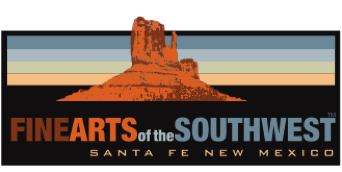 © 2010-2023 by Fine Arts of the Southwest, Inc. All rights reserved.
Unauthorized reproduction or use is strictly prohibited by law.
An exceptionally elegant Navajo Arts and Crafts Guild silver cuff bracelet set with a large high-grade Nevada turquoise stone, c. 1940's
This is precisely the kind of knock down drag out eye-poppingly great Modernist-style jewlery piece the Navajo Arts and Crafts Guild (NACG) was famous for. They could hit the ball out of the park whenever they wanted by virtue of their elegant streamlined sensibility of design and unbelievable technical execution.
The Guild's silversmiths were an outstanding all-star team of the finest Navajo and occasionally Pueblo silversmiths around from luminaries like Guild co-founders Ambrose Roanhorse and Chester Yellowhair to Kenneth Begay, the three Kee brothers, Allan, George and Ivan to part-timers like Charlie Bitsui, Austin Wilson and Jack Adakai.
If we were betting people, our money would be on either Ambrose Roanhorse or Kenneth Begay for the maker of this this piece so refined and streamlined is the artistic sensibility and so awesome is the craftsmanship, but we will never really know as Guild regulations strictly forbid any personal artist signatures on Guild pieces, only the NACG's famous Horned Sun hallmark could be used. To learn more about the Navajo Arts and Crafts Guild, please click here.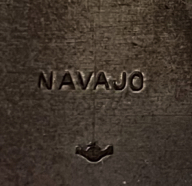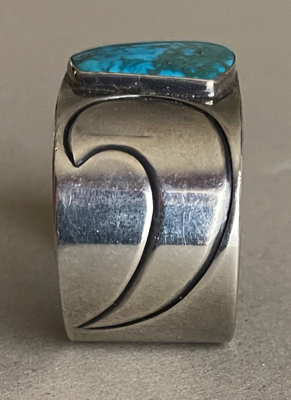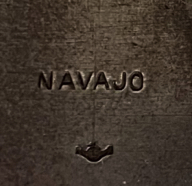 The design and fabrication of this piece are extraordinary and in keeping with the Guild's general design guidelines;
large expanses of silver, minimal applied stamp work or chisel decoration and limited use of set stones. There are only three design elements here; an absolutely gorgeous large central turquoise stone from either Nevada's Lone Mountain or Blue Gem mine and two outstanding pieces of chisel work on either side in lovely curved arabesque lozenge shapes surrounding and perfectly accentuating the stone; just couldn't be simpler, just couldn't be more beautiful!
The bracelet measures 1 1/8" in width all the way around. The inner circumference end-to-end is 5 3/4" and the gap between the terminals is 1 3/16" for a total interior circumference of 6 15/16". The bracelet weighs a satisfying but very comfortable 80 grams or 2 3/4 ounces and is in thoroughly excellent original vintage condition, particularly so for its almost eighty years of age. There are a few small dings and scratchers here and there, but overall it's in remarkably good shape. The bracelet is properly signed on the interior with The Navajo Guild's famous "Horned Moon: hallmark and the capital letters work "NAVAJO".
This is a thing of great beauty and meaning; a piece of precious jewelry yes first and foremost, but also a piece of culture born of a specific time in a specific place with a specific artistic tradition. It's a lot of weight for something to carry, and this bracelet does it beautifully and absolutely effortlessly. It would be a true joy to own, wear and admire.
Price $4,250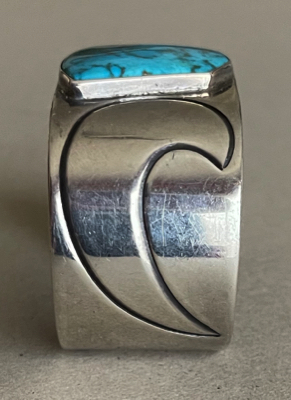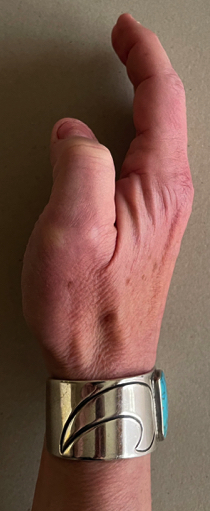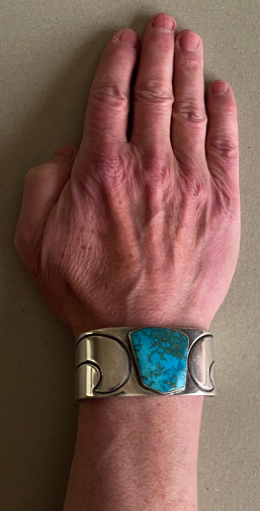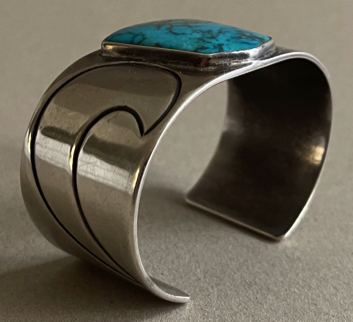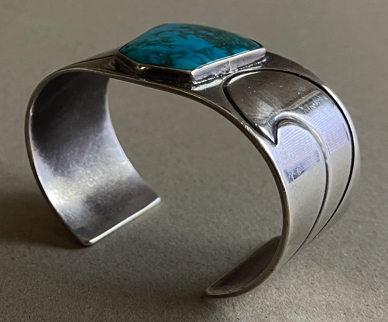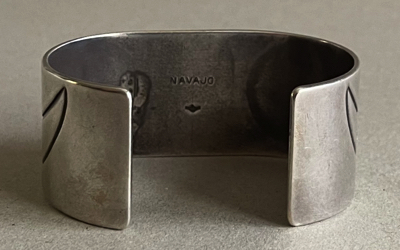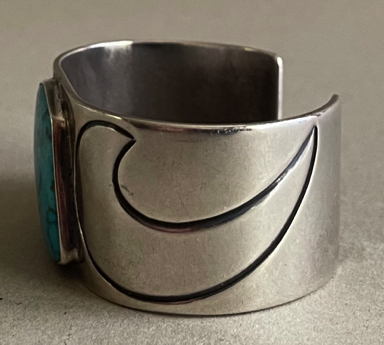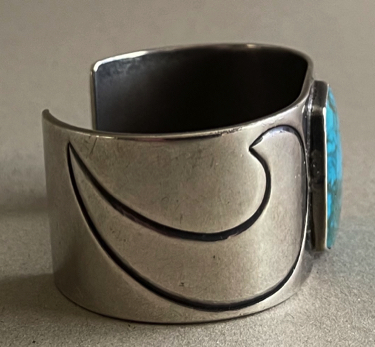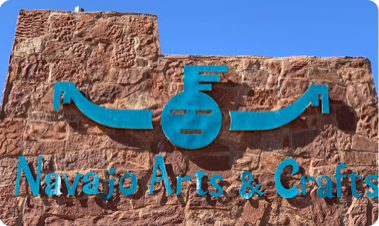 The Navajo Arts and Crafts Guild is still in operation today. Here is its outlet in Cameron, Arizona.