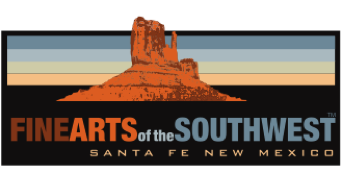 © 2010-2021 by Fine Arts of the Southwest, Inc. All rights reserved.
Unauthorized reproduction or use is strictly prohibited by law.

An exceptional, vintage "Revival" style Navajo silver cuff bracelet by The Navajo Arts and Crafts Guild, c.1940's
This fantastic piece is made in the elegant, traditionally-based Navajo "Revival" style of jewelry pioneered by
the renowned silversmith, jewelry instructor and Co-Founder of the Navajo Arts and Crafts Guild, Ambrose Roanhorse (1904-1982). Roanhorse and his former student, Chester Yellowhair, co-founded the Navajo Arts and Crafts Guild (NACG) in 1941, and, in teaching their jewelry students, they emphasized clean lines, open space, and restrained use of decoration and limited use of set stones in the creation of Navajo jewelry and advocated the importance of using completely traditional Navajo silversmithing techniques to achieve these goals. This bracelet is precisely the type of aesthetic and technical result they were looking for and is perfectly evocative of the Guild's design sensibility and high standard of quality. In fact, Roanhorse might very well have made this gorgeous piece himself. For more information about The Navajo Arts and Crafts Guild, please click here.
The craftsmanship exhibited here is nothing short of remarkable; the bracelet's shank is bordered on both sides
by a triple line of perfectly executed chiselwork. Within these borders are two beautifully-executed long, lozenge-shaped reousseed designs or bump-outs which are themselves encircled by fine stampwork designs. Topping it all off are five finely-done round repousseed domed and fluted "button" designs with nicely serrated edges, one in the very center of the bracelet and two near each of the terminals. The overall visual effect here is of a cool, clean Modernism done in a totally traditional manner, the kind of compelling combination which completely characterizes the very best of the "Revival" style.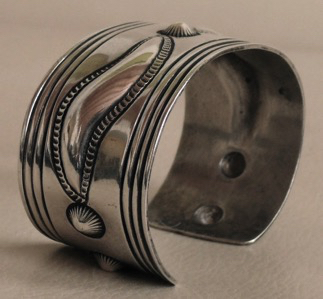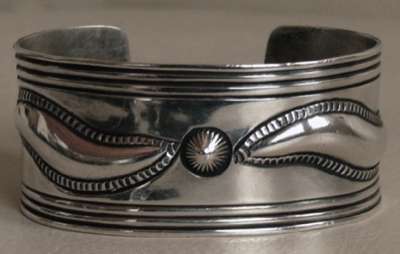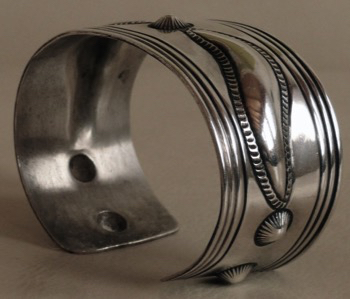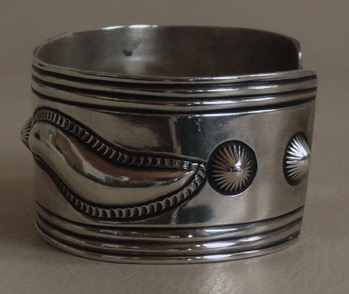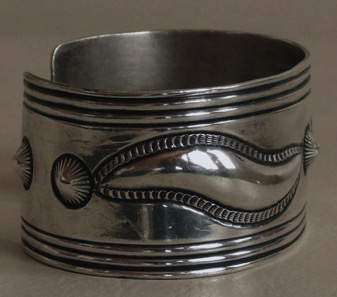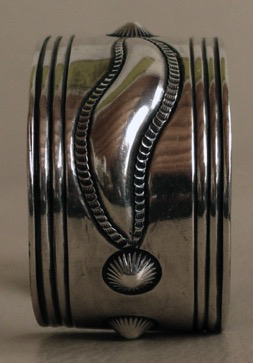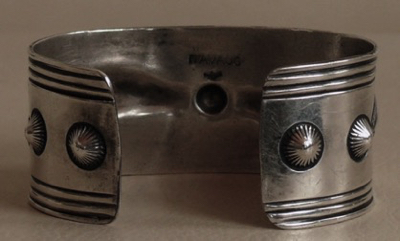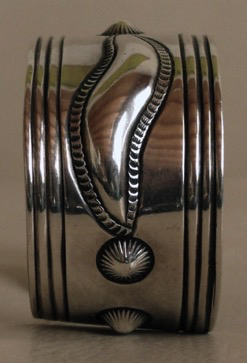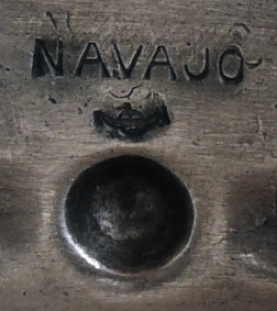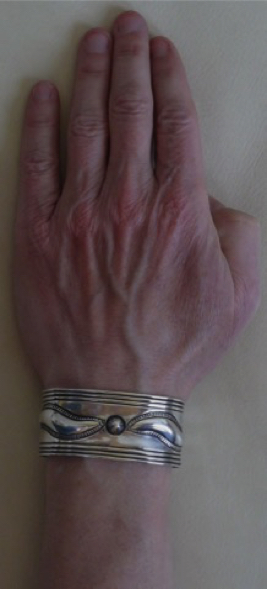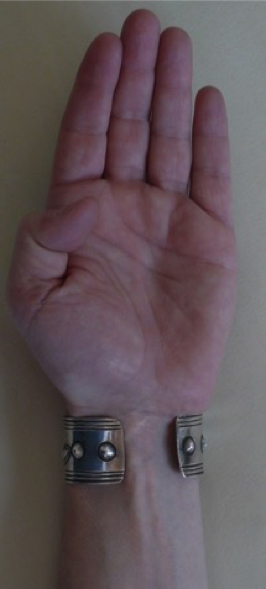 The bracelet's shank measures 1 1/8" in width all the way around. The inner circumference end-to-end is 5 3/4"
and the gap between the terminals is 15/16" for a total interior circumference of 6 11/16". The bracelet weighs
an extremely comfortable 51 grams or 1 3/4 ounces. The bracelet is in excellent-plus original condition with some very minor age-appropriate wear and it is properly hallmarked on the interior with The Navajo Arts and Crafts Guild's famous "Horned Sun" insignia and is also stamped "Navajo".
This bracelet is one of the finest products of an organization which was completely dedicated to the highest standards of quality and whose ranks were filled with a veritable All-Star team of some of the finest Navajo silversmiths who ever lived. It's a piece that anyone who cares about historic Navajo jewelry should be very pleased and proud to own.
Price $2,250