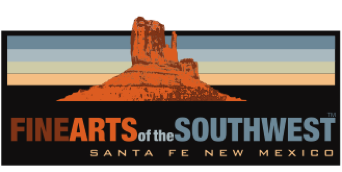 © 2010-2021 by Fine Arts of the Southwest, Inc. All rights reserved.
Unauthorized reproduction or use is strictly prohibited by law.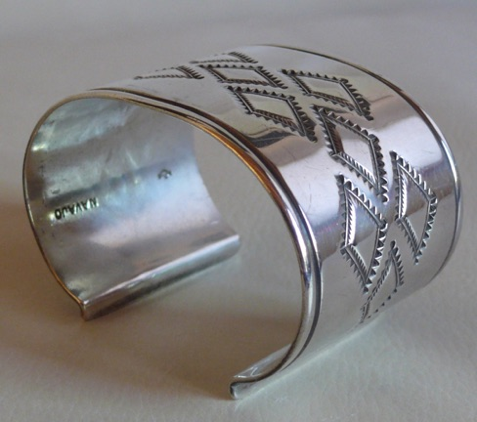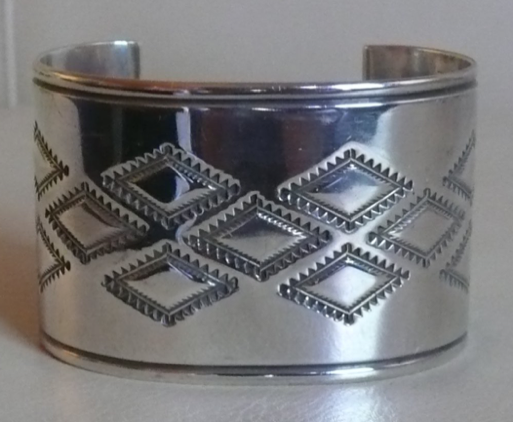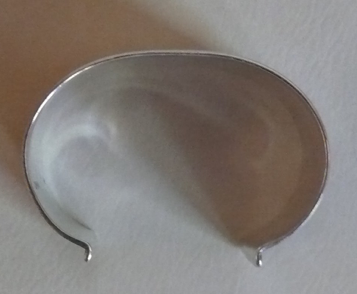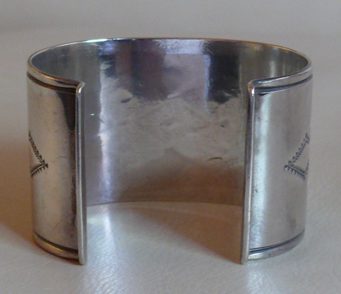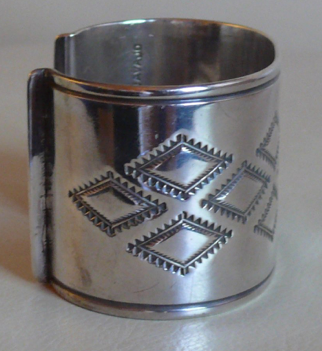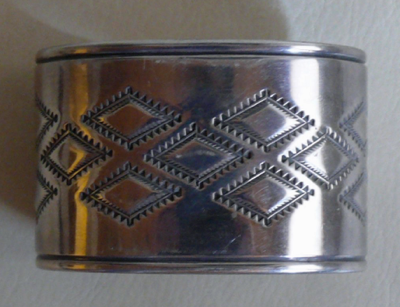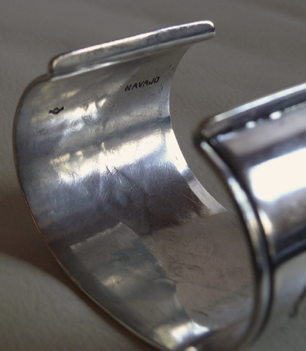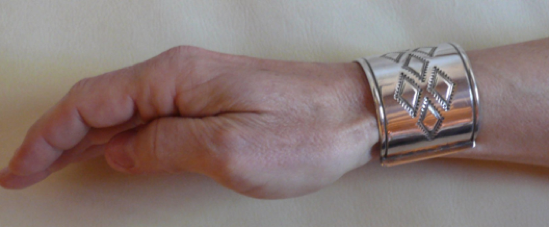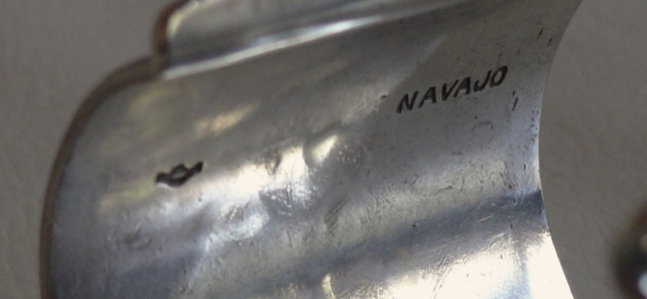 An outstanding, historic Navajo Arts and Crafts Guild silver cuff bracelet, almost certainly made by Ambrose Roanhorse, circa 1940
We love Navajo Guild jewelry pieces and we consider the best of them to be some of the very finest Navajo silver work ever done in the 20th Century, especially those pieces made by the great Ambrose Roanhorse, the Navajo Guild's founding Director. We admire them for their beautiful, restrained, elegant, modernist designs and their impeccable craftsmanship and this superb cuff is one of the very best ones, if not THE very best one, that we have ever seen. 
As we have discussed previously, although the individual makers were not allowed to sign the Navajo Guild pieces they made (The pieces could only carry the Guild's hallmark) this piece has virtually all the distinguishing characteristics of Roanhorse's outstanding bracelets; the clean, spare, all-silver design, the fine chiseling and perfectly-executed, minimal stamp work, and the sharply turned-up end terminals.
This bracelet measures 5 3/4" inner circumference end-to-end with a 1 1/2" inch gap between the terminals for a 7 1/4" total inner circumference. Width is 1 3/4" continuous. The bracelet weighs a very substantial 110 grams or 3 7/8 ounces and it is in excellent original condition with some age-appropriate scratches and abrasions. It is properly and very nicely signed on the interior with the Navajo Arts and Craft's Guild's "Horned Sun" hallmark and the word "NAVAJO" in capital letters. For more information about the Navajo Arts and Crafts Guild, please click here.
An amazing masterpiece by an amazing master artist-the 24K gold standard of Navajo silverwork.
SOLD