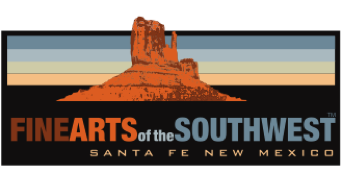 © 2010-2021 by Fine Arts of the Southwest, Inc. All rights reserved.
Unauthorized reproduction or use is strictly prohibited by law.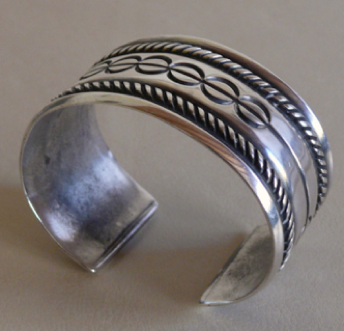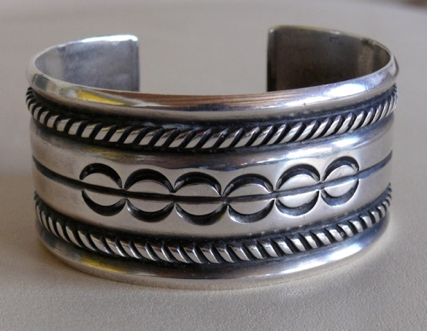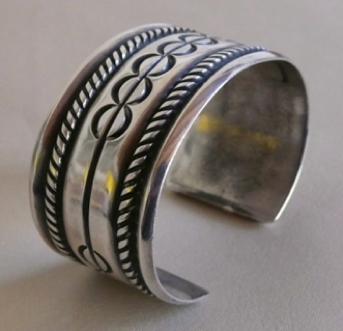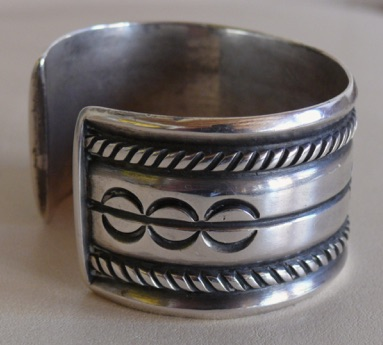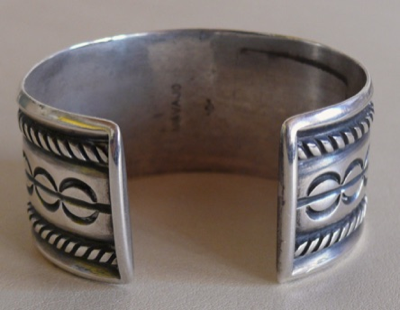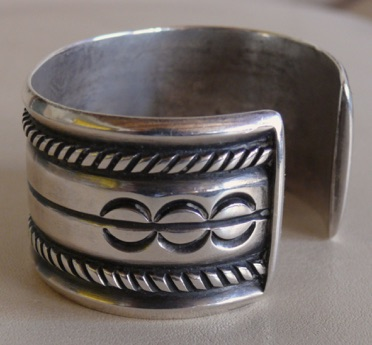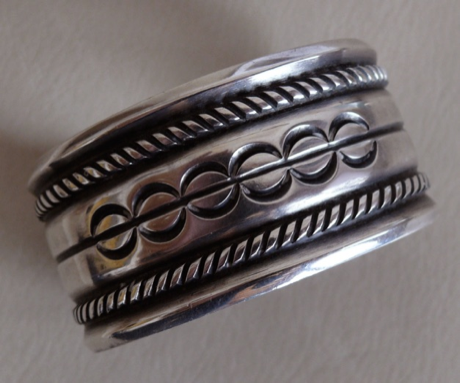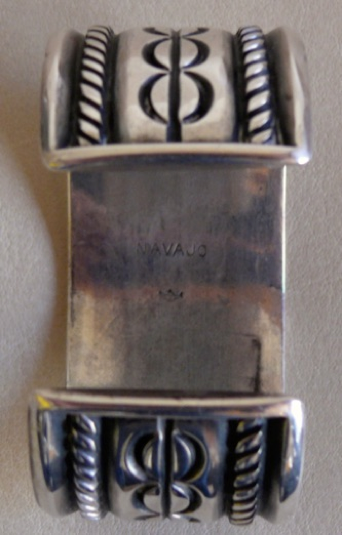 A fantastic Navajo Arts and Crafts Guild stamped silver cuff bracelet attributed to Ambrose Roanhorse, circa 1940's
This is an absolutely fabulous bracelet in every way in our opinion--one of the three finest historic Navajo Guild bracelets that we have ever seen in our 27 years of buying and selling Navajo Guild jewelry. It features a beautifully-conceived design, highly-refined stamp and chisel work decoration and perfectly-executed and meticulous craftsmanship overall. 
We strongly suspect that this bracelet is the work of the Navajo Guild's first Director, the brilliant Navajo silversmith and jewelry teacher, Ambrose Roanhorse, although there is no conclusive way to prove this since individual artists were not permitted to sign NACG silver work at this time, only the Guild's approved hallmarked could be used. However, the quality of the craftsmanship, the look and "feel" of the silver, the precision of the stamp and chisel work and the overall design concept which is a perfect synthesis of traditional Navajo craftsmanship with a modernist design sensibility all point strongly to Roanhorse as the maker. Specific details like the carefully-capped and polished terminals of the bracelet which meet with the top and bottom polished borders to form a full border all the way around the entire bracelet are also telltale indicators of his hand in our experience. So great was Roanhorse's silversmithing ability and prestige that The Navajo Nation officially declared him "Beshlakai Natani" which translates as "The leading silversmith of the Navajo Nation."
The bracelet measures 1 1/4" in width along its entire length. The inner circumference end-to-end is 5 5/8" and the gap between the terminals is 1" for a total interior circumference of 6 5/8". This piece could be opened or closed slightly, if desired. The bracelet has a very nice weight, 75 grams or 2 5/8 ounces. The bracelet is in excellent original condition and is properly hallmarked on the inside with the NACG's customary "Horned-Sun" insignia and the word "NAVAJO". To read more about the NACG, click here.
This bracelet is a classic and timeless piece in every way, worthy of an honored place in any collection.
SOLD