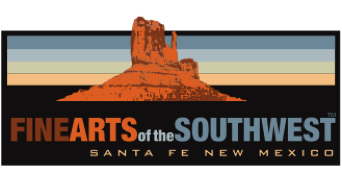 © 2010-2023 by Fine Arts of the Southwest, Inc. All rights reserved.
Unauthorized reproduction or use is strictly prohibited by law.
An exceptional, vintage Navajo tufa-cast silver belt buckle by The Navajo Arts and Crafts Guild, c.1940's
This is the perfect way to buckle up in beauty. The storied Navajo Arts and Crafts Guild (NACG) was a high-water mark in the history of Navajo silversmithing, responsible for some of the finest Navajo silver work of all time. Founded in 1941
by the renowned Navajo silversmith, teacher and administrator, Ambrose Roanhorse and his former student, Chester Yellowhair, the Guild was a veritable all-star team of the finest Navajo and Pueblo silversmiths of the day.
Under Roanhorse's inspired guidance, they concentrated on mastery of traditional Navajo silversmithing techniques, particularly tufa-casting, restrained and elegant stamp, chisel and file decoration and the limited use of set stones in pursuit of a highly streamlined and Modernistic aesthetic centered around the silver which proved to be both completely attractive in the marketplace and highly influential as well among other Native jewelry artists, influencing virtually everyone who came into contact with the Guild's silverwork, from Kenneth Begay and his various associates at Scottsdale, Arizona's famed White Hogan shop to Austin Wilson and later on to Charles Loloma to McKee Platero. For more information about the Navajo Arts and Crafts Guild, please click here.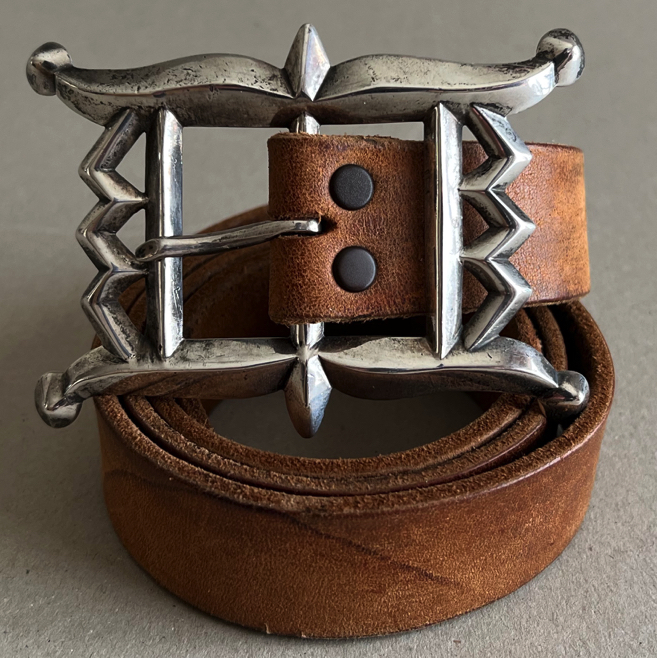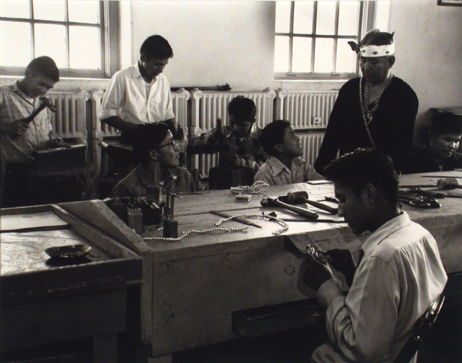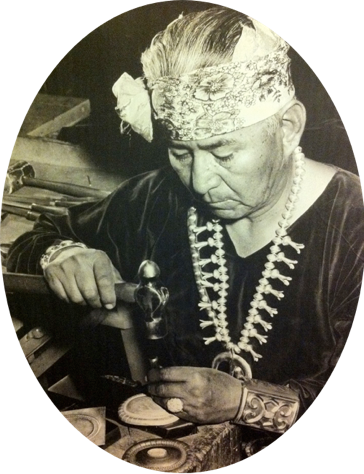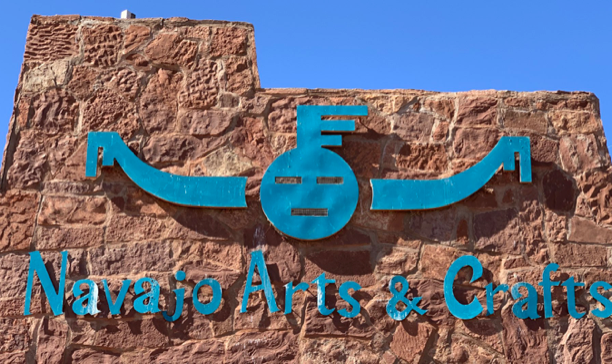 "It sure feel good when you wear handmade jewelry."
-Navajo Guild Co-Founder Ambrose Roanhorse, 1936
Roanhorse quotation source "The Little Book of Marks on Southwestern Silver", © 2011 by Bille Hougart, TBR International, Washington D.C.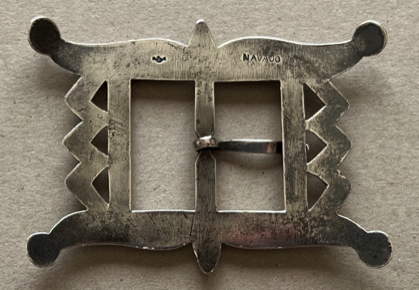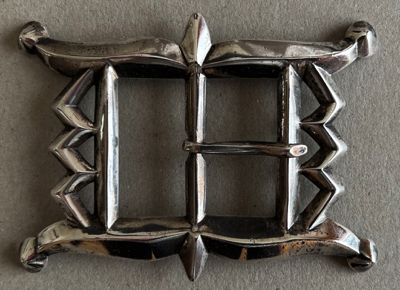 This buckle is perfectly emblematic of the Navajo Guild's methods and style; a beautiful manifestation of the melding of remarkable technical proficiency and the extremely difficult traditional method of tufa-casting silver and a clean finely-tuned Modernist aesthetic sensibility. The overall design and detailing are superb, featuring a traditionally-based Navajo four-part, four directions curvilinear type of layout flanked by two pairs of opposing geometric designs into a balanced and complete composition which demonstrates the ideal combination of strength and delicacy which characterizes the finest tufa-casting technique.
The buckle measures an impressively-sized 4" in width and is 2 3/4" in height. It weighs a substantial 82 grams or 2 7/8 ounces. It will accommodate a belt strap of up to 11/2" in width. The buckle is in excellent original condition. There is a small amount of tarnish present here and there which could be easily removed if desired. The buckle is properly hallmarked on the back with the Navajo Arts and Crafts Guild's famous "Horned Moon" insignia and the word "Navajo" on the back. According to the Guild's guidelines, individual artists could not sign Guild pieces with their personal signatures, only
the Guild's hallmark and the word "Navajo" could ever be used.
This piece is the honest, old-style Southwestern goods, plain and simple; an outstanding, perfectly-crafted historic Navajo buckle you can happily wear your entire life and then pass on to your very fortunate heirs. It would work just as well and be every bit as attractive on either a man or a woman. It's a marvelous piece of history, an accomplished piece of art and a gorgeous piece of fashion all at the same time.
Please note that the leather belt pictured here is for demonstration purposes only and is not included in
the sale of this buckle. If desired, we can recommend an excellent custom leather belt maker here in Santa Fe.
SOLD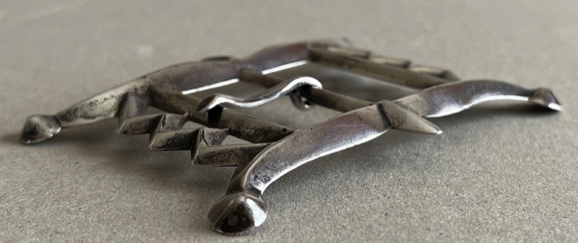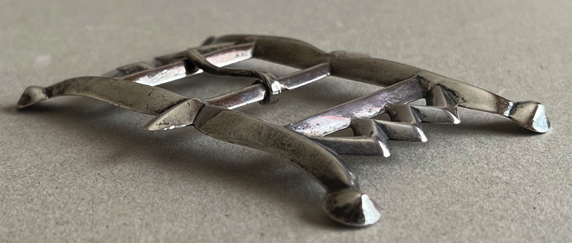 The Navajo Arts and Crafts Guild is still in operation today. At left, is its outlet in Cameron, Arizona. At right, Navajo Guild Co-Founder Ambrose Roanhorse teaching silversmithing students at Fort Wingate, New Mexico, c. 1955.
Roanhorse photo by Laura Gilpin. Photo source and © Amon Carter Museum, Fort Worth, Texas.