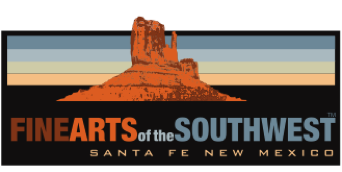 © 2010-2023 by Fine Arts of the Southwest, Inc. All rights reserved.
Unauthorized reproduction or use is strictly prohibited by law.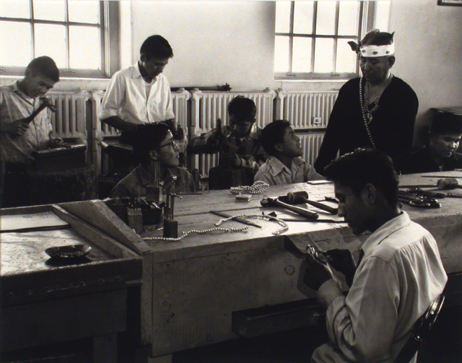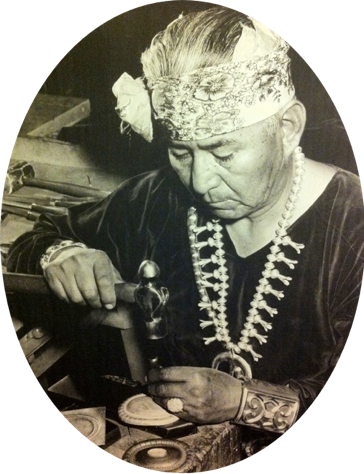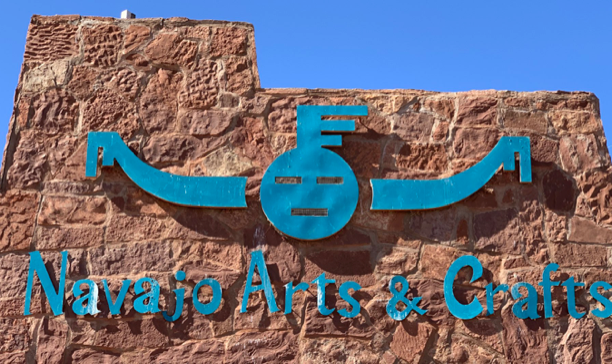 "It sure feel good when you wear handmade jewelry."
-Navajo Guild Co-Founder Ambrose Roanhorse, 1936
Roanhorse quotation source "The Little Book of Marks on Southwestern Silver", © 2011 by Bille Hougart, TBR International, Washington D.C.
The Navajo Arts and Crafts Guild is still in operation today. At left, is its outlet in Cameron, Arizona. At right, Navajo Guild Co-Founder Ambrose Roanhorse teaching silversmithing students at Fort Wingate, New Mexico, c. 1955.
Roanhorse photo by Laura Gilpin. Photo source and © Amon Carter Museum, Fort Worth, Texas.
An outstanding historic Navajo Arts and Crafts
Guild tufa-cast silver cuff bracelet, c.1940's
This particular piece is one of the finest Navajo silver bracelets from this time period that we have ever seen, in our personal opinions, with a particularly striking design and beautiful execution and it's little wonder when you consider who created it. The Navajo Arts and Crafts Guild (NACG) created some of the finest traditionally-made Navajo silver jewelry of the 20th Century, as can be plainly seen here. This piece perfectly exemplifies the Guild's guiding principles beginning with the mastery of traditional Navajo silversmithing techniques, methods and materials combined with a clean, elegant design aesthetic characterized by graceful, streamlined forms, of the predominant use of all silver with only the occasional and minimal use of set stones, use of only minimal and restrained applied "decoration" with fine stamp, chisel and file work. These are the defining principles initially laid out and instilled by the Guild's brilliant Co-Founder and
first operational Director, the renowned Navajo silversmith and Indian school jewelry instructor, Ambrose Roanhorse (1904-1981), and passed on to a succession of talented students and apprentices who comprised a veritable all-star team of 20th Century Navajo silversmithing. To read more about the Navajo Arts and Crafts Guild, please click here.
The gorgeously-contoured, tufa-cast silver shank of this bracelet is very finely formed and most elegantly tapered.
It visually manages to convey both a sense of weight and of lightness at the same time. This unique combination of strength and delicacy is one of the most important hallmarks of fine tufa-casting and is extremely difficult to achieve.
The bracelet's center panel is a unique hourglass shape composed of two opposing triangular shapes. On either side of the central hourglass panel the carinated silver shank extends outwards while gracefully tapering inwards to the terminals. The only applied decorations are a few elegantly restrained chevron and linear stampwork designs on the central panel which very nicely accentuate its triangular shapes. Also, notice how the silver edges of the hourglass central panel deliberately extend slightly beyond the carinated silver shank on the top and the bottom edges of the bracelet giving the panel a further sense of lightness as if suspended. It's a beautiful and fine sculptural touch.
The restraint of using just a few simple stampwork designs serves to perfectly highlight and accentuate the gleaming beauty and texture of the streamlined, open silver surface and the subtly curved and rounded shape of the bracelet's form. This piece is truly a triumph of outstanding craftsmanship and a clear, disciplined artistic vision. If we had to name the anonymous NACG artist who created this remarkable piece, our money would be on the great Ambrose Roanhorse himself, but it is impossible to know for certain since the Navajo Guild expressly forbid the application of individual artist's personal hallmarks to its pieces during this time period, only the Guild's "horned sun" hallmark could be used.
The bracelet measures 1 1/2" in width at its widest center point and tapers fairly dramatically down to 1/2" in width
at the end terminals. The inner circumference end-to-end is 5 3/16" and the gap between the terminals is 15/16" for a total interior circumference of 6 1/8". The bracelet weighs a substantial, yet extremely comfortable 65 grams or 2 1/4 ounces. The bracelet is properly signed with a fine rendition of the Navajo Guild's famous, historic "horned sun" hallmark and it is also stamped "NAVAJO" in capital letters on the inside. The bracelet is in completely excellent original vintage condition with some amount of age-appropriate wear and a fine patina from age and use. We have chosen not to polish the bracelet, leaving that decision to its next fortunate owner. As far as we are concerned, this piece needs no enhancement at all, it is just right as it is.
When considering pieces made by the Navajo Arts and Crafts Guild the primary consideration is always how high is up? Their good pieces are great, their better pieces are outstanding and their best pieces, such as this bracelet, are truly astonishing. This one is so far up there that it's almost out of sight!
SOLD